Dr. Ricky Shabazz, President of San Diego City College, addresses the community from the campus of San Diego City College. His radio address, City College Update, airs monthly on the first Monday of every month (barring any holidays). The next airing is Monday, June 4, 2018.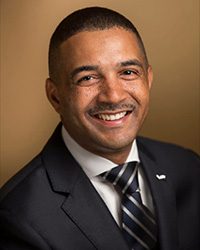 Previous Radio Addresses:
5/7/2018 - Commencement is upon us and summer classes are less than a month away. Don't miss the Dream Big campaign and the cultural hub opening.
4/2/2018 - There's a lot happing in April - Summer registration, scholarship banquet, Open House and Research Symposium.
3/5/2018 - President Shabazz discusses late start classes, summer registration and digital journalism. Also, there's great information about the #GIVECITY campaign happening in April.
2/13/2018 - President Ricky Shabazz sits in with our Jazz Morning Drive host Joe Kocherhans to discuss all things City College.
1/29/2018 - City College President Ricky Shabazz gives his first address of the new year and of the Spring Semester. The president talks about all the enrollment opportunities available at City College.
12/4/2017 - Dr. Shabazz talks about the San Diego Promise allowing local students to attend their first year at City College for FREE. Shabazz also acknowledged the original music heard in his address. It was composed by Anthony Cunningham, a City College student in the Commercial Music Program.
11/6/2017 - Dr. Shabazz gives his November 2017 City College Update radio address and talks about the passage of AB-19, 4-week intersessions and the upcoming Spring semester.
10/2/2017 - Dr. Shabazz gives his October 2017 City College Update radio address
9/5/2017 - Dr. Shabazz discusses the following topics: Late Start Classes, Strong Workforce Initiative and Dreaming Big.
8/21/2017 - Inaugural radio address - Dr. Shabazz welcomes students to Fall 2017 semester.
More: Jazz 88.3 KSDS FM