Chancellor Search
Dr. Carlos O. Cortez Selected As The Next SDCCD Chancellor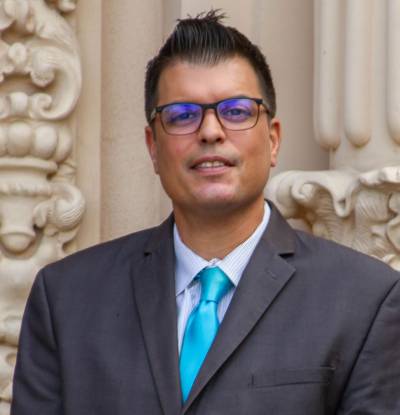 On behalf of the San Diego Community College District (SDCCD) Board of Trustees, it is my honor to announce the selection of Dr. Carlos O. Cortez as its next Chancellor.
Chancellor-Designate Cortez is the Board of Trustees' choice to lead the SDCCD into the future. We are pleased with the outcome of this search process, which included robust participation and input from District stakeholders and the community.
Dr. Cortez's qualifications and extensive experience, which includes serving the past six years as President of the San Diego College of Continuing Education, will ensure a smooth transition and continue the significant progress made during Chancellor Constance M. Carroll's 17-year tenure. Under Chancellor-Designate Cortez, the District will remain student-focused and deeply committed to serving the San Diego region as its largest provider of workforce training and education. To learn more about Dr. Cortez, you can read his bio here.
This transition ushers in a new era for the SDCCD and an opportunity to recommit itself to student success, academic excellence, social justice, racial equity, and inclusion. Dr. Cortez is an innovative, entrepreneurial, energetic, and proven leader who is committed to participatory governance. He clearly understands the dynamics of a large, multi-college district as well as the dynamics of the community the SDCCD serves.
The District is deeply indebted to Chancellor Carroll for her accomplishments and service. During her historic tenure the District has completed an unprecedented modernization of its campuses, achieved the highest possible bond ratings that saved taxpayers millions of dollars, expanded its student equity and success programs, established the tuition-free San Diego Promise program as a national leader, and secured legislation which allowed San Diego Mesa College to create one of the first baccalaureate programs at a California community college. More recently, Chancellor Carroll has provided steady leadership through the COVID-19 pandemic, overseeing a districtwide response that has provided thousands of students with laptops and emergency grants that has allowed them to continue their education while campuses were closed.
In conducting its search, the Board of Trustees prioritized selecting an individual with the skills and experience to lead the District's strategic planning and action to meet the current and future challenges confronting its students and communities. These challenges include safely reopening the District's campuses, partnering with the community and industry to ensure economic recovery from the COVID-19 pandemic for its students, and engaging students to increase enrollment as we move beyond the COVID-19 pandemic, which has deeply affected each of the District's students and employees. The Board of Trustees has confidence Dr. Cortez will be able to assist the District in emerging from this crisis even stronger than before. He is the type of leader that is needed at this moment in the District's history.
Dr. Cortez's appointment is pending final approval of his employment contract to be considered at a future Board of Trustees meeting in public session. For now, please join the Board in congratulating Carlos on his appointment as Chancellor-Designate.
Maria Nieto Senour, Ph.D.
President, Board of Trustees
Related Articles
FEBRUARY 17, 2021 - Public forums set for finalists in chancellor's search at the SDCCD
FEBRUARY 5, 2021 - Finalists for District Chancellor positions named
NOVEMBER 30, 2020 - Chancellor search process - Progress Report No. 3
JUNE 8, 2020 - Moving toward a new era as search for new chancellor gets underway
JULY 28, 2020 - Chancellor search process - Progress Report No. 1
AUGUST 31, 2020 - Chancellor search process - Progress Report No. 2
tentative Timeline for Chancellor Search Process