City College robotics team qualifies for semifinals
September 11, 2017

|
Competing on a shoestring budget against universities from around the world, San Diego City College's robotics team had one of its best showings in years at the recent 20th annual International RoboSub Competition.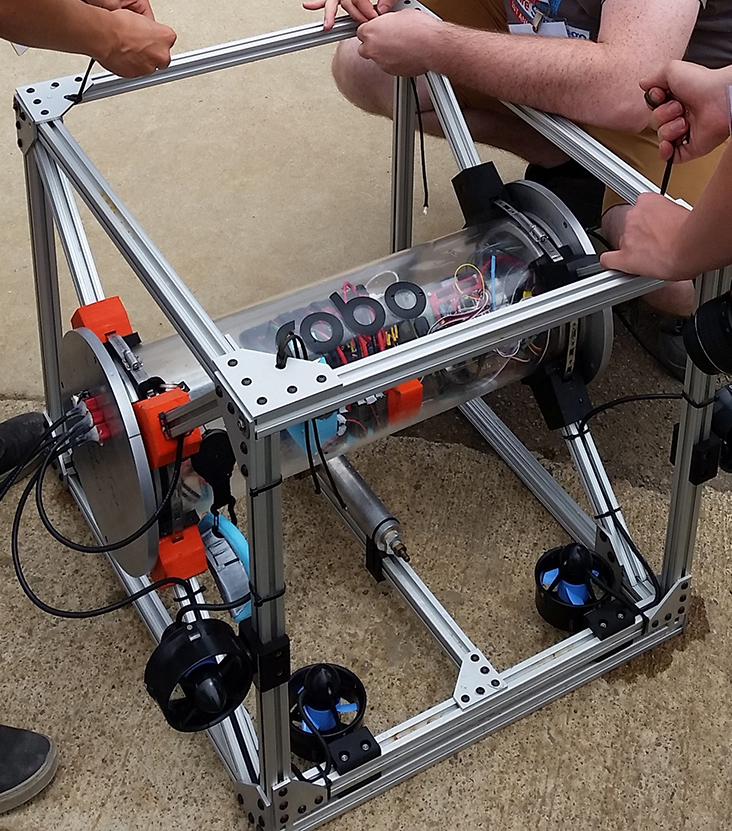 The annual competition took place July 26-30 at the SPAWAR System Center Pacific's Transducer Evaluation Center, a one-of-a-kind, 6-million-gallon, echo-free pool used for research and underwater sound projects. Students are required to design and build a submarine, which must pass through a validation gate and maneuver through an obstacle course while completing a series of visual- and acoustic-based tasks. Teams are judged not only on how their submersibles perform, but also on a white paper and video they must produce, an oral presentation, and a website.
"It's a major effort and a unique program that really mimics what you have to do in the real world," said the team's faculty advisor, Robert Pruitt, an engineering and electronics technology professor. "You have a deadline, you have to raise funds to finance your project, and you have to come together as a team of mechanical engineers, electronic engineers, and computer programmers to reach your goal."
This was San Diego City College Robotics' 10th year at the competition, and its sub, dubbed the Scarborough, qualified for the semifinals much earlier than it had in the past. Cornell University took the top prize, followed by Far Eastern Federal University in Vladivostok, Russia. This marked the sixth time since 2009 that Cornell won the competition.
"We are hoping to advance our sub's technology during the year significantly and perform much higher next year," said Shane Jost of the San Diego City College Robotics, who noted that team's budget of approximately $2,000 was a fraction of the amount spent by some other teams. The City College team met with representatives from several large companies and garnered media coverage from KUSI, Fox5 San Diego, and Univision.
Now in its 20th year, the RoboSub competition was created to stimulate student interest in math and science as well as careers in unmanned systems.