Courtney Wade - From the Marines to Miramar
January 24, 2017

|
Courtney Wade spent nearly five years as an aviation electronics technician in the U.S. Marine Corps working on F/A-18 Super Hornet combat jets before leaving the armed services and enrolling at San Diego Miramar College in 2014.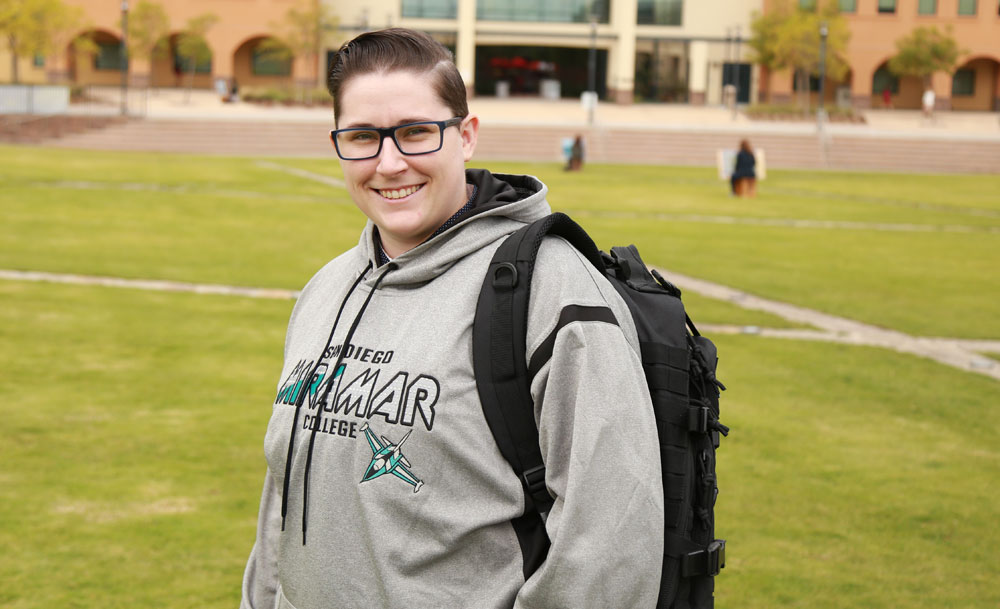 A member of the Lesbian, Gay, Bisexual, Transgender, and Queer (LGBTQ) community who joined the military during the "Don't ask, don't tell" era, Wade, 26, is now on track to graduate in the spring, attend Cal State San Marcos next fall, earn a bachelor's degree in criminal justice, and launch a career in law enforcement. We asked Wade a few questions about what makes Miramar College special.
Q. Why Miramar?
A. I chose Miramar because I really like the campus. I really like the layout and landscaping. I feel so relaxed when I come on campus and it doesn't have that crammed feeling and you don't have to see cement everywhere.
Q. How well are military veterans served here?
A. The veterans programs are really nice. The Vet Center on campus is a great place to get away and just catch your breath and relax in a quiet area for a bit. Personally, it is really nice to be able to chat with some fellow veterans and reminisce about being in the military. Miramar has a large number of veterans and active duty attending and it makes me feel a part of the college.
Q. Favorite spot to hang out?
A. The second floor of the K1 building, outside at the tables. I like the fresh air, the shade that the building provides, and the fact that not many students hang out in that area. It's nice and quiet.
Q. How do you relax before an exam?
A. I've found that when I overthink an exam and try to cram right before the test, after already studying, that I tend to have a block while I'm taking the exam. So I'll listen to music and think about something other than school, something pleasant.
Q. How's the food?
A. Honestly, the food on campus is pretty good. You can't go wrong getting a slice of pizza or some chicken strips.
Q. What will you remember most about Miramar College?
A. The staff. If I'm lost or confused by anything, there is always someone there with a smile on their face willing to offer a helping hand.