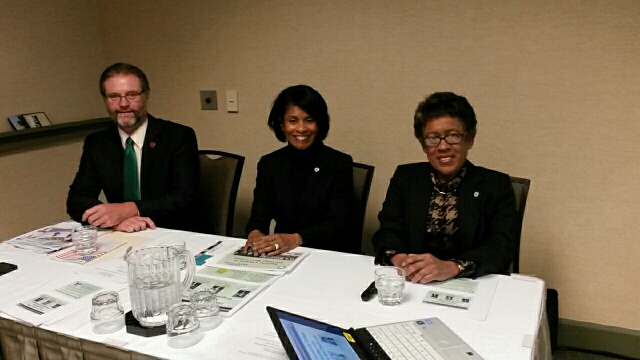 Advocacy in Action
February 1, 2016

|
According to a popular saying "All politics is local." Occasionally, however, you need to go on the road.
Representatives from the San Diego Community College District (SDCCD), including trustees, student trustees, campus presidents, and staff traveled to Sacramento January 31-February 1 to participate in the Community College League of California's (CCLC) Annual Legislative Conference. The statewide conference is an opportunity to connect with other advocates and learn the latest news on higher education in California. SDCCD representatives also joined colleagues from the San Diego County/Imperial County regions in a series of focused meetings with members of the State Legislature.
"We regularly meet with our state representatives in their San Diego offices but this is a once-a-year opportunity to travel to the State Capitol, join with our colleagues, and focus on our shared legislative priorities," said Jack Beresford, the SDCCD's Director of Communications and Public Relations. "When these elected officials enter our briefing room and see a group of 50 people from our region, it makes a big impact."
Priority number one for the District is securing additional funding from the state to expand student access. Since voter approval of Proposition 30 in 2012, the SDCCD has added thousands of additional course sections and hired dozens of new full-time faculty to meet student demand. Beresford says our colleges enjoy strong legislative support and a reputation of being a good investment in California's future.
"College affordability is something many people are concerned about," Beresford said. "Fortunately, California's community college students pay the lowest fees in the nation. We're a relative bargain and our representatives know that."
The District's three student trustees - Laura Benavidez (City), Igor Burgos Maron (Mesa), and Olivia Light (Miramar) - participated in the conference and legislative meetings. Beresford says having students join with trustees and administrators is particularly helpful during discussions with elected representatives. Each student trustee had opportunities to share questions and concerns from a student perspective.
At the conference itself, participants heard updates on topics such as the status of "The California Promise" financial aid campaign, the search for a new state chancellor, and what new bills are expected this session. Featured speakers at the conference included Martha Kanter, former Under Secretary of the U.S. Department of Education and Mindy Romero, Founding Director of the California Civic Engagement Project.
Speakers from the SDCCD included Chancellor Constance Carroll, City College President Anthony Beebe, and Vice Chancellor of Instructional Services Stephanie Bulger who presented on "The Community College Baccalaureate: Progress and Challenges."