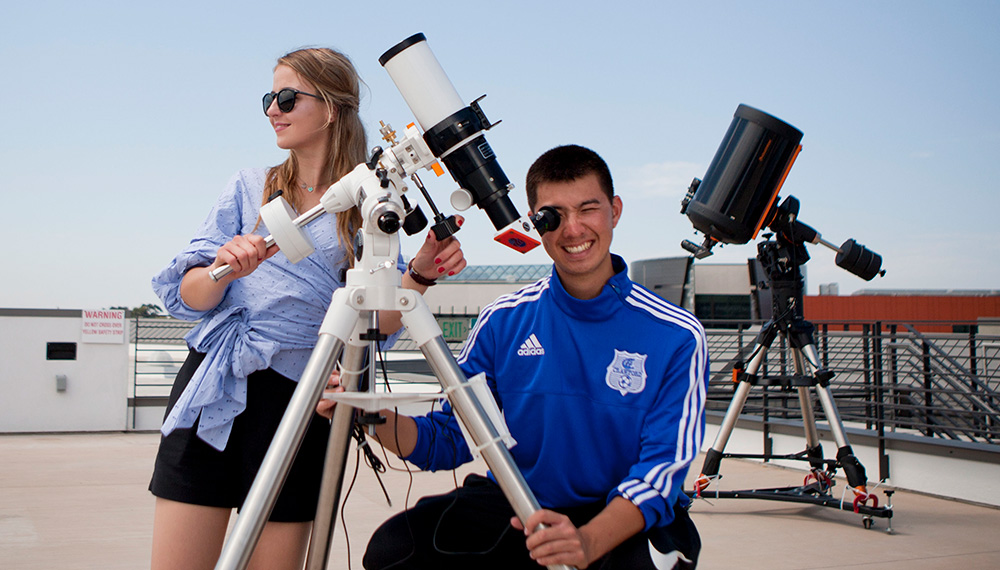 Eclipse parties to be held at colleges on first day of classes
August 17, 2017

|
San Diego City, Mesa, and Miramar colleges are setting up opportunities to safely view the solar eclipse Monday morning, Aug. 21, when classes begin for the new fall semester.
The eclipse will be viewable in San Diego from approximately 9:07 to 11:45 a.m., with maximum impact at 10:23 a.m. Although San Diego is far south of the path of totality, nearly 60 percent of the sun will be blocked by the moon and the impact will be noticeable.
Among the viewing opportunities at City, Mesa, and Miramar colleges:
- City College will have a few solar telescopes and eclipse glasses available for safe viewing set up in the courtyard of the Science Building.
- Mesa College's Physical Science Department faculty and staff will provide solar telescopes and special filters outside the college's Math/Science Building. In addition, the Physical Science Department will project the celestial event onto a large screen for safe and easy viewing.
- Miramar College will have two solar telescopes and some 20 pairs of eclipse glasses to share at Compass Point on the campus lawn. The only safe way to look directly at the uneclipsed or partially eclipsed sun is through special-purpose solar filters, such as "eclipse glasses" or hand-held solar viewers. Homemade filters or ordinary sunglasses, even very dark ones, are not safe for looking at the sun. This is the first solar eclipse visible in the United States since October 2014 and the last one visible in Southern California until Oct. 14, 2023. The last total solar eclipse in the contiguous U.S. was on Feb. 26, 1979.