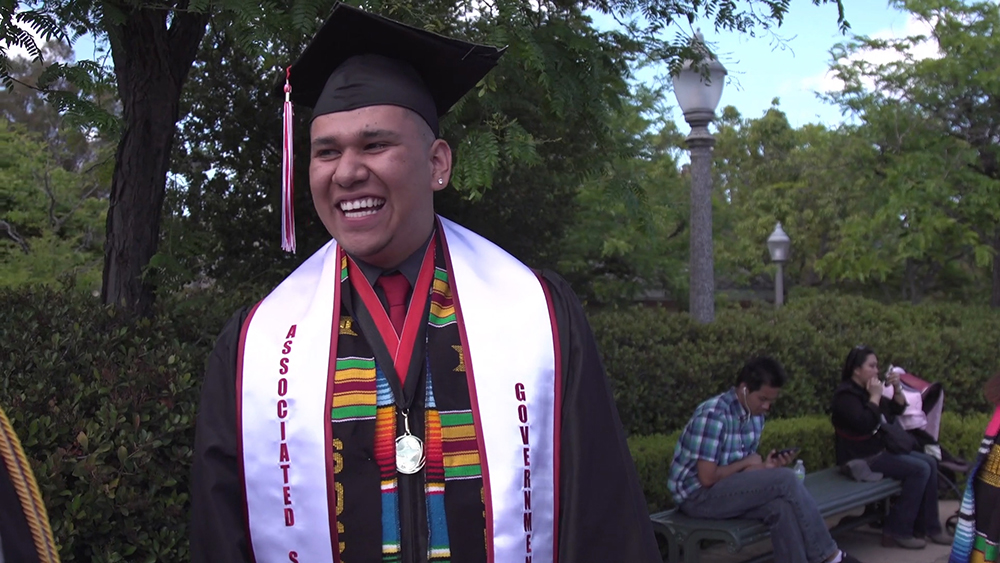 District stands with its 'Dreamers'
September 11, 2017

|
San Diego Community College District students, administrators, faculty, and staff responded with shock and anger following the September 5 announcement by the Trump Administration that it would "wind down" the DACA program.
Specifically, the Department of Homeland Security announced it will no longer accept new applications for DACA. Pending applications for new participants will still be considered. The Administration has provided a six-month delay for phasing out the program. Current participants with a permit that expires before March 5, 2017 may submit a renewal application prior to October 5, 2017. After March 5 there will be no additional renewals, with tens of thousands of individuals estimated to lose their permits each month. The aim behind the six month delay in phasing out current recipients is to provide Congress time to pass a legislative remedy.
Read the Chancellor's statement
on the elimination of DACA
DACA, or Deferred Action for Childhood Arrivals, was established by the Obama Administration to temporarily shield undocumented individuals who came to the U.S. before age 16 and met the necessary criteria to lawfully remain in the country. About 800,000 people have received DACA status since the program's inception in 2012.
The District estimates that at least 466 of its students at San Diego City College, Mesa College, Miramar College, and San Diego Continuing Education have DACA status based upon their application for financial aid. The district is certain there are many more DACA students who have not identified themselves likely out of fear. It is not known how many District employees have DACA status since that information is not requested at the time of employment.
In a September 5 statement to the news media, SDCCD Chancellor Constance M. Carroll deplored the announcement: "Today was a sad day in America when the Attorney General announced the Presidential decision to eliminate the Deferred Action for Childhood Arrivals (DACA) program, a program that provides support, especially educational opportunities, for young people who were brought to this country as children."
Ignacio Hernandez, City College's Associated Student Government President and a DACA student, expressed his disappointment to The San Diego Union-Tribune:
"I have a lot of goals. Now I might not even get to reach any of them," Hernandez said. "I still want to continue with school. I still want to work. All of the things I have planned, it's on Congress to decide."
In the wake of the announcement, Chancellor Carroll said the District will do everything in its power to protect DACA students and others from intrusions onto its campuses by federal immigration officials. The SDCCD previously adopted a policy that neither the District nor the SDCCD Police will cooperate in any way with requests from the Border Patrol or other agencies absent legal authority.
Recently, the District sent a letter to President Trump urging him to continue the DACA program. Since now it appears that DACA's fate will rest with Congress, the District is now focusing its efforts on advocating with federal representatives for new legislation, such as the DREAM Act, that would protect "Dreamers" and allow them to continue their studies and/or pursue their careers.
The District and its colleges are also working directly with its DACA students – workshops are being planned to provide them with legal advice and assist them with decisions about what to do next. In addition, information campaigns are being developed to let them know of available resources on campus and that SDCCD campuses are safe places and to encourage them to stay in school and continue to pursue their dreams.
Hernandez, who is also the District's student trustee representing City College, says he is encouraging students to stay in school and to seek advice from an immigration attorney. Understandably, many DACA students are weighing their options.
"Many of us DACA students are struggling to decide whether we should continue attending college this semester/year or should we leave school and work for the remaining time of our Employment Authorization period to save money for the time that follows after the expiration of our permits, said Hernandez."
One important distinction is the difference between DACA Dreamers and California Dream Act Students. DACA Dreamers are those undocumented immigrants who were brought the U.S. as children. However, students that are AB540 eligible are considered California Dream Act Students. These students are still eligible for state-based aid and are still Dreamers at the state level.
The District will offer up-to-date information online with resources for DACA students and others with questions about the Trump Administration's actions. The District website will also provide opportunities for visitors to take action to support legislative and legal efforts to protect Dreamers.
In the meantime, additional resources for undocumented students can be found on the California Community Colleges Chancellor's Office website.