Continuing Education students receive $250K in scholarships and awards
April 23, 2019

|
San Diego Continuing Education presented $250,000 in scholarships and awards to more than 150 students at its 11th annual "Stars on the Rise" Scholarship and Awards Ceremony. The student achievement event, hosted by the SDCE Foundation, took place Monday, April 22, 2019 at the Jacobs Center for Neighborhood Innovation in San Diego, where 116 awardees were recognized.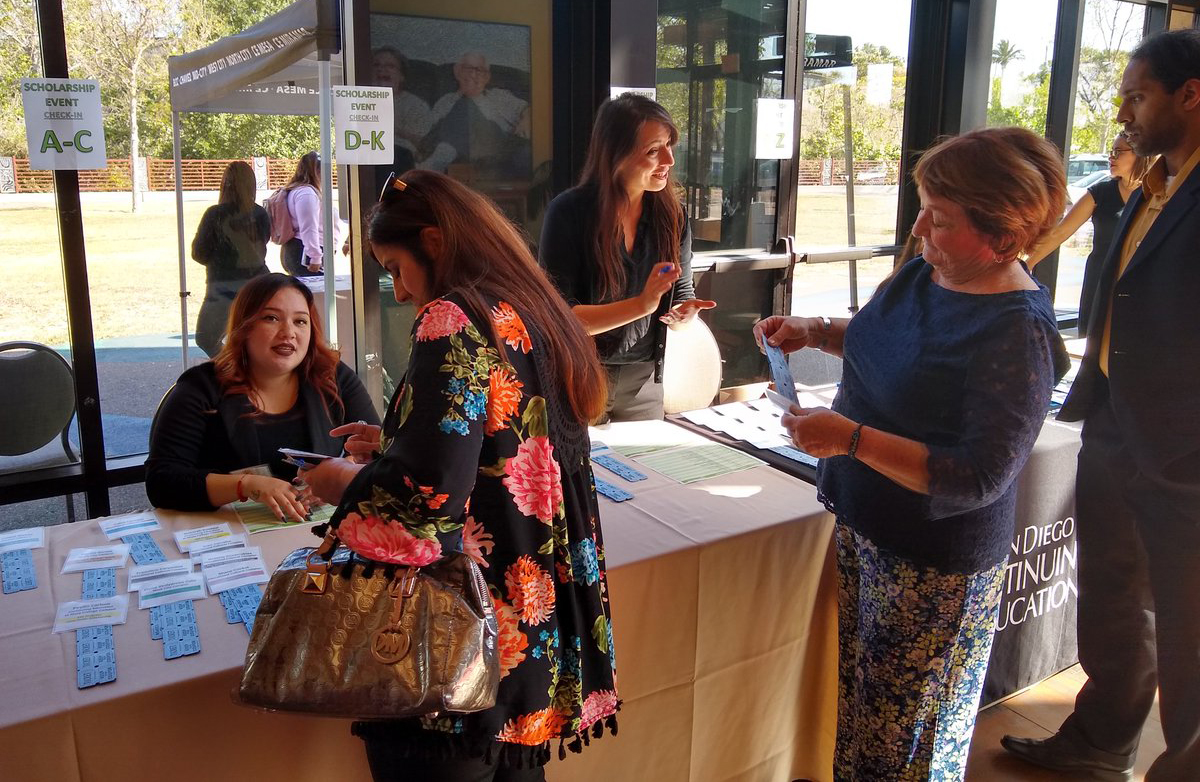 "This is the highest total amount of financial support ever awarded in the history of SDCE. Scholarships and awards are given to deserving students — many with plans to transition to career or college following their studies at SDCE based on academic merit, leadership and service to the community," said Carlos O. Turner Cortez, Ph.D., President of SDCE.
SDCE's scholarships and awards fund full tuition and/or pay enrollment fees toward college. New scholarships this year include the Annette Bening Promise Scholarship; Dr. Robert Matthews Scholarship, and the Pathway to National University Scholarship. San Diego United Way provided funding for new awards for San Diego Gateway to College and Career students, a learning community that supports opportunity youth. For the second year, National University has offered two full tuition scholarships for SDCE San Diego Promise students to complete the last two years of a Bachelor's degree at no cost. SDCCD is awarding 25 SDCE students with a San Diego Promise scholarship, which provides funding for two years of community college education including book grants. The San Diego Promise Program is the only Promise Program in California that includes adult noncredit community college students.
Annette Bening Scholarship recipient, Claudia Osuna, dreams of studying criminal justice at a four-year university to ultimately mentor troubled youth. "Being awarded with this scholarship means a lot to me. As a full-time employee who makes minimum wage and attends school full-time, I often experience financial hardship. Sometimes it is very hard to make ends meet," said Osuna. "This scholarship is a reminder that I'm not doing this alone and there are good people willing to help." Following the completion of the GED preparation program at SDCE, Osuna enrolled in San Diego City College.
SDCE awarded 9,434 certificates of completion in 2018-2019, more than any other community college noncredit adult educational institution in California.
SDCE is California's largest community college noncredit institution and the adult education division of the San Diego Community College District. SDCE offers the region's only free short-term career training programs in priority workforce sectors such as Advanced Manufacturing, Energy, Construction and Utilities, Health and Information and Communication Technologies. Many students achieve a high school diploma and/or career training at SDCE and then transition to a SDCCD college, City, Mesa or Miramar.
"Our event could not happen without the support of our donors and the myriads of scholarship funds they support," said Rabbi Laurie Coskey, Ed.D., Executive Director of the SDCE Foundation. "Our Scholarship awards do two important things: they celebrate the outstanding accomplishments of our students, which may even be the first time in their lives that they have excelled, and our scholarships help students reduce barriers to their next successes."
SDCE's scholarships and awards are offered through the SDCE Foundation, fundraising is supported through donations by faculty, staff, administrators and community partnerships. Learn more about contributing toward a student's journey of educational achievement by contacting Laurie Coskey, Ed.D., SDCE Foundation Executive Director, at lcoskey@sdccd.edu.