Self-Advocacy and Support is the winning formula for Wade Parsons
October 10, 2022

|
Today's Disability Support Programs and Services (DSPS) Alumni at Work article spotlights Wade Parsons, a 2021 graduate of San Diego Mesa College who also completed vocational training and coursework at all of the District's campuses since beginning his journey with SDCCD in 2017.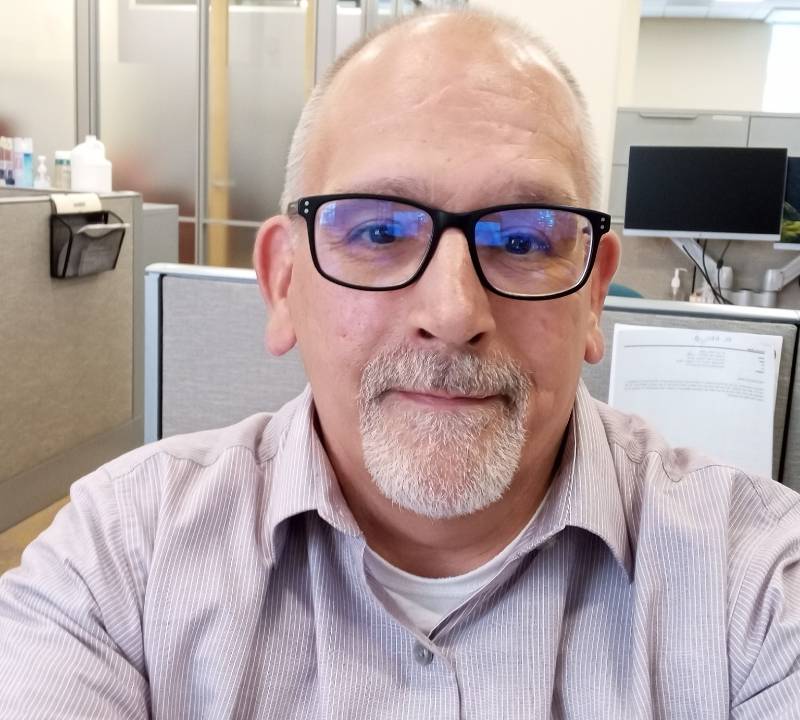 "Having options from all campuses while building a schedule each semester was essential to managing my disability," said Parsons.
About 25 years prior to enrolling at San Diego College of Continuing Education (where he completed the Account Clerk certificate program), Parsons received a certificate in the same field from a business school in Wayne, Michigan, but career prospects proved difficult as multiple disability-related issues arose.
After working odd jobs over the next couple decades, Parsons returned to higher education with a renewed determination. Utilizing self-advocacy techniques as well as the District's Disability Support Programs and Services such as WorkAbility III (WAIII) proved to be a winning formula this time around.
"With the onset of my disability, I felt powerless," said Parsons. "I decided one thing I could do for myself is pursue an education. I've learned to ask questions until I am satisfied I have sufficient information. I exercised the accommodations I was granted through DSPS such as additional exam time and a note taker. It was only through trial that I realized I didn't need the notetaker, but having additional exam time relieved some of the related stress, allowing me to focus."
Forging a Career Path
As Parsons gained confidence and courage in his studies, he began to forge a career path with the help of his DSPS counselor, Shawn Fiala.
"He suggested I enroll in the tax prep course during intersession, followed up by the Volunteer Income Tax Assistance (VITA) work experience program held yearly at City College. I thrived while working in the tax prep clinic. The following year, SDCCD hired me as the clinic's site coordinator," he said.
Thanks to this valuable work experience, Parsons secured a paid internship with the San Diego County Treasurer-Tax Collector, where he is now the lead undergraduate intern for the information division. In this role, he trains all incoming student workers, directs workflow, and reviews and approves all division research. Parsons is not only excelling in the position; he is improving the culture.
"From my unique perspective, I've been able to rewrite procedures and restructure training," he said. "Trainings are a much more interactive experience now based on real scenarios followed by a debriefing. I enjoy this process."
Parsons also enjoys the process of furthering his education. After turning in a Dean's List performance at Mesa, he transferred this year to California State East Bay to pursue a BSBA in Accounting. There, he has already earned another Dean's List credit as well as a Social Justice Scholar badge.
"I made it through my first semester at university intact and optimistic," he said. "Great professors at State—they understand my goal and know how to get me there."
Devising Solutions
Parsons traced his current achievements back to his time with DSPS.
"Because I had [their] support, I was able to begin using my strengths to better define my challenges. A well-defined situation helps when devising solutions," he said.
Parsons looks forward to helping others devise solutions in future tax seasons. He will be eligible for the CPA exam in 2024, and between now and then, he plans to pursue internships with public accounting firms to explore both audit and taxations. He hopes to ultimately help prepare taxes for minority-owned small businesses.
For now, Parsons is enjoying a little work-school-life balance, taking the summer off to travel, volunteer, visit family and friends, and binge all the streaming shows he missed during the school year.
Stream away, Mr. Parsons - you earned it!
If you are a SDCCD student with a disability looking for academic and/or vocational support please visit DSPS to learn about the programs we offer!