Continuing Education president earns prestigious social justice award
San Diego County Office of Education will host the Equity 2020 Conference on January 16-17, recognizing San Diego Continuing Education President, Carlos O. Turner Cortez, Ph.D., with a Lighthouse Award as a Turnaround School Leader for his outstanding contributions to higher education as an equity leader for the students and community of San Diego.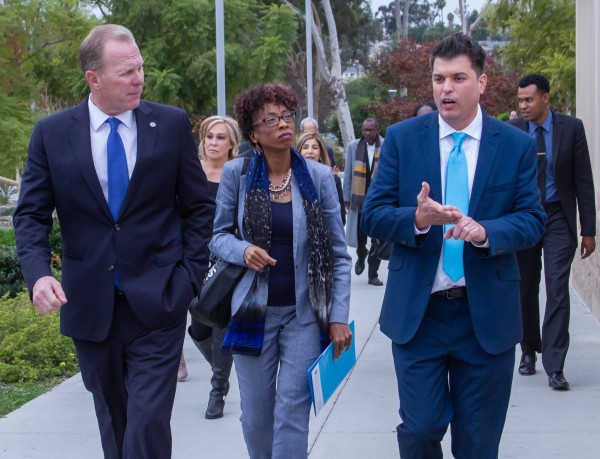 The Office of Education's Lighthouse Award is presented to people who are beacons in the educational community by channeling and directing others in diversity, equity, and inclusion. Turner Cortez is a CEO who fosters and leads equitable outcomes for all learners and has been a beacon of light for the entire San Diego community.
"It's a privilege to represent SDCE and share the room with extraordinary higher educational leaders who continue to be on the frontline for social justice inside and beyond our communities," said President Turner Cortez.
In 2015, Turner Cortez was appointed as president to lead SDCE, the largest noncredit adult educational institution in the nation, and since then has led the charge for more on-campus resources that support the large populations who come from rural areas and inner-cities looking for socioeconomic mobility.
Turner Cortez began his career in education as Teach for America Corps member. His experience spans the public, private, and charter school sectors in Washington D.C., Houston, New York City, Los Angeles, and Berkeley. He has worked primarily with underserved student populations from low income communities and his life's work has been staunch advocacy for policy and finance reform as a member of various state and federal level legislative task forces, including his current service on the California League of Community College's Advisory Committee on Legislation and the Noncredit Coalition. His commitment to social justice drives his passion for urban education reform.
SDCE provides adult learners with free citizenship and ESL classes and accelerated career training certificate programs in emerging fields such as Advanced Manufacturing, Health, and Information and Communication Technologies. SDCE's seven campuses are across San Diego county from Barrio Logan to Miramar.
As President, Turner Cortez has led SDCE under a framework of Seven Pillars that support student success: Employment Security, Food Security, Housing Security, Transportation Security, Financial Literacy, Textbook and Course Material Affordability, and Intellectual and Emotional Security. As a result, SDCE now provides substantial equity in student support services that play a critical role in addressing the historically entrenched inequities that impact adult noncredit students.
"Underserved students are benefiting daily from President Cortez' approach to integrate equitable student services throughout SDCE programming," said Star Rivera-Lacey, Ph.D., Vice President of Student Services at SDCE. "Education now reaches opportunity youth and homeless adults in San Diego."
SDCE's San Diego Gateway to College and Career Program serves young adults ages 18-24 who are neither in school nor working. The program provides paid internships, career workshops, employment assistance and motivational supports. A partnership with the San Diego Rescue Mission supports homeless adult students by providing free high school equivalency classes; free career and college readiness coursework; free career training options, and paid job internships. The partnership to serve homeless adult students is one of the first of its kind in San Diego.
As a human rights champion, President Turner Cortez is a driving force in the community serving on boards that directly impact minority and underrepresented individuals including The Trevor Project, Jackie Robinson YMCA, San Diego Workforce Partnership's Workforce Development Board, Goodwill Industries and Teach for America San Diego.
The San Diego County Office of Education is dedicated to providing districts and schools with the supports leaders and educators need to nurture safe and inclusive learning environments for all students. SDCOE's statewide Equity Conference brings together nationally recognized speakers and spotlights current research and best practices. The award will be presented on January 17 at 11:30 a.m. at the Equity Conference 2020 at the San Diego Convention Center, 111 W. Harbor Drive.