Facilities Services
Vision
The SDCCD Facilities Services Department is committed to providing the best learning environment through teamwork and continuous improvement in all that we do.
To initiate a Facilities Work Order, click here.
Please contact the Call Center at 619-388-6422 to set up an account.
San Diego Community College District
Facilities Services
1544 Frazee Road
San Diego, CA 92108
619-388-6422 - Phone (Monday through Friday 7 a.m.-4 p.m.)
619-388-6439 - Fax
General E-mail – Facilities Services Call Center
For after hour emergencies call Dispatch at 619-388-6405
Leadership
District Service Center 619-388-6422
Angelo Pellegrini, Director, Facilities Services
Charlie Williams, Supervisor, Business Processing
Jason Botticelli, Supervisor, Equipment Repair
Ruben Rodriguez, Supervisor, HVAC/Electrical
Nick Underwood, Supervisor, Buildings and Grounds
City College 619-388-3537
Jay Purnell, Regional Facilities Officer
Mesa College 619-388-2814
Dave Warczakowski, Regional Facilities Officer
Miramar College 619-388-7823
Darrell Rankin, Regional Facilities Officer
Continuing Education 619-388-4844
Raymond Arellano Sr., Regional Facilities Officer
Focusing on Excellence
Adam Vincej, Grounds Crew Leader
Adam is a dedicated and highly skilled employee who has been an invaluable asset to the Facilities Services Department. Adam joined Facilities Services in 2016 as a Gardener-Groundskeeper at City College which also covers campus' throughout Continuing Education. Adam has had quite the career since he starting. He transferred to Miramar in 2022 and shortly after, promoted to Irrigation Technician. Recently in June of this year, Adam promoted again to Grounds Crew Leader.
Throughout his tenure, Adam has consistently demonstrated exceptional proficiency and a relentless commitment to achieving excellence. His attention to detail, analytical mindset, and problem-solving abilities have contributed significantly to the success of various projects throughout our District. Some of these projects include sculpting the MLK statue for the City College MLK Float back in 2017. More recently, the expansion of the Child Development Center's playground. Adam was the visionary to the entire landscaping aspect of this expansion which included trees, a slopping grassy knoll, low water plants, mulch, decomposed granite walkway for the kids to ride their tricycles, and a beautiful water feature.
As a team member, Adam is known for his strong communication skills and collaborative approach. He actively engages with colleagues, fostering a positive and inclusive work environment that promotes teamwork and productivity. His ability to effectively manage relationships and navigate complex dynamics has been instrumental in building strong partnerships within the District. Adam is a continuous learner, always seeking opportunities to expand his knowledge and stay up-to-date with industry trends and advancements. He actively pursues professional development opportunities and leverages his expertise to drive innovation and improvement within the Facilities Department. With his exceptional skills, unwavering dedication, and remarkable contributions, Adam continues to be a valuable member of the Miramar College staff, driving success and inspiring others through his exemplary work ethic and leadership qualities.
---
2023 Pride Parade Float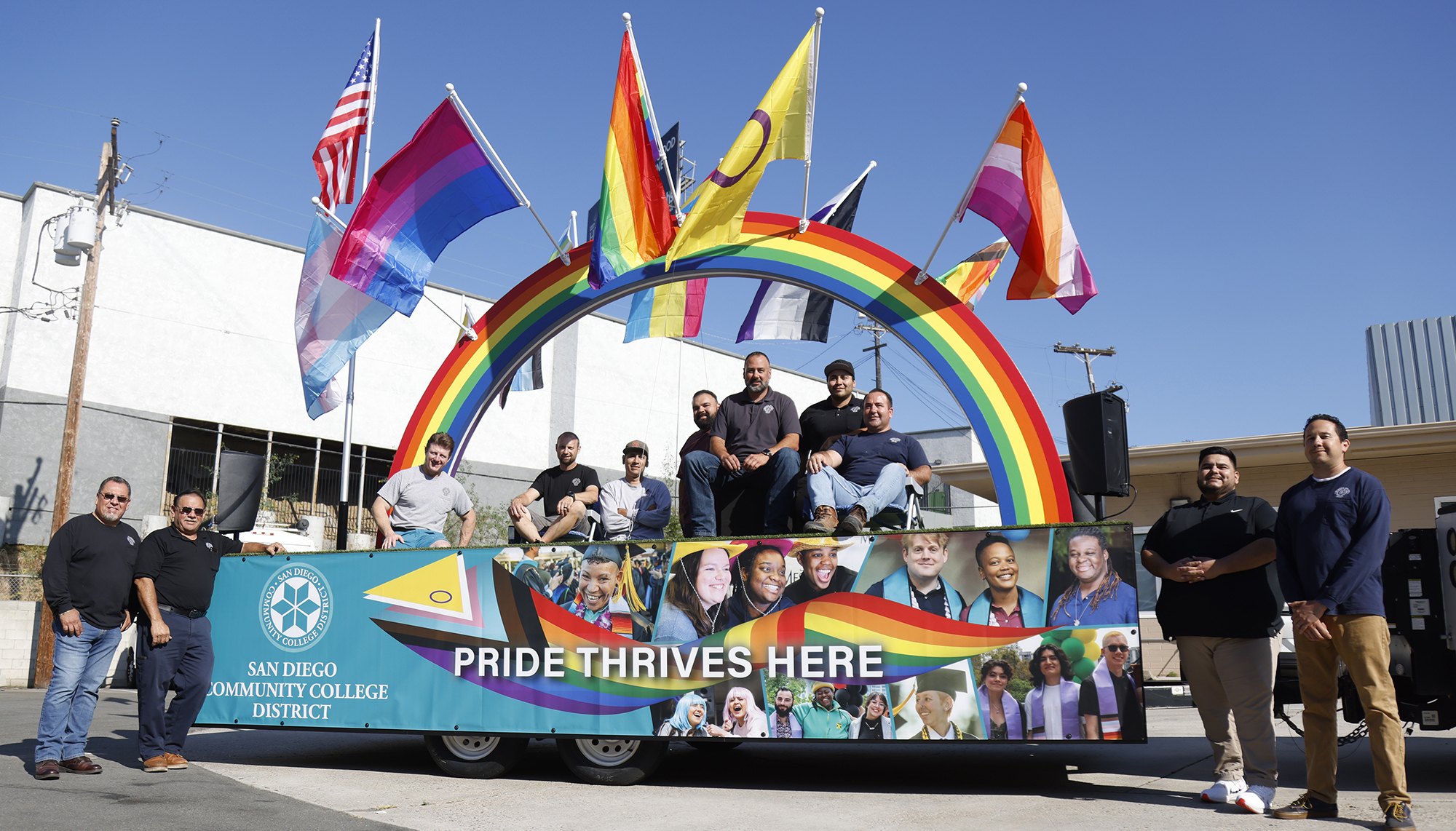 Facilities Services employees assembled the float for the annual San Diego Pride Parade. Our facilities team who assembled the float are from left, Armando Velazquez, Eduardo Guerrro, Sr., Robert Campbell, Dan Marino, Jose Toscano, Eduardo Guerrero, Jr., Angelo Pellegrini, Francisco Ferreira, Fernando Heyer, Luke Menchaca (Dean of Student Outreach), and Nick Underwood.
2023 MLK Float wins 2nd Place
Johnnie Welborne of the Zeta Sigma Lambda Chapter of Alpha Phi Alpha Fraternity Inc. for presenting the trophy for second place in the 2023 Martin Luther King, Jr. parade education division to members of the San Diego Community College District's float committee.