COVID-19 Resources for Employees

Go to additional
cOVID-19 RESOURCES
The COVID-19 pandemic represents the gravest public health challenge faced in a century. The San Diego Community College District (SDCCD) is committed to providing a safe working environment for each of our colleagues. Many members of the SDCCD community are working on campuses to sustain the essential services that protect and serve each campus. We have developed this page to help you have access to the information you need whether you are working from home remotely or preparing to return to work.
The Chancellor provides periodic updates to clarify the District's return to work guidance and timeline. Employees returning to work should utilize these guidelines to assist you with a safely returning to work. Additionally we want you to be aware of steps to assist you in establishing and maintaining SDCCD preventative measures.
We also want our employees to be informed regarding the various requirements regarding COVID-19, from Travel Regulations, to Quarantine and Isolations, and, after a COVID-19 event when it is safe to return to work following a COVID-19 diagnosis. We have also implemented other activities that are intended to keep you safe now and in the future, such as on-campus screening, cleaning/disinfecting, safety training, and information for COVID-19 leave needs.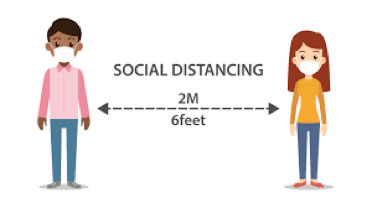 IMPORTANT UPDATES FROM THE VICE CHANCELLOR HUMAN RESOURCES
(COVID-19; Vaccination, Testing, Exceptions)

July 1, 2021
Health and Safety Protocols, Return to Onsite Work and Full Reopening
Email provides updates on:
1. Health and Safety Protocols for Employees Currently Working Onsite
2. Timeline for a Phased-In Return to Onsite Work for All Employees
3. Planning for a full reopening.

August 20, 2021
Reopening, COVID Data, District Protocols, Fall Semester and Spring 2022 Planning
Email Provides Updates on:
1. Phased-in Reopening During the Fall Semester
2. Current COVID-19 Data Informing District Protocols
3. COVID-19 Vaccination and Testing Protocols for Employees and Students
4. Instruction and Student Services Operations for the Fall Semester
5. Planning for Spring 2022

August 27, 2021
COVID Testing Requirement
Email Provides Updates on:
1. Directions and instructions regarding the COVID-19 testing requirement

September 24, 2021
COVID Vaccination Requirement for employees and CDC Approval of Booster Doses
Email Provides Updates on:
1. Board of Trustees Resolution Regarding a COVID-19 Vaccination Requirement for Employees
2. CDC Approval of Booster Doses of the Pfizer Vaccine for Public Education Employees

September 27, 2021
COVID Vaccine Requirement Exception Request Email provides updates on:
1. Requesting an Exemption from the COVID-19 Vaccination Requirement
October 19, 2021
COVID Supplemental Leave and Onsite Testing
Email provides updates on:
1. COVID Supplemental Leave
2. Onsite COVID Testing Schedule Revisions

COVID-19 TRENDS AND DATA
November 04, 2021
There were 5,608 new COVID-19 cases in California on Wednesday, compared to 4,949 new cases in the state on October 28th. Over the past seven days, there have been 12.5 cases per 100,000 people statewide, up from 11.8 cases per 100,000 on October 28th. The test positivity rate across the state is 2.4%, down slightly from 2.5% on October 28th.

In San Diego County, there were 499 new cases on Wednesday, compared to 536 new cases on October 28th. The 7-day average rose to 13.5 per 100,000 from 12.7 cases per 100,000 on October 28th. For the week of 10/24 through 10/30, there were 507 average daily cases, up from 466 daily cases for the week of 10/17 through 10/23. The case rate for unvaccinated residents as of October 9th was down slightly to 21.9 per 100,000 and 7.4 per 100,000 vaccinated residents. The hospitalization rate for unvaccinated residents rose to 0.84 per 100,000, more than 14 times higher than the rate for vaccinated residents, which was 0.06 per 100,000 residents.

Over the past 30 days, there have been 12,778 COVID-19 cases, 73% (9,329) of those cases were unvaccinated individuals. The test positivity rate in the county is 3.2%, up from 3.0% last week.

81.9% of county residents have received at least one vaccine dose as of November 2nd. Among 20-29 year-old residents, the rate is up to 68%. Within the District, as of November 1st, 3,673 employees have submitted proof of vaccination or an exemption request; 3,224 (87.8%) of responses have been proof of vaccination.
COVID-19 TESTING AND SCHEDULE

Testing Site Locations:
City College: Buildin M, room 205/206
Mesa College: Parking Lot 1, corner of Chasewood Way and Mesa College Circle
Miramar College: Building K1, room 107
Educational Cultural Complex: Room B101
District Office: 2nd floor Board Meeting Conference Room
SCHEDULE YOUR COVID-19 VACCINATION - Select Education/Childcare. No accessibility code required.
FALL SEMESTER HEALTH AND SAFETY PROTOCOLS
PREVENTATIVE MEASURES PROTOCOL
RETURNING TO WORK FOLLOWING A COVID-19 DIAGNOSIS
DISTRICT CLEANING/DISINFECTING
2021 COVID-19 SUPPLEMENTAL PAID SICK LEAVE
FAQ - CENTER FOR DISEASE CONTROL AND PREVENTION
COUNTY OF SAN DIEGO COVID-19 INFORMATIONAL POSTERS
SUBMIT YOUR COVID-19 VACCINATION FORM
Vaccination Confirmation Form Instructions
Vaccination Exemption Form Instructions
COVID-19 Vaccination Form FAQs
HOUSING ASSISTANCE
All county residents - Emergency Rental Assistance (except city of San Diego, City of Chula Vista)
City of San Diego - COVID-19 Housing Stability Assistance Program
City of Chula Vista Housing Authority
COVID-19 DEFINITIONS
- Outbreak Definition and Reporting Guidance
CENTER FOR DISEASE CONTROL AND PREVENTION
- Restrictions, stay home orders
- Guidance for Use of Face Coverings
- California Department of Public Health COVID-19 Information
For general questions about COVID-19, call 2-1-1.
For more information email Risk Management at sdccdriskmanagement@sdccd.edu