Why work with us?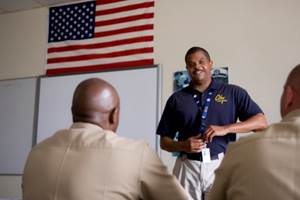 SDCC has a significantly high staff retention rate allowing our organization to provide clients reliable, selfless educators committed to our goal of providing education and support to others, at an affordable cost. SDCC is able to attract qualified staff and retain staff by providing a flexible work/life balance and benefits that are unmatched by any other government solution provider.
Our Values
Integrity - Our commitment to integrity lies at the heart of who we are and what we do. Integrity is a necessary virtue. We utilize the highest ethical standards by incorporation of honesty, fairness, professionalism, and a strict code of morals in all that we do.
Education - Our ability to provide first-rate educational and training solutions to our clients is ingrained in our culture. As an educational institution, our immediate surroundings are comprised of a network of talented instructors who are subject matter experts with a boundless desire to educate others.
Accountability - We honor our commitments. We demonstrate the ownership necessary for achieving exceptional results while providing solutions to our clients. Our culture requires that employees are accountable for job performance by demonstrating their expertise, always making honorable decisions and continually meeting the needs of those we support.
Teamwork - We rely on the hard work of each person, respecting and valuing their contributions. Our organizational success derives from our ability to perform as a highly effective and driven team.
Communication - We provide a culture in which we communicate openly, sincerely, and supportively. We utilize active lines of communication and are committed to honest interaction with the Government, the District, and our fellow team members.