Having trouble opening files in your Blackboard course?
Perhaps your instructor has posted files to a Blackboard course shell, but when you click on the link to the file, you are not able to open it. Maybe it is the Syllabus file in the course, or maybe there are other files that you are trying to access that won't open on your computer, even though they do open for some students on their computers. There are several reasons why you might be experiencing this problem on your computer. The information on this page will help you to resolve this problem. The good news is that usually when you resolve the problem once, you probably won't have the same issue on the same computer again.
Here are a few things to try in order to open the files that your instructor has posted in Blackboard Learn. Please read the following very carefully.
---
1. Be sure that your Pop-up Blocker is turned off for Blackboard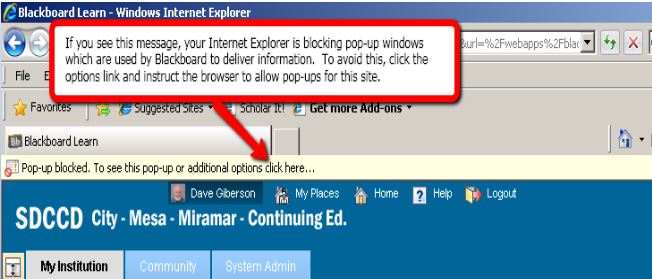 2. Look for Security message from Internet Explorer.
(Audio/Video tutorial available here: http://online2.sdccd.edu/tutorials/bbl/ie_download_learn/ie_download_learn.html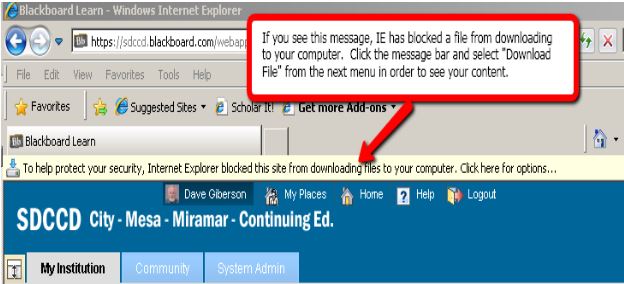 The tutorial linked above will show you how to adjust your Internet Explorer setting so as to avoid this happening every time you try to download a file.
3. As you access different parts of your class, be sure to ALLOW both SECURE and NONSECURE items to be displayed on the page.
Failing to do so may mean that you do not see images and or webpages from nonsecure sites. In Internet Explorer you will see Security Warnings like the following. To trigger the message to be displayed again, you will need to logout of Blackboard and close the browser program. Then you'll need to restart the browser program, and login to Blackboard again. Upon trying the link again, the security message should be displayed.
If you are using Internet Explorer 8, you will need to click NO on the following security message in order to allow all the content to be displayed:


If you are using Internet Explorer 9, you will need to click Show all content to allow all content to be displayed.

4. Download the software to open the file.
Your browser might be accessing the file fine, but then you'll need the correct software to open the file on your computer. For most filetypes, there is a free version of the software that you can download and use to open the common filetypes. Here are a few of the common filetypes used by instructors, and the free software that you can download and install to open them.
5. Other things to try:
Try a different browser program on your computer.
Mozilla Firefox usually doesn't block files like Internet Explorer. Watch a tutorial on how to install Mozilla Firefox.
6. HELPDESK:
Contact the 24/7 Help Desk They can help with these problems, and if not they'll contact people who can!