Welcome Message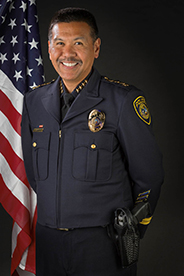 The San Diego Community College District has named Raymund Aguirre Chief of Police. Chief Aguirre will oversee public safety for California's second-largest community college district, which enrolls 130,000 students at City, Mesa, and Miramar colleges, and the seven campuses of Continuing Education. The district also serves 42,000 service personnel who are enrolled as students at military bases in 24 states.
Chief Aguirre has considerable experience having served as Chief of Police for the San Jose-Evergreen Community College District (SJECCD) since 2006. His responsibilities have included overseeing all public safety operations in the district, management of the SJECCD's 20 sworn and non-sworn personnel, implementing a department reorganization, and developing a comprehensive training program.
Chief Aguirre began his service at SJECCD as a Police Sergeant in 2002. Prior to that, Chief Aguirre was a Police Officer in the Foothill-De Anza Community College District and a Police Officer in the Palo Alto Police Department.
"I am privileged to have been selected as the new Chief of Police for the SDCCD Police Department," said Aguirre. "I will rely upon my law enforcement experience, as well as the many years I've served in the educational law enforcement arena, as I begin my new role in the District. I look forward to serving the community and am excited about leading the District's Police Department. I will work hard to ensure that the highest level of professionalism, customer service, and proactive and innovative policing are continued and enhanced in the years to come."