Apply for the Promise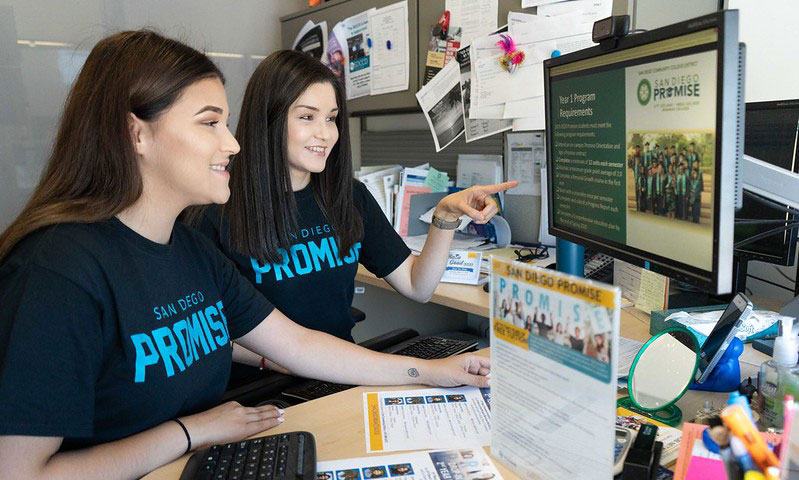 San Diego Promise Insights
Who qualifies for the San Diego Promise
In order to qualify for the San Diego Promise Program, you must meet the following: Fall 2023
First time (to any) college student, or
Returning SDCCD students who have not enrolled in courses for three or more semesters (Not including summer), or
Identify with one of the following groups:

San Diego College of Continuing Education Students
Foster Youth Student
Veteran of U.S. Armed Forces
Formerly Incarcerated Student
Undocumented Student
Must be a California resident or AB 540 eligible

Completed high school diploma or high school equivalency.
*Students who completed college courses in high school are eligible for the San Diego Promise Program
What are the benefits of the san diego promise?
Up to two years of free tuition and health fees
Books grants for eligible students
Access to Peer Mentors/Success Coach
Counseling guidance and s

upport to

assist with

successfully

complet

ing

your educational goals
what are the Program Requirements?
Complete a financial aid application (Free Application for Student Aid (FAFSA) or CA Dream Act)
Enroll in a minimum of 12 units each semester (does not apply to students with disability DSPS accommodation on file)

To learn more about Disability Support Programs and Services (DSPS) at the San Diego Community College District please click here.
Important promise Application Dates | Fall 2023
Application Opens: January 9, 2023
Priority Application Deadline: June 16, 2023
Application Deadline: August 14, 2023
Sign Contract Deadline: August 28, 2023
Register in 12 Units Deadline: September 1, 2023
Need help getting started with the San Diego Promise?
San Diego Promise Information Nights for Fall 2023!
Students and their parents are invited to join one of our upcoming virtual information nights to learn more about the free tuition program, The San Diego Promise.
REGISTER IN ADVANCE FOR ONE OF OUR UPCOMING SESSIONS: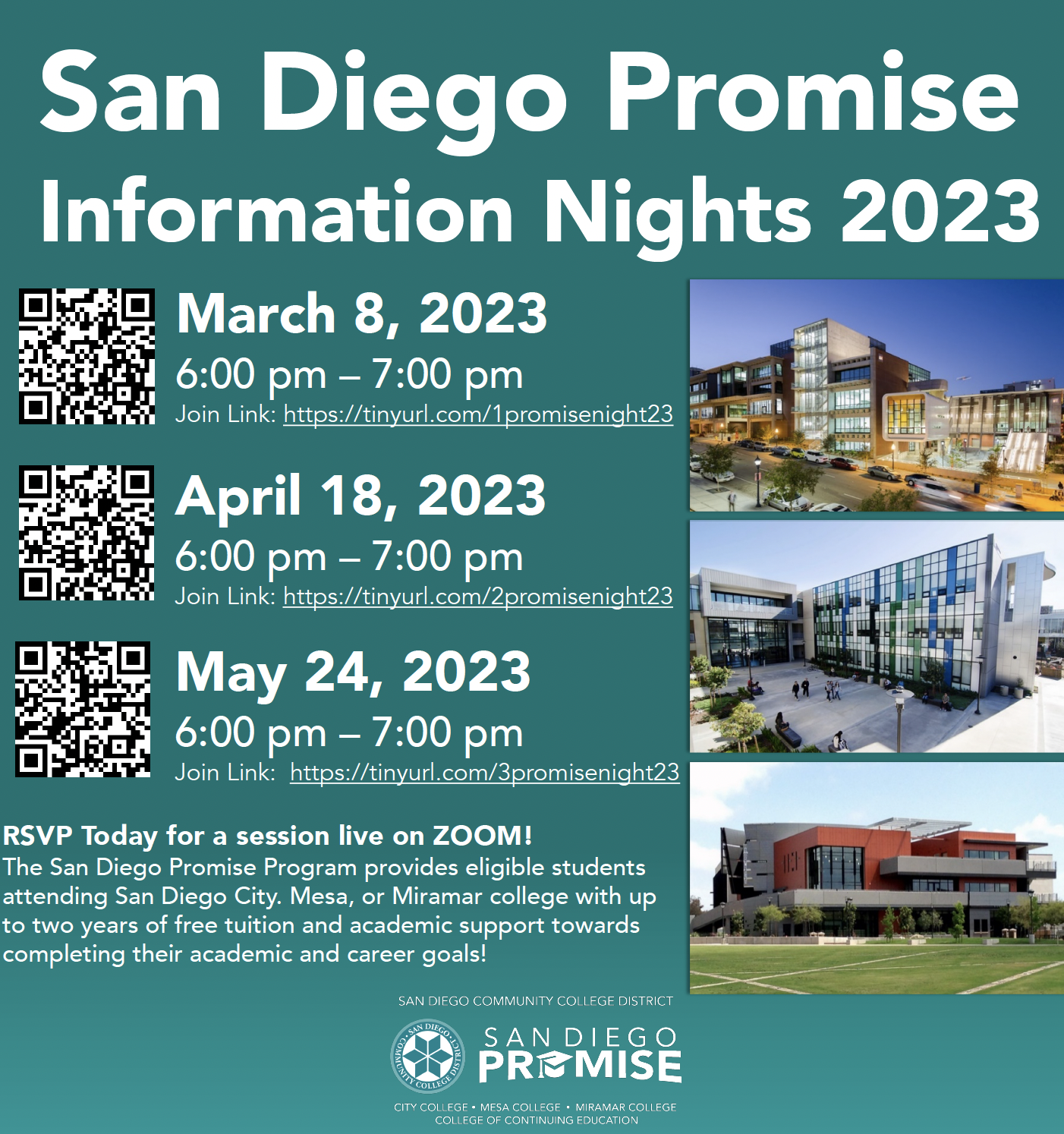 Apply for the San Diego PromiSE
You applied for the san diego promise, now what?
Update your contact information for San Diego Promise next steps!
Update your contact information in the mySDCCD Student Portal.
Follow the campuses and their Promise Programs on social media for regular updates
College
Social Media Accounts
City College Instagram: @sandiegocitycollege
City College Promise Program Instagram: @sdpromisecity
Mesa College Instagram: @sdmesacollege
Mesa College Promise Program Instagram: @sdpromisemesa
Miramar College Instagram: @sdmiramar
Miramar College Promise Program Instagram: @sdpromise_miramar

San Diego Community College District Instagram: @thesdccd
SDCCD Promise Instagram: @sdccdpromise
/docs/SSDept/OUTREACH/Veterans/SDCCD_Veteran_Handbook_2022-2023%20(1).pdf
/docs/SSDept/OUTREACH/Veterans/SDCCD_Veteran_Handbook_2021.2022.pdf