Future Promise Students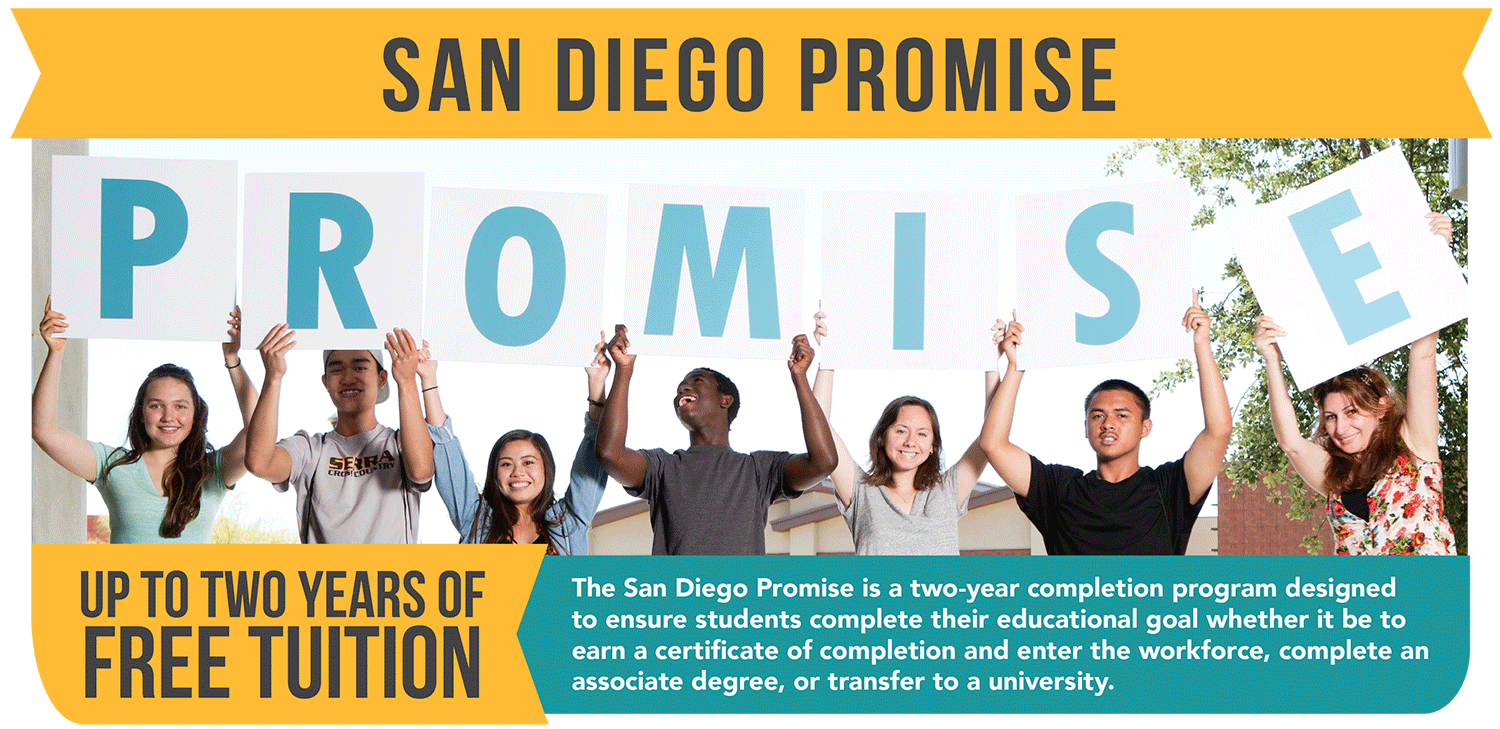 IMPORTANT: The San Diego Community College District is committed to supporting the health and wellbeing of our students, faculty, staff and the larger community. Due to the coronavirus (COVID-19) crisis, all on and off campus sites and 'in-person' student support services will be closed to the public until further notice. San Diego City, Mesa, and Miramar Colleges and the San Diego Continuing Education have moved all instruction and operations online/remote.

We are still accepting and processing San Diego Promise applications for Fall 2020. You can complete your Fall 2020 Promise application online. For questions or concerns, please contact the Promise staff at sdccdoutreach@sdccd.edu. we appreciate your patience.

For COVID-19 information and online resources, please visit: https://www.sdccd.edu/coronavirus.
Click here to apply to
The San Diego Promise
---
Benefits
Up to two years of free tuition and health fees
Book grants for eligible students
Access to Peer Mentor/Success Coach
Individualized counseling and guidance support to help you complete your educational goals
Eligibility
Must be a Class of 2020 high school graduate (H.S. Diploma or GED)
Must be a California resident or AB 540 eligible
Must complete a 2020-2021 FAFSA or Dream Act application
Must enroll in a minimum of 12 units each semester (does not apply to DSPS students with eligible academic accommodation)
---
Program Requirements
Sign a Promise contract (electronically)
Attend a virtual Promise orientation
Enroll in at least 12 units by August 31, 2020
Must maintain a 2.0 college GPA
Meet with a counselor each semester
Complete a comprehensive education plan by the end of your first year
---
How to apply
Students that complete steps 1-4 by June 11th will receive priority registration and admission to the program.
Step 1: Complete a Fall 2020 application for admission to City, Mesa, or Miramar College.
Step 2: Complete a 2020-2021 FAFSA or California Dream Act application.
School Codes for FAFSA or Dream Act applications:
- City College: 001273
- Mesa College: 001275
- Miramar College: 014172
Step 3: Complete a Promise application.
Step 4: After completing steps 1-3, we encourage you to continue the process of completing the new student online orientation and scheduling a counseling session to meet with a college counselor for an abbreviated education plan. Please contact the College Counseling Office for more information on the availability of virtual counseling appointments.
For more information, on the New Student Orientation, please visit your college website:
San Diego City College - New Student Orientation
San Diego Mesa College - New Student Orientation
San Diego Miramar College - New Student Orientation
For more information, on how to schedule a virtual appointment with a college counselor, please visit your college website:
San Diego City College - Counseling Office
San Diego Mesa College - Counseling Office
San Diego Miramar College - Counseling Office
Step 5: Students that meet all program requirements and are eligible to participate in the San Diego Promise program will receive an invitation to electronically sign a Promise contract starting in April 2020. The priority deadline to sign the Promise contract is June 11, 2020. Contracts will be continued to be accepted after June 11th on a space available basis.
If you recently submitted your application, please allow 2-3 weeks for your application to be reviewed.

Step 6: After you have signed an submitted your Promise contract, please expect to receive an email with an invitation to attend a virtual Promise orientation.
Note: Promise orientation vary by campus, information about your campus Promise orientation will e emailed to you after you have signed your Promise contract.
Step 7: Register for classes.
---
Contact Information
For additional information on the San Diego Promise Program, please contact our Outreach offices: