Future Promise Students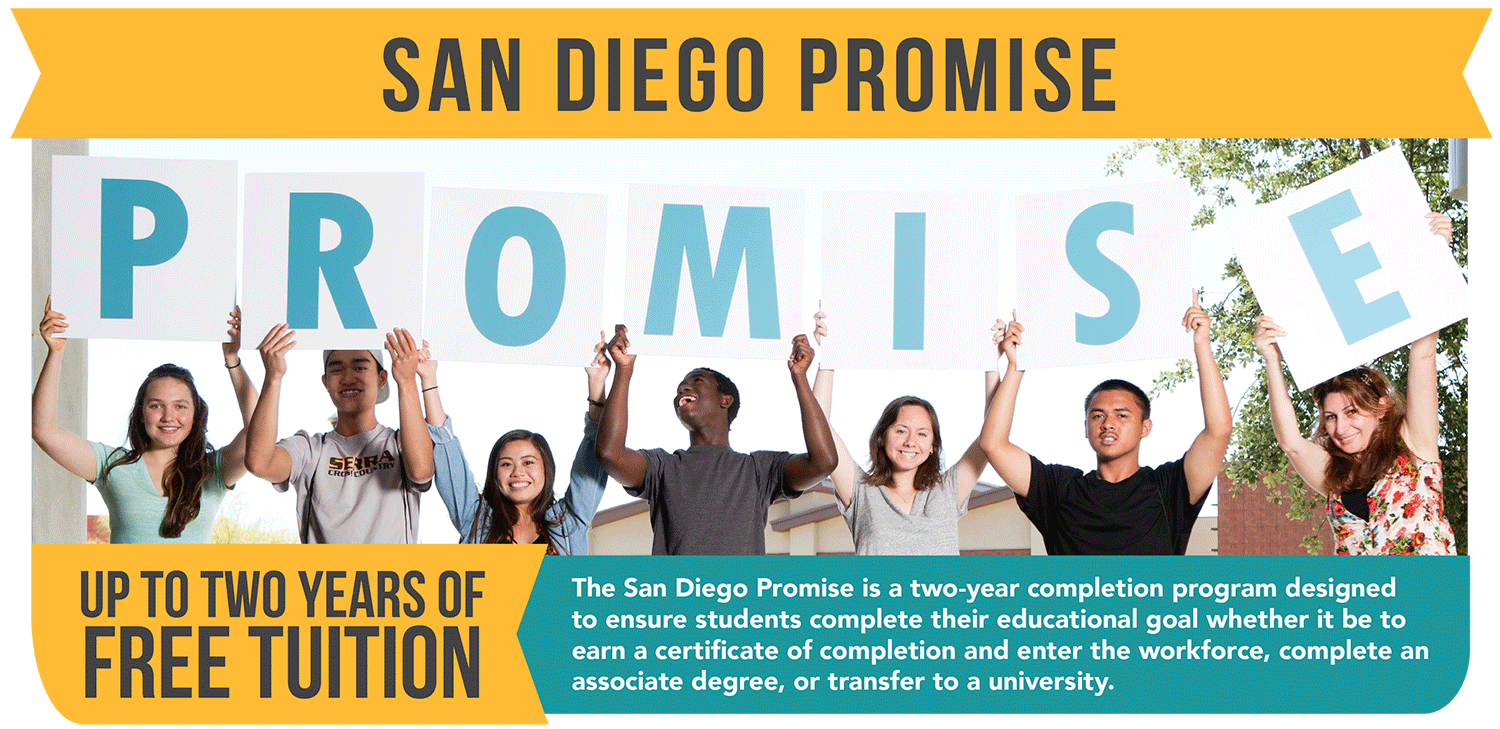 PROGRAM ELIGIBILITY REQUIREMENTS
Must be a first-time to college student*
Must be a class of 2022 high school graduate** (H.S. Diploma or GED) OR identify with one of the following groups:
Foster Youth Student
Veteran of U.S. Armed Forces
Formerly Incarcerated Student
Undocumented Student
Must be a California resident or AB 540 eligible
Must Complete a 2022-2023 financial aid application (FAFSA or CA Dream Act)
Must be prepared to enroll in a minimum of 12 units each semester (does not apply to students with disability (DSPS) accommodation on file)
*Student who completed college courses while in high school are eligible
** First time to college, class of 2020 high school graduates (H.S. Diploma or GED) maybe eligible
PROGRAM STUDENTS RECEIVE THE FOLLOWING BENEFITS:
Up to two years of free tuition and health fees
Books grants for eligible students
Access to Peer Mentors/Success Coach
Individualized counseling guidance support to complete your education goals
PROGRAM REQUIREMENTS*
Attend a Promise orientation
Sign a Promise contract
Enroll in a minimum of 12 units each semester
Maintain a 2.0 college GPA
Meet with a counselor each semester
Complete a comprehensive education plan
*Students who meet the program requirements in their first year may be eligible for a second year
APPLICATION STEPS
Students who complete steps 1-4 by June 17 for priority registration and admission to the program.
• Priority Application Deadline | June 17, 2022
• Deadline to sign a Promise Contract | August 29, 2022
• Enroll in 12 Units Deadline | September 4, 2022
Download the Checklist for Applying to the San Diego Promise
For questions regarding the steps outlined above, please contact our Outreach offices:
City College Promise Office
Email: sdpromisecity@sdccd.edu
Phone: 619-388-3998
Website: sdcity.edu/students/promise
Mesa College Outreach
Email: sdpromisemesa@sdccd.edu
Phone: 619-388-2230
Website: sdmesa.edu/student-services/promise
Miramar College Outreach
Email: sdpromisemiramar@sdccd.edu
Phone: 619-388-7357
Chat with the Miramar Promise staff at sdmiramar.edu/campus/promise
Website: sdmiramar.edu/services/promise