Biography
Constance M. Carroll, Ph.D.
Chancellor, San Diego Community College District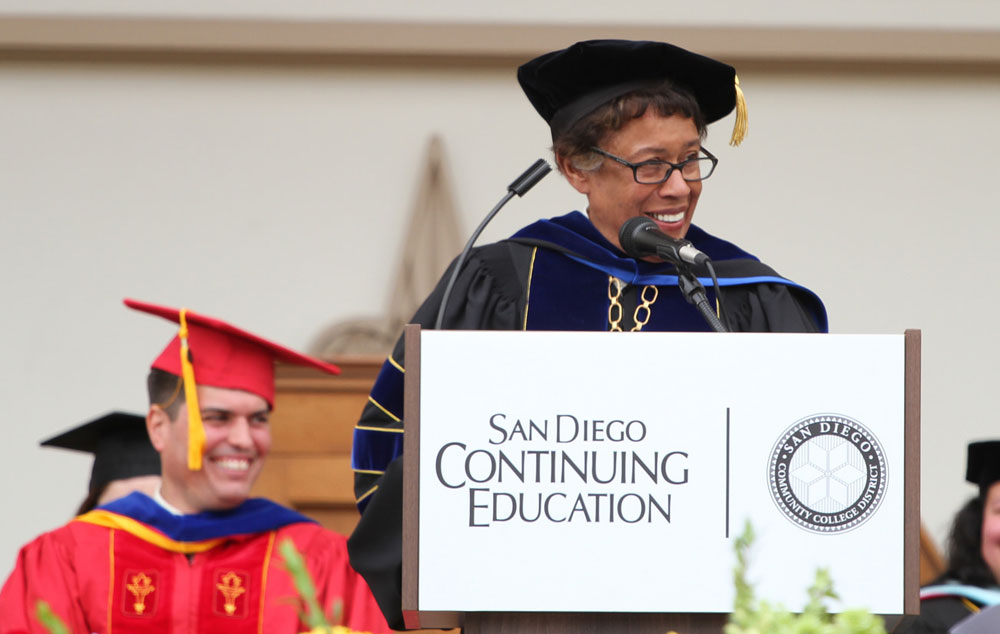 Dr. Constance M. Carroll has had a distinguished career in higher education. In 2004, she was appointed Chancellor of the San Diego Community College District, after eleven years of service as President of San Diego Mesa College. The San Diego Community College District is composed of City College, Mesa College, and Miramar College, as well as a seven-campus Continuing Education division. With a total enrollment of 105,000 students per semester, the district is one of the largest community college districts in California and ranks sixth in the nation.
Constance Carroll holds a B.A. degree in Humanities from Duquesne University; an M.A. and Ph.D. in Classics (Ancient Greek and Latin) from the University of Pittsburgh; and a Certificate of Proficiency in Hellenic Studies from Knubly University in Athens, Greece. She also attended the Harvard University Institute for Educational Management.
Prior to coming to San Diego, Dr. Carroll led two other community colleges. Dr. Carroll was President of Saddleback College in Orange County, California, and she was President of Indian Valley Colleges in Marin County, California, where she spent one year as Interim Chancellor of the Marin Community College District. During all three of her presidencies, she taught courses in the classics and humanities.
Constance Carroll's career history includes service at two universities. She was Director of Freshman Advising at the University of Pittsburgh where, as a Teaching Assistant, she also received the University's Distinguished Teaching Award in 1971. She was Assistant Professor of Classics and Associate Dean of the College of Arts and Sciences of the University of Maine, Portland-Gorham (now the University of Southern Maine).
Constance Carroll's professional history includes service on national boards, numerous awards, and publications. In 2011, Dr. Carroll was nominated by President Barack Obama and confirmed by the United States Senate to serve a six-year term on the National Council on the Humanities. In 2020, she was appointed to serve on the College Promise National Advisory Board, which leads a nonpartisan initiative dedicated to building public support for tuition-free Promise programs across the country. She currently serves on the boards of the University of San Diego, the League for Innovation, the Community College Humanities Association, and the San Diego Regional Economic Development Corporation. She currently serves as co-chair of San Diego Mayor Kevin Faulconer's Workforce and Economic Advisory Committee, following previous service on the Mayor's Transition Team and the Mayor's Committee on the Former Central Downtown Library. She was nominated by California Assembly Speaker Toni Atkins to serve on the California Awards for Innovation in Higher Education Selection Committee. Dr. Carroll also led the establishment of the California Community Colleges Baccalaureate Association (CCCBA), a nonprofit organization with the mission of providing assistance and expanding opportunities for the state's 116 community colleges to offer four-year degrees in workforce fields that now require a bachelor's degree. Dr. Carroll serves as president of the CCCBA.
Dr. Carroll has also served on the boards of directors of a number of organizations, including: the American Council on Education (ACE), the American Association of Community Colleges (AACC), the San Diego Foundation(as Chair), the California Council for the Humanities (as Chair), and the National Institute for Leadership Development. Accreditation is also one of Dr. Carroll's key interests. She is past chair of the Western Association of Schools and Colleges Accrediting Commission for Community and Junior Colleges. She also served on the Council on Higher Education Accreditation (CHEA) Committee on Transfer and the Public Interest.
Constance Carroll's affiliations have included: the San Diego Opera Board of Directors, the Super Bowl XXXVII Host Committee, the Advisory Board of Ms. Magazine, and other organizations. Dr. Carroll is a former member and past president of the Board of Directors of San Diego Youth Services. Her board service has also included the San Diego Opera, BIOCOM, the San Diego Museum of Man, and the Urban League of San Diego County. Dr. Carroll is a member of Delta Sigma Theta Sorority, Inc.
In 2007, the Association of Community College Trustees (ACCT) presented to Dr. Carroll the national "Marie Y. Martin CEO Award," as the top-rated community college CEO in the nation. In 1992, she was named "President of the Year" by the American Association of Women in Community Colleges (AAWCC). In 1996, she received the "Harry Buttimer Award," which is the top honor for a California Community College chief executive officer. In 1998 and 2006, she was selected as one of San Diego Magazine's "50 People to Watch." In 2004, Dr. Carroll was given a "Visionary" Award for Economic Opportunity by LEAD San Diego and, in 2006, was selected for the "Community Service Award" by the San Diego and Imperial Counties Labor Council. In 2009, she was presented with the "Whitney M. Young, Jr., Leadership Award" by the Urban League of San Diego County, and the "Remarkable Leaders in Education Award" by the University of San Diego. In 2012, she was honored with the "Individual Leadership Award" from the Union of Pan Asian Communities, San Diego. In 2013, Dr. Carroll received the "Leadership in Action Award" from Mental Health America of San Diego County, and was inducted into the San Diego Women's Hall of Fame as recipient of the "Trailblazer Award." The U-T San Diego selected her as one of the 16 "People to Watch in 2014." In 2014, Dr. Carroll was honored with an "Exemplary Leadership Award" by San Diego Magazine, the "Darlene Marcos Shiley Education Leadership Award" at the San Diego Business Journal's 21st Annual Women Who Mean Business Awards, and the "Tireless Advocate for Public Education Award" at the Interfaith Committee for Worker Justice 'Voices for Justice" Breakfast. ABC10 News readers and viewers named Chancellor Carroll one of the "25 Most Influential Women in San Diego's History." In 2015, Dr. Carroll was honored with the prestigious "Dr. Martin Luther King, Jr., Human Dignity Award" by the YMCA of San Diego County, and the Salvation Army Women's Auxiliary recognized her as one of the 2015 "Women of Dedication." In 2016, she was given the "Moving San Diego Forward" award by the San Diego Regional Chamber of Commerce. In 2017, she was recognized by the national Community College Baccalaureate Association with the "Pioneer Award" for her leadership and work in improving access to baccalaureate level education through community colleges. In 2019, the National Association for Community College Entrepreneurship (NACCE) honored Dr. Carroll with a "Lifetime Achievement Award."