The People's Chancellor
Leading the Transformation of California's Second-Largest Community College District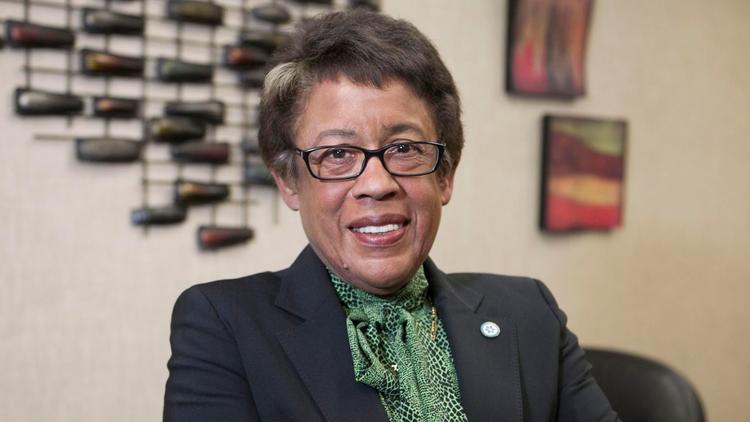 Dr. Constance M. Carroll has served as chancellor of the San Diego Community College District since 2004.
Including her 11 years as president of San Diego Mesa College, Dr. Carroll is now the longest serving CEO of a higher education institution in San Diego. For many in the community, Dr. Carroll is the embodiment of educational access and success. Her achievements – as a woman and person of color – are not lost on leaders such as Rachael Ortiz, executive director of Barrio Station.
Throughout her chancellorship, Dr. Carroll has overseen an amazing transformation of California's second-largest community college district, including unprecedented student success and more than $1.4 billion in new construction activity. Along the way, she's earned respect for her leadership, commitment to academic excellence, and her reputation for collaboration.
"You have only to drive around San Diego and see that many of the cranes are working on the building projects that Constance, her board, and her team have set in motion, creating almost 10,000 jobs in the region," said Jerry Sanders, former San Diego mayor and president/CEO of the San Diego Regional Chamber of Commerce. "I congratulate Dr. Carroll on her ten years as chancellor. Our city is the better for her leadership."
Chancellor Carroll's accomplishments include:
Promoting student success, especially in the area of transfer to four-year institutions. Since 2004, Dr. Carroll has conferred more than 67,000 degrees and certificates; SDCCD students transfer at a higher rate than the statewide average.
Securing voter approval of Proposition N in 2006. The $870 million construction bond has enabled SDCCD to upgrade classrooms, labs, libraries, and other facilities. Combined with Proposition S funds previously approved in 2002, the bond budget reached $1.555 billion. During Chancellor Carroll's tenure, the SDCCD has completed nearly $1.4 billion of this construction.
Co-chairing a successful two-year equalization campaign which ended disparities in community college funding across the state. This effort brought a total of $240 million to California community colleges including $9 million to the SDCCD in ongoing funding, thereby standardizing state support to the colleges for the first time in California history.
Maintaining quality and access while navigating five years of difficult state budget cuts. In spite of $33 million in state budget cuts and the incredible challenges they created, SDCCD has maintained student access by reducing spending and increasing efficiency, without layoffs and with a balanced budget. Now, with voter approval of Proposition 30, the District has added over thousands of course sections and is hiring many new positions that went unfilled during a multi-year hiring freeze.
Chairing the statewide coalition that provided advocacy for the passage of SB 850, California's Baccalaureate Pilot Program. Fifteen community colleges in California, including San Diego Mesa College, are now launching four-year degree programs as part of the pilot.
"THE PEOPLE'S CHANCELLOR"
"Chancellor Carroll works to maintain an affordable higher education system of inclusiveness to prepare local students for leadership positions that are needed to lead this wonderful nation," said Ortiz. "We thank 'The People's Chancellor' for leaving deep footprints for generations of leaders in the making to follow."
A CHANCELLOR "BY ACCIDENT"
A proud student of "dead languages," Dr. Carroll holds a B.A. degree in Humanities from Duquesne University; an M.A. and Ph.D. in Classics (Ancient Greek and Latin) from the University of Pittsburgh; and a Certificate of Proficiency in Hellenic Studies from Knubly University in Athens, Greece. She also attended the Harvard University Institute for Educational Management.
She admits, however, that her move into administration was by accident. In 1970, while she was a graduate assistant at the University of Pittsburgh, the university created a number of new leadership positions for women and minorities. Dr. Carroll was tapped for one of the jobs in the school's academic advising center.
That launched a 43-year career in higher education that has included administrative posts at two universities, as well as presidencies and an interim chancellorship, all at California community colleges. Still, throughout her career as an administrator, she has continued to teach and remains a strong advocate for the classics.
"Students of the classics understand the history and the complexity of issues such as the nature of democracy, the causes of international conflict, the institution of slavery, and other issues that are familiar in contemporary times," said Carroll. "It gives you a terrific look into the past. The past is prologue – it's still relevant."
LOCAL AND NATIONAL RECOGNITION
Chancellor Carroll's accomplishments have not gone without local and national recognition. In 2011, Dr. Carroll was nominated by President Barack Obama and confirmed by the United States Senate to serve a six-year term on the National Council on the Humanities. She currently serves on the boards of the University of San Diego, the San Diego Foundation, the San Diego Museum of Man, the League for Innovation, and the Community College Humanities Association. She continues to publish and is frequently sought out as a guest speaker.
"The Association of Community College Trustees named Constance 'Chancellor of the Year' because she is highly respected locally and nationally for her insight on higher education policy and for her commitment to student diversity," said Rich Grosch, SDCCD Trustee. "Largely due to her efforts, the San Diego Community College District is strong both financially and academically."
WORK TO BE DONE
After her long service, Dr. Carroll says she is not yet ready to retire. Dr. Carroll looks forward to completion of SDCCD's $1.555 billion bond construction program. The continued physical transformation of the District's campuses stirs her emotions.
"We've arrived at a level of excellence I didn't think we'd see," said Carroll. "When I look at the completed buildings, I am reminded of the plans we made, working with the faculty and staff, and the controversies we endured to transform our campuses. Students often say of their new campus environments, 'It feels like a university.' "