SDCCD Week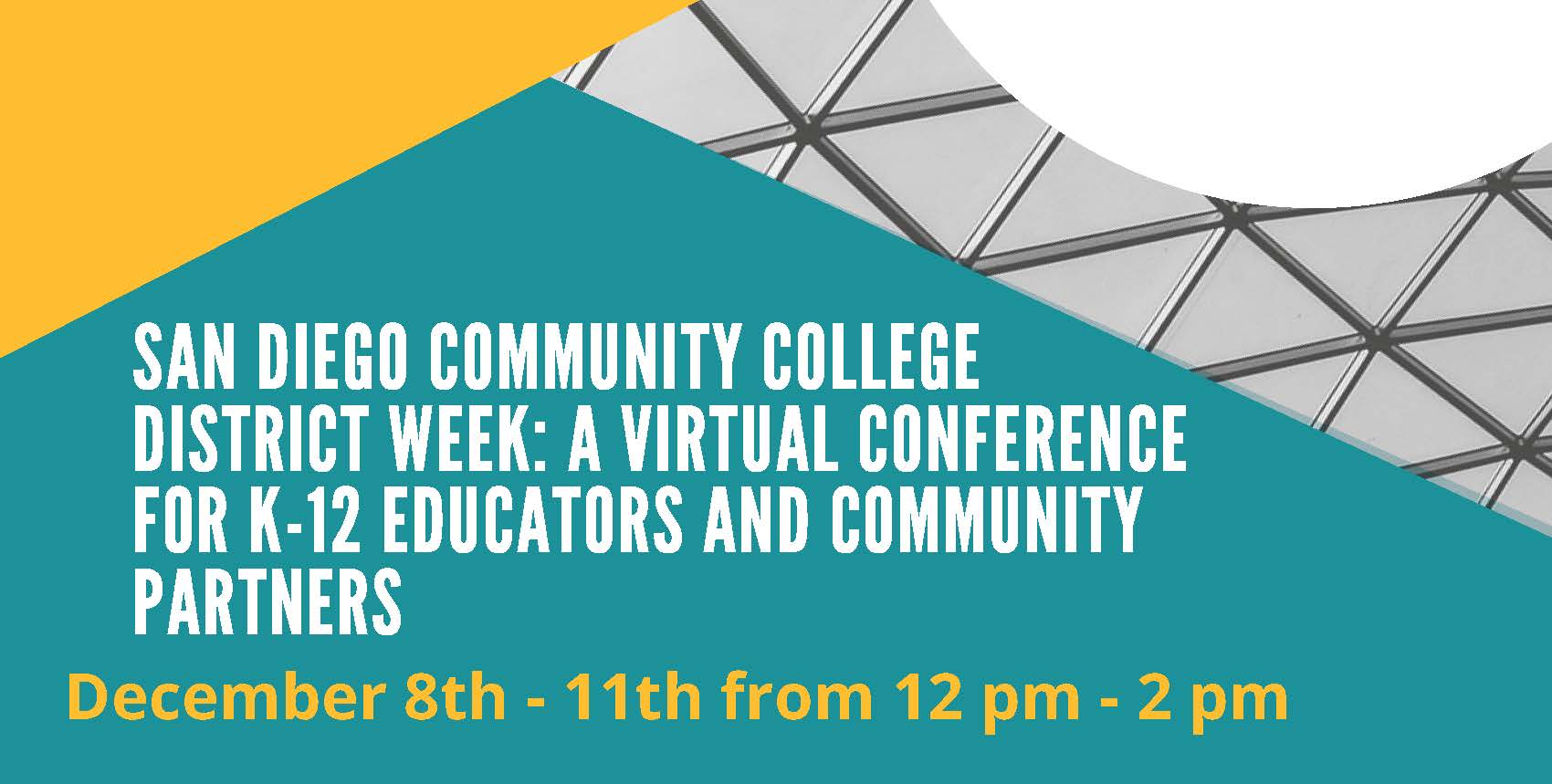 SDCCD Week is a 4-day virtual conference designed to provide K-12 educators and community partners with important information, resources, and strategies to effectively support students interested in attending San Diego City, Mesa, and/or Miramar College or San Diego Continuing Education. Attendees will receive information and resources to help students prepare for and navigate the application process for admissions, financial aid, and San Diego Promise and will have various opportunities to ask specific questions and to engage and network with SDCCD faculty, staff, and administrators. Each day of the conference will focus on a different area of interest, providing attendees with comprehensive and holistic insight into SDCCD Colleges and Continuing Education.
The following topics will be covered throughout the conference:
Campus Highlights
Overview of Support Programs and Services (San Diego Promise, EOPS, Umoja, Puente, Dual Enrollment and more)
Overview of the Enrollment Process
Overview of Career Technical Education Programs
All attendees will receive a virtual resource packet filled with important and relevant information to help you help students!
Zoom Recordings
Please find the links to the Zoom recordings below:
---
Resources
CITY COLLEGE
MESA COLLEGE
ADMISSIONS
ASSOCIATED STUDENTS
CAREER
COUNSELING
CRUISE
CTE
DSPS
EOPS, CARE, NEXT UP, BORDERLESS SCHOLARS & PROJECT RE-START
FINANCIAL AID
STAR TRIO
STEM CORE
STUDENT HEALTH SERVICES
TEACHER ED PROGRAM
MIRAMAR COLLEGE
CONTINUING EDUCATION