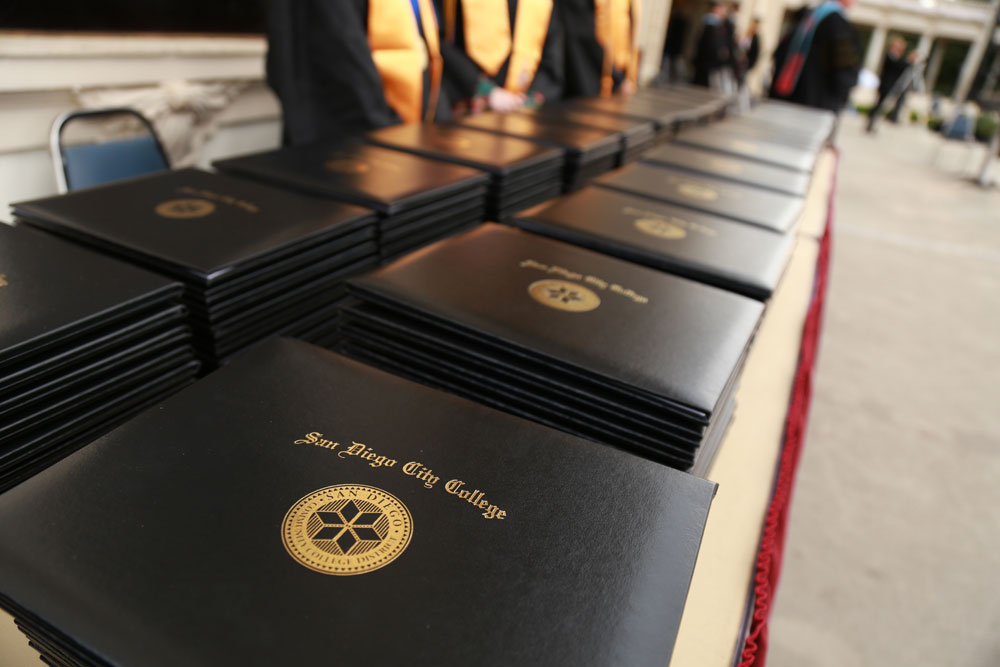 Incarceration to graduation - Changing lives at City College
March 11, 2016

|
Gabriel Hines and Ronald Nunez credit San Diego City College with helping turn their lives around. Both are involved in the college Parker's Scholars program, an ambitious effort targeting young adults who have had their fair share of run-ins with the law.
"The professors I've met being here in school, connecting with people, it's showing I can succeed in life," said Hines, 25, who enrolled at City College in the fall and aspires to become a middle school art teacher. "I'm here to unlock the potential I didn't know I had. I'm here for the long run. The only time I'm leaving is when I go to a university."
Both men have lived their lives making bad decisions that ultimately led to incarceration. But both are now ready to begin again. Nunez started college in the spring of 2014 and is now studying business administration.
"This is not the end for me at City College," said Nunez, who was acing all but one of his courses. "This is the beginning."
The Parker's Scholars program, also known as Incarceration to Graduation, offers counseling, peer tutoring and a sense of community to approximately 40 young men and women looking for another chance. Participants represent a pool of untapped potential, said Nesha Savage, the San Diego City College Counseling Department Chair who spearheaded the project. "With ongoing support, Parker's Scholars can earn college degrees and certificates, find careers in high-demand fields, and make meaningful contributions to the larger community."
Virtually all are first-generation college students. "They are all low-income," Savage said. "They have not had the role models with a college-going mindset to support them."
But they are succeeding as Parker scholars. A recent analysis showed a retention rate of 85 percent, a rate slightly exceeding that of the general student population.
"San Diego has one of the highest recidivism rates in the California," said Dr. Anthony E. Beebe, President of City College. "This is a huge cost in crime to the community, to the judicial system, and to humanity, in general. I'm glad we have seen such success in our Parker's Scholars program."
The effort is named for the $60,000 Parker Foundation grant that paid for the inaugural year of the program in 2014-15. The grant covered field trips to universities, student assessment, and a $500 stipend to cover books and supplies. Costs are now covered through City College's Student Success and Support Program, a state-funded endeavor promoting for-credit community college students to be successful in their educational efforts, but the $500 stipends have been eliminated.
The money is well spent. According to the California Legislative Analyst's Office, it cost more than $47,000 annually to incarcerate someone in a state prison.
The Parker's Scholars program evolved through contributions from an array of educational leaders, including Dr. Julianna Barnes, the new president at Cuyamaca College who was serving as dean of student development and matriculation at San Diego City College at the time and was instrumental in creating the First Year Experience program at the campus, along with Dr. Terry Burgess, the former City College president who found the funds to support the campus HUBU project in its infancy.
"Not a lot of programs like this exist in the region," said Alberto 'Beto' Vasquez who works with the City College Outreach Department and last year organized the STEM Equity Initiative, which brought six City College students – including a pair of Parker's Scholars – to visit UC San Francisco, Stanford University, and Cal State University Monterey to meet with first-generation graduate students and faculty members from similar backgrounds. "What makes it even more vital is that a lot of people who would have otherwise been incarcerated are now being kicked out of the system because of jail crowding, and they're not really being provided the resources or the options to help them out."
"If we let them just fend for themselves," Vasquez continued, "too many will fall into the same trap. This provides them with a viable option to a criminal lifestyle."
Between the Parker's Scholars effort, Hermanos Unidos/Brothers United (HUBU), a model First Year Experience program, and an annual Passport to Life connecting nearly 1,000 current and former probationers to a bevy of educational resources and testimonials from former incarcerated youth who have turned their life around, San Diego City College has taken the lead on serving the underserved.
Key to the Parker's Scholars program is a personal growth course. "It is a course aimed at providing Parker's Scholars with a sense of belonging, a place where they can build trust and rapport, a place where they can build community and find that we want them here, we expect them here, we will help them succeed here," said Savage. "We're supporting them in creating the mindset that they are going to be a successful student."
Nunez said the personal growth course has been vital. "It's common sense things, really, but it offers a structured way to look into yourself. It's helped me learn a lot about myself and has made me do a lot of reflection. There are some strategies that help, and there are some that don't, but it's all there to help you succeed in life."
"I'm not looking for the easy way out anymore," Nunez added. "There is no easy way out."