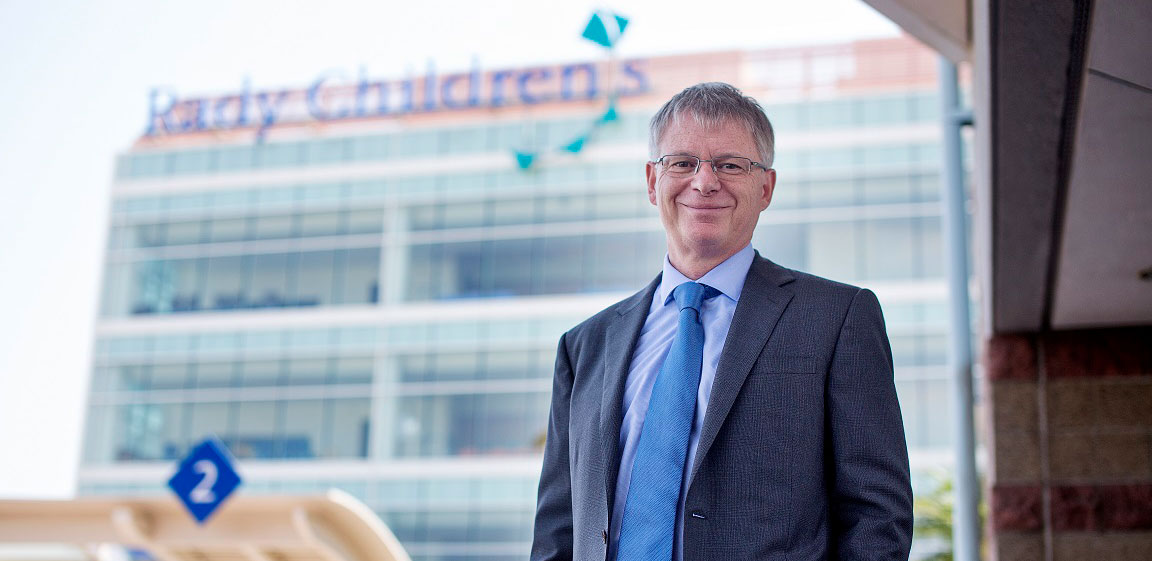 Corporate Council Spotlight: Rady Children's Hospital–San Diego
March 12, 2021

|
Anyone wanting to know more about the teamwork involved with members of the San Diego Community College District's (SDCCD) Corporate Council need look no further than Rady Children's Hospital–San Diego.
"Rady Children's and the San Diego Community College District have a shared commitment to improving the lives of those in our community, whether it be through education or health care," said Dr. Nicholas Holmes, Rady Children's Senior Vice President and Chief Operating Officer. "Participating in the Corporate Council has illuminated the positive effect of public-private partnerships in workforce development and allowed Rady Children's to participate in a valuable exchange of ideas about workforce planning with others in the community."
As the largest provider of higher education in the region, the SDCCD is on the front line of innovation. As a leading medical provider, so too is Rady Children's Hospital. Groundbreaking innovations at Rady Children's Institute for Genomic Medicine are revolutionizing care for infants suffering from rare diseases, delivering diagnoses within days instead of weeks and slashing costs in the process.
With the most comprehensive genomic test available — rapid Whole Genome Sequencing (rWGS) — a Rady Children's led a pilot program called Project Baby Bear that analyzed the genetic code of 178 infants to provide doctors with vital diagnostic information that empowered them to make life-altering medical decisions resulting in shorter hospital stays, fewer invasive procedures, and targeted personalized care.
"Among high-risk infants with rare, genetically determined diseases, time-to-treatment is crucial," said Dr. Stephen Kingsmore, President and CEO of Rady Children's Institute for Genomic Medicine, which is embedded at Rady Children's Hospital. "Project Baby Bear significantly shortened the time needed to accurately diagnose and optimally treat these critically ill children."
Through the pilot program, Rady Children's Institute for Genomic Medicine provided rapid Whole Genome Sequencing for 178 babies eligible for Medi-Cal, resulting in a diagnosis for 43% that pinpointed the reason for the infant's admission to the hospital; 31% had changes in their care as a result. The program also led to a savings of $2.5 million, largely because the care permitted doctors to discharge babies sooner — the Institute can deliver a diagnosis in three days or less for medically urgent cases — and reduce the number of procedures that may have been performed in the absence of a precise diagnosis.
"We're changing the standard of care of those who come to Rady Children's Hospital with an unknown disease," said Graciela Sevilla, a spokesperson for Rady Children's Institute for Genomic Medicine, who noted that Rady Children's is one of the few children's hospitals in the nation that can do genome sequencing in-house.
The Institute also is expanding potential opportunities to SDCCD students.
"There is a lot of career opportunity here, from the people working in the laboratories to the people doing the data mining to the doctors and nurses involved in providing lifesaving care," said Sevilla. "There's a big educational gap that needs to be filled."
That's where the Corporate Council comes in. The SDCCD Corporate Council plays an integral role in advising the District on issues regarding workforce education and training, it helps ensure curriculum remains relevant to the knowledge and skills students need to boost their prospects for upward economic mobility, and it provides a means to maintain excellent relations between the District and its business partners throughout the region.