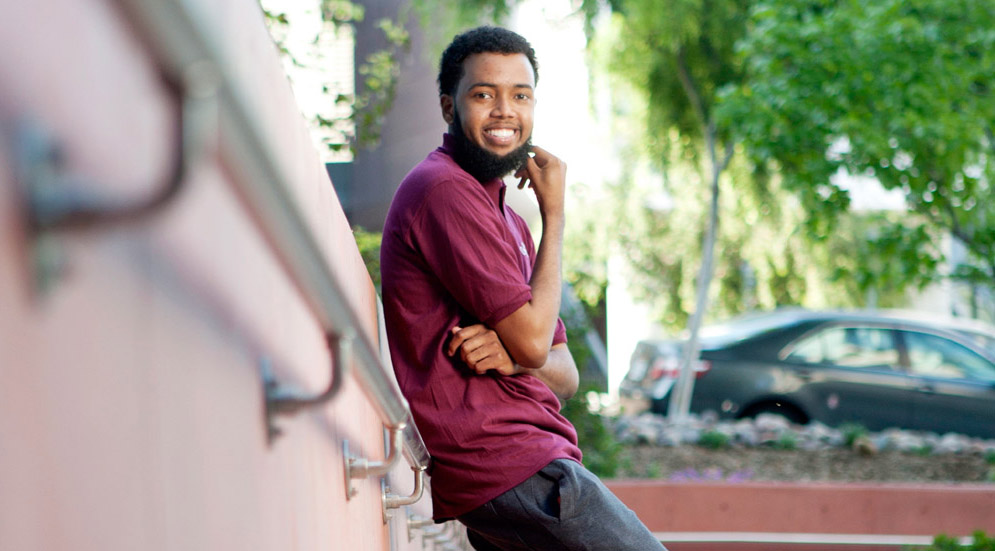 Abdisalan Bulhan finds success at City College
May 4, 2017

|
Abdisalan Bulhan is making the grade. The Kenyan immigrant, who moved to the U.S. when he was 12, is a peer mentor at San Diego City College and has been named to the Phi Theta Kappa All-California Academic Team based on his grades, intellectual excellence, leadership, and service to community. We asked Abdisalan to discuss his experiences at City College and his plans for the future.
Q. Why did you choose San Diego City College?
A. I am the first in my family able to attend college, and English was my third language. I was afraid that I wouldn't excel in English level proficiency, so I chose to attend a community college. Also, my mother simply couldn't afford to send me to a four-year university after high school.
Q. How well are immigrants treated at City College?
A. San Diego City College is a very diverse school. Everyone is treated the same. International students, immigrants, American citizens, undocumented students. Every student who seeks an opportunity for a good education is welcomed with support.
Q. What do you like most about City College?
A. As an employee of the First Year Services office, I love my co-workers and the positive environment around me.
Q. How do you relax before a big test?
A. I try taking some deep breath exercises. Deep breathing helps me relax my body and focus better.
Q. What are your future educational plans?
A. I will transfer to San Diego State University in the fall of 2017. I plan to earn a dual Bachelor's Degree in Business and Social Work. It is my dream to start an organization that provides resources for immigrants in the U.S. As an immigrant, I understand the importance of being knowledgeable about programs that can help immigrants. With a strong sense of humility, I am ready to serve as a leader for individuals in my community and beyond.
Q. Most memorable City College moment?
A. There are so many. Just meeting so many wonderful people who support and care about me has been memorable.
Related Article: 6 district students named to honor society's all-California Academic Team