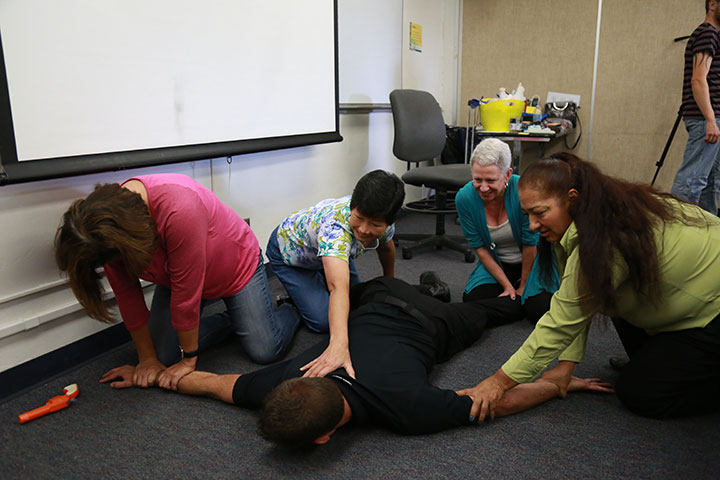 Police, civilians to train together in active shooter scenario
January 12, 2016

|
A comprehensive emergency training exercise that incorporates police response to an active-shooter situation with faculty and staff members learning the latest in evading and even overtaking a gunman comes to San Diego City College on Jan. 15.
"This will be a realistic exercise utilizing flash-bang and other devices that will incorporate training for both emergency response teams and faculty and staff," said Lt. Gilbert Torres of the San Diego Community College District Police Department.
Separate four-hour training sessions are set to begin at 8 a.m. and 1 p.m. in Room 140 of the MS Building at 15th and C streets. Each class will be separated into two simultaneous components.
In the first component, police officers will review and hone their skills at responding to an active shooter situation, including clearing rooms and stairwells and securing buildings. At the same time, a group of faculty and staff, along with some officers, will take part in an ALICE academy. ALICE is an acronym for Alert, Lockdown, Inform, Counter, Evacuate, and those words describe what potential victims are taught to do if they find themselves in a building that has been targeted by a gunman. The ALICE program represents a change in thinking about how potential victims should respond to an active shooter, teaching individuals to participate in their own survival while leading others to safety.
The Alert step means letting people know about the situation. In the Lockdown step, students are instructed to use desks, tables, and chairs in making an effective barricade that can keep an intruder from storming through a classroom door. Inform means using technology to provide play-by-play information to authorities. The Counter step trains students to make noise, create movement, and distract the assailant, actions that would reduce the shooter's ability to open fire accurately. And Evacuate means getting away from danger if possible.
The SDCCD Police Department conducts up to four active shooter exercises annually to keep its staff of sworn police officers proficient in tactical deployment and responses to threats of armed intruders on college campuses. The district's initial ALICE training took place October 20 at Miramar College.
What makes the January 15 exercise somewhat unique is that it brings together two different training exercises. In the latter part of each four-hour session, police responding to an active shooting situation will interact with those who are taking part in the ALICE academy.
"It will offer a realistic scenario to demonstrate how the two entities will interact during an active killing scenario, and it will identify communication and logistical issues police officers and citizens might encounter," Lt. Torres said.
With 40 sworn officers, the SDCCD Police Department is among the largest law enforcement agencies in the California Community Colleges system. It provides the primary law enforcement response on and around the district's three colleges, six continuing education centers, and various SDCCD business offices, handling all patrol, investigation, crime prevention education, emergency preparedness, and related law enforcement duties for the college district 24 hours a day, seven days a week.
Related: B-roll from previous ALICE training