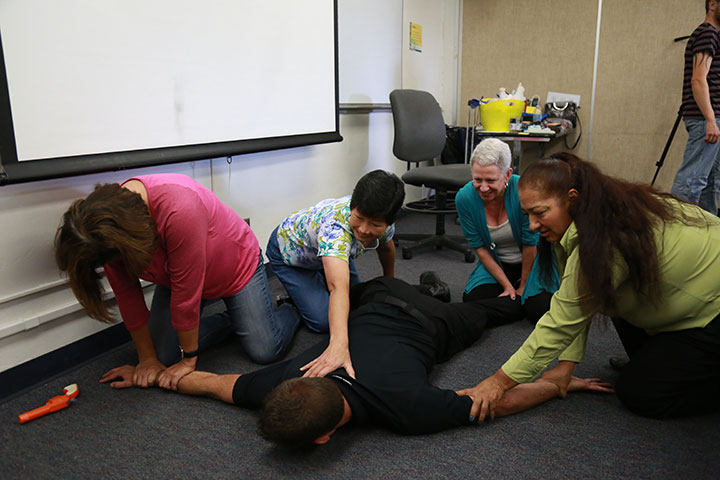 Training shows what to do when faced with an active shooter
October 21, 2015

|
With the deadly shooting at Umpqua Community College still on the minds of many, the San Diego Community College District's Police Department is holding specialized training sessions at San Diego City, Mesa, and Miramar College and San Diego Continuing Education to prepare students, faculty and staff for active shooter situations on campus.
A training drill was held at Miramar College on Oct. 20 and at City College on Oct. 22. Training sessions at Mesa College and Continuing Education are tentatively planned to take place next month. Each drill lasts about four hours and falls under the guidelines set by the ALICE Training Institute.
"We want to provide our students, faculty, and staff with resources and tools to improve their survivability in the event of an active shooter scenario on campus," said SDCCD Police Officer Richard Ferrell, who serves as coordinator of the department's Emergency Management Resource Team.
ALICE is an acronym for Alert, Lockdown, Inform, Counter, Evacuate, and those words describe what students are taught to do if they find themselves in a building that has been targeted by a gunman. The Alert step means letting people know about the situation. In the Lockdown step, students are instructed to use desks, tables, and chairs in making an effective barricade that can keep an intruder from storming through a classroom door. Inform means using technology to provide play-by-play information to authorities. The Counter step trains students to make noise, create movement, and distract the assailant, actions that would reduce the shooter's ability to open fire accurately. And Evacuate means getting away from danger if possible.
The ALICE program was authored by a police officer to keep his wife, an elementary school principal, safe after the tragic events at Columbine High School in Colorado. The purpose of training is to prepare individuals to handle the threat of an Active Shooter. ALICE teaches individuals to participate in their own survival, while leading others to safety.
Originally scheduled for early 2016, the district has moved up the trainings following the shooting at Umpqua Community College. Up to 40 people – primarily administrators, faculty, and staff – typically take part in the initial training sessions. The SDCCD is aiming to hold such sessions at each campus each semester.