Mesa's Anabel Pulido named SDCCD classified employee of the year
February 22, 2017

|
San Diego Community College District is proud to announce that San Diego Mesa College's Digital Communications Specialist Anabel Pulido has been named the district's Classified Employee of the Year.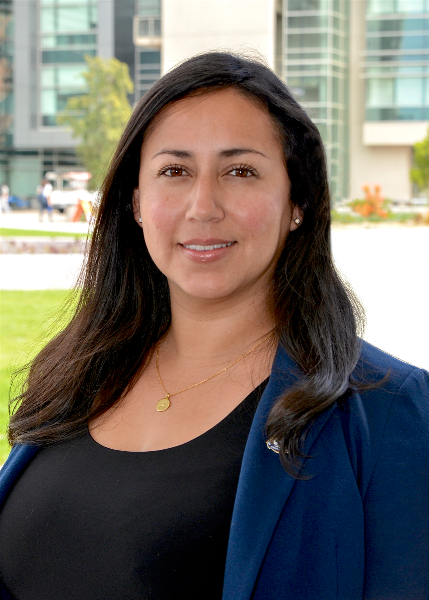 Anabel Pulido
Mesa College President Pamela Luster has also nominated Anabel for the statewide Community College Classified Employee of The Year Awards Program. The award honors community college classified employees who demonstrate the highest level of commitment to professionalism and community colleges.
Recipients are nominated by their colleagues and endorsed by the local Board of Trustees. Each local Board of Trustees in California may forward one nominee to the California Community Colleges Chancellor's Office. Recipients will be announced and honored at the May 2017 Board of Governors meeting. The nominees are evaluated on their commitment to: the mission of community colleges; professional ethics and standards; serving the institution through participation in professional and/or community activities; and serving as a leader beyond the local institution.
"Anabel is exactly the kind of employee that I believe is worthy of this award. As large as Mesa College is, Anabel is a standout, a selfless and kind person who goes above and beyond in everything that she does, a true Mesa Olympian," said President Luster in an email sent to Mesa College employees.
Anabel began her tenure at Mesa College as a graphic artist and photographer in the Office of Communications. She initiated the college's social media campaign, and successfully launched the Mesa College Facebook pages, Twitter, Instagram and Snapchat accounts. She did this at a time when social media was just starting to be used as a tool to reach out and keep in touch with students, staff, faculty and our community. She did so voluntarily, while keeping up with her regular duties. Due to her efforts, San Diego Mesa College is now a leader in social media and digital communications.
As a first generation college student herself, Anabel understands the importance of reaching out to students in ways that are more inclusive, and has helped to build the cultural and diverse climate on our campus. She assures that the way Mesa photographs and use visual materials is always done professionally, and in line with the college's goal of becoming the leading college of equity and excellence.
Anabel's mark is all over the San Diego Mesa College campus. She was central to the "We Are Mesa" campaign that sought to bring the college together and truly showcase the "Mesa Community." She also created all of the signage and creative content for the Mesa College "M," now used by all of the athletic programs. Fans will notice that it is imprinted on all Mesa College uniforms and gear, and emblazoned on the football field.
Anabel's work has won numerous awards from the CCCPRO California Community College Public Relations Organization and the NCMPR, National Council for Marketing and Public Relations, to include several annual reports, event posters, college catalog and schedule, photographs and digital art.
Anabel has promoted and actively been involved with major Mesa College events, both on our campus and in our community. She has followed Mesa along parade routes for Pride, Martin Luther King and Linda Vista Multicultural Parade; she has captured Grand Openings of new buildings, and student celebrations. Anabel has also helped to organize new events on campus, and is particularly proud of the work the she has done as part of Mesa College's Chicano/Latino Heritage Committee.
Last year, during a vacancy, Anabel served as the Acting Information Officer for Mesa College, which she did in addition to her regular duties. At the time, Mesa was completing its accreditation institutional self-evaluation report. She was happy to step up to help the college, and did a great job of keeping the college moving forward. True leaders step up in times of need, and Anabel always answers the call.