Inspiring Community College Students Honored
May 5, 2015

|
Some of the most exceptional students in the San Diego Community College District (SDCCD), many of whom will be transferring to Ivy League universities and other prestigious institutions, will be celebrated May 6 during the 27th Annual Honors Reception at The Prado in Balboa Park.The program is set to begin at 11 a.m.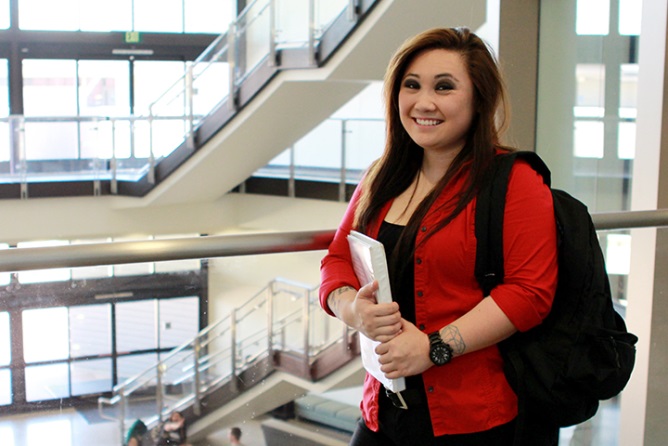 Thaimae Le
"Being where I am now is almost surreal," said Thaimae Le, a San Diego Miramar College honors student. "I was not a good student in high school.The Honors Program has helped me accomplish things I didn't know I could accomplish."
Students at the reception will share how the SDCCD Honors Program has helped them reach their educational goals. The celebration concludes with those who are transferring to a four-year college or university being individually recognized and noting the colleges or universities they will attend.Past honorees have gone on to earn bachelor's degrees at Stanford, doctorates at Princeton, and law degrees at Yale.
Le is planning to transfer to UC San Diego in the fall of 2016 and study English en route to a possible career in entertainment marketing and public relations.For her, the Honors Program at Miramar College was life changing."The Honors Program has opened so many doors for me," she said. "It means a lot to have a recognition ceremony like this and to be in a room with like-minded individuals who share your same goals of academic excellence."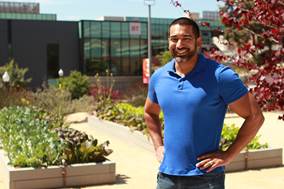 Elvin Lantigua
Elvin Lantigua, who enrolled at City College last fall after serving 10 years in the Marine Corps, said joining the Honors Program was a no-brainer. "If I'm going to do something, I'm going to give 100 percent.There's no better way of doing that as a college student than through the Honors Program," said Lantigua.
SDCCD's Honors Program provides exceptional and intense learning experiences in highly interactive classes. The Honors General Education Core Curriculum consists of a group of courses approved for transfer to campuses of the University of California and the California State University systems.
What's more, San Diego City, Mesa and Miramar Colleges have agreements with several colleges and universities in which Honors Program students meeting certain requirements get priority consideration and admission.Admission rates for SDCCD students applying to UCLA through such an agreement are 80 percent.
"One of our district's great strengths is the broad spectrum of our programs, from basic literacy at one end to honors at the other," said SDCCD Chancellor Constance M. Carroll. "We are proud to accommodate students who need assistance and tutoring, as well as advanced students who seek greater academic challenges."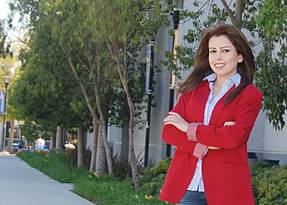 Sarah Taha
Sarah Taha, an Iraqi immigrant and honors student at San Diego Mesa College, is heading to the Haas School of Business at UC Berkeley next fall for a degree in Business Administration. Taha, was named the top community college student in California and one of the top community college students in America. Taha has secured numerous scholarships to help her continue her studies, including a $5,000 award for the All-USA Community College Academic Team honor, the prestigious $5,000 Phi Theta Kappa Guistwhite Scholarship Award, the $2,500 Mesa College President's Academic Excellence and Service Award and a $2,000 award as the 2014 Coca-Cola New Century Scholar for California.
Miramar College Honors Student Colin Skinner also is transferring to UC Berkeley.A recipient of the prestigious Jack Kent Cooke Undergraduate Transfer Scholarship, the former high school dropout will collect $40,000 annually for up to three years while studying bioengineering.
"We're just so proud of these students," said Dr. Carmen Jay, SDCCD's Honors Coordinator."They are so hard working and so motivated and have overcome multiple challenges and beat many odds to get to where they are."
Approximately 2,200 SDCCD students take part in the Honors Program each year.Some 175 students are expected at the Annual Honors Reception.
As the second-largest of California's 72 community college districts, the San Diego Community College District serves approximately 100,000 students annually through three two-year colleges and San Diego Continuing Education.The three colleges, San Diego City College, San Diego Mesa College, and San Diego Miramar College, offer associate degrees and certificates in occupational programs that prepare students for transfer to four-year colleges and entry-level jobs. Beginning fall 2015, Mesa College will also offer baccalaureate degrees in the field of Health Information Management.