Mesa College Student Sarah Farmer One of Top in Nation
April 9, 2014

|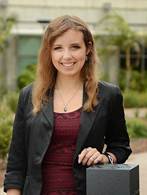 It's been a heady week for San Diego Mesa College student Sarah Farmer, 21, of Poway, who was named yesterday to the 2014 All-USA Community College Academic Team.
She, along with 19 other college students from across the country, was selected to the team from more than 1,700 students nominated by more than 800 community colleges.
Farmer will receive a $2,500 scholarship and a special medallion to wear on her graduation regalia this June.
Earlier this week, Farmer and fellow student William Keck, were honored by the California Commission for Community as an All-California Academic team members. Farmer was also named the top scorer in the state, earning an additional award as the 2014 Coca-Cola New Century Scholar for California, which comes with a $2,000 scholarship and a plaque from the Coca-Cola Foundation and Coca-Cola Scholars Foundation.
"Sarah is a perfect example of what teaching and learning at Mesa College is all about," said Dr. Pamela T. Luster, president. "At Mesa, Sarah found the encouragement and programs to thrive – both in and outside the classroom. She has made the transition from student to leader. She is a role model for her peers -- on campus and in the community -- and has an outstanding future ahead of her."
Although she'll graduate with high honors, Farmer never had ambitious goals for an academic future.
Throughout middle and high school, Farmer suffered from constant health problems, including postural orthostatic tachycardia syndrome (POTS), and bi-polar disorder. Her grades suffered due to numerous hospital visits. She surprised even her high school counselor by graduating.
In 2011 she enrolled at Mesa College.
"From the day I set foot at Mesa, the college experience – and especially the people, programs, and wealth of ways for students to get involved – helped me to turn by life around," explains Farmer, who is now able to cope with her conditions without the need for medical attention.
With a 3.95 grade point average, the psychology major's academic success is matched by her involvement in campus affairs, and community service. She is Vice President of the Associated Student Government, President of the Honors Club, and a member of the pre-med AMSA chapter, the Inter-Club Council, the Psi Beta Honor Society. She is also Vice President of Fellowship in the college's PTK chapter, which presents the All-USA Community College Academic Team awards.
Off campus, Farmer volunteers for the Escondido Humane Society and as a youth leader in her church, with a total of more than 5,000 hours of community service.
After graduation in June, Farmer hopes to transfer to a four-year university and eventually earn her Ph.D. in psychology. She hopes that she can one day "guide future generations to achieve greatness and overcome the odds set against them."
"I continue to do my best as a student while also being continuously involved on and off campus, and while encouraging my peers to be the best they can be," says Farmer. "There is no greater service or goal than helping lift up others."
The All-USA academic program is widely recognized as the most prestigious academic honor for students attending community college. Nominees are selected by colleges for showing intellectual rigor and demonstrating academic leadership and civic growth. It also recognizes students who extend their community college education to better themselves, their colleges and their surrounding communities.
San Diego Mesa College serves approximately 25,000 students annually and offers more than 195 degree and certificate programs. For more information, visit sdmesa.edu.
See the USA Today Story here.