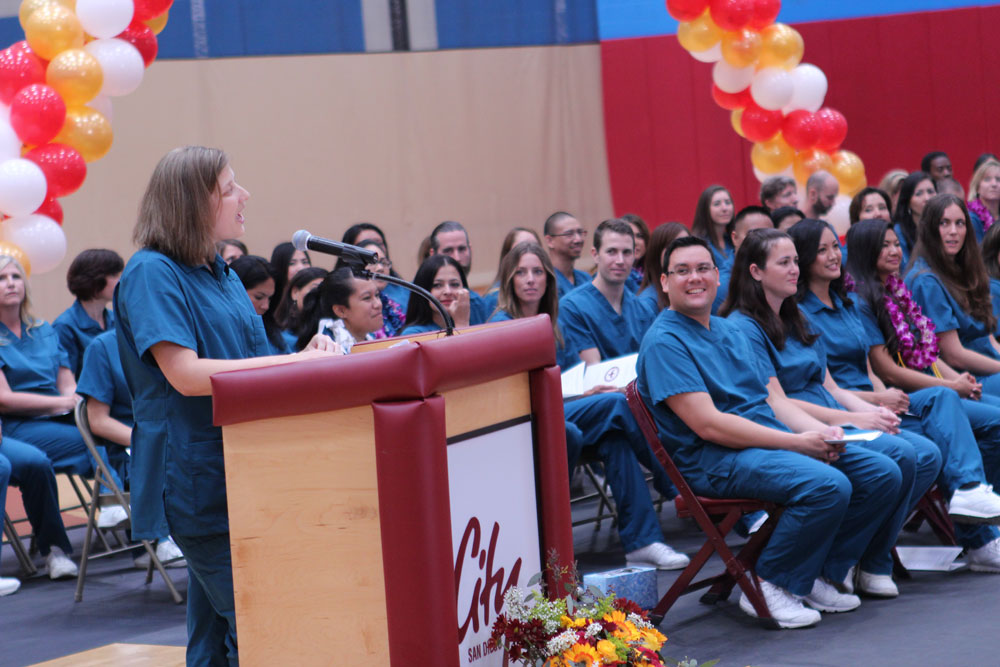 Nurse Pinning Ceremony
May 21, 2014

|
Sixty-five San Diego City College nursing students will earn their nursing pins at a May 24 celebration that will send the graduates into one of the fastest growing fields in the country while playing a vital role in regional heath care.
The May 24 ceremony takes place 11:30 a.m. at City College's Harry West Gymnasium, 1480 Park Blvd., in San Diego.
"It's a really meaningful occasion for students who have been in a program for two years working hard to reach this goal," said Debbie Berg Associate Dean/Director of the Nursing Education Program at San Diego City College. "It's a pretty big achievement."
Pinning ceremonies are a symbolic welcoming of new graduates to the nursing profession, though graduates must still pass the National Council Licensure Examination for Registered Nurses. At the May 24 event, graduates recite the Nightingale Pledge (a nursing version of the Hippocratic Oath), give speeches, watch a slide show, thank those who have helped them reach their goals, and receive nursing pins representing their completion of the City College program. A reception with family and friends caps off the celebration.
Nurses make up the largest group of licensed health care professionals in the country, and it is expected that by 2020, there will be 1.2 million job openings for registered nurses.
Ninety-eight percent of San Diego City College graduates last year passed the National Council Licensure Examination for Registered Nurses, giving the City College Nursing Program among the highest rates in the nation. More than 2,000 graduates have passed the test and become nurses since the City College nursing program was launched in 1971. The San Diego City College Nursing Education Program is accredited by the California Board of Registered Nursing (BRN) and the Accreditation Commission for Education in Nursing (ACEN).