Dr. Ashanti Hands is new VP at Mesa College
January 5, 2016

|
Dr. Ashanti Hands has been named the new Vice President of Student Services for San Diego Mesa College. She officially began her position Jan. 4, 2016, at the start of spring semester at Mesa College.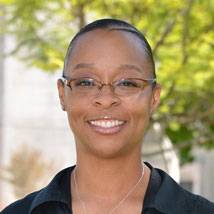 "Ashanti has proven her capabilities during her tenure as Dean of Student Affairs at Mesa College. Our students just love her." said Dr. Pamela T. Luster, President. "She also has been invaluable in our efforts to advance student advocacy and equity, program review, and institutional effectiveness. We are looking forward to her leadership in advancing Mesa's efforts to become the leading college of excellence and equity."
Hands will assume responsibility for 20 student services departments, services and functions. These include: admission and records, counseling, evaluation and assessment, financial aid, disability services and programs, student affairs, the career and transfer centers, student health services, high school and community outreach, and special projects.
"Mesa College has a strong foundation rooted in teaching and learning. I look forward to building on our successes, and advancing the conditions that will enable our students to thrive," said Hands of her advancement. "To serve in this capacity at this time in our State's history, at this amazing institution of higher learning, is an absolute honor."
Hands served as Dean of Student Affairs at Mesa College since 2008. In that capacity she has strengthened student engagement, and launched new efforts such as welcome week and homecoming activities.
Inspired by her first position in higher education as a counseling intern in the extended opportunities programs and services (EOPS) at Mesa College, Hands has held a variety of positions in higher education, including dean of student affairs, assistant dean and coordinator of student activities at the University of California, San Diego, and as an EOPS counselor at Grossmont College.
A native of Inglewood, California, Hands received her doctorate in educational leadership with a community college specialization from San Diego State University. She was recognized by her graduating class with the William E. Piland Outstanding Postsecondary Education Leadership Award. Also from SDSU, she received her master's in education with an emphasis in multicultural counseling. She received bachelors in sociology with a minor in ethnic studies from UCSD.
Professionally, Dr. Hands is a member of the Association of California Community College administrators and has served as a faculty member on several institutes within the National Association of Student Personnel Administrators (NASPA). She also co-authored a chapter in the recently published, AVP: Leading from the Unique Role of Associate/Assistant Vice President for Student Affairs.
Dr. Hands is a resident of Chula Vista. She is married to her high school classmate, Ronnie Hands, and is the mother of two teenagers.