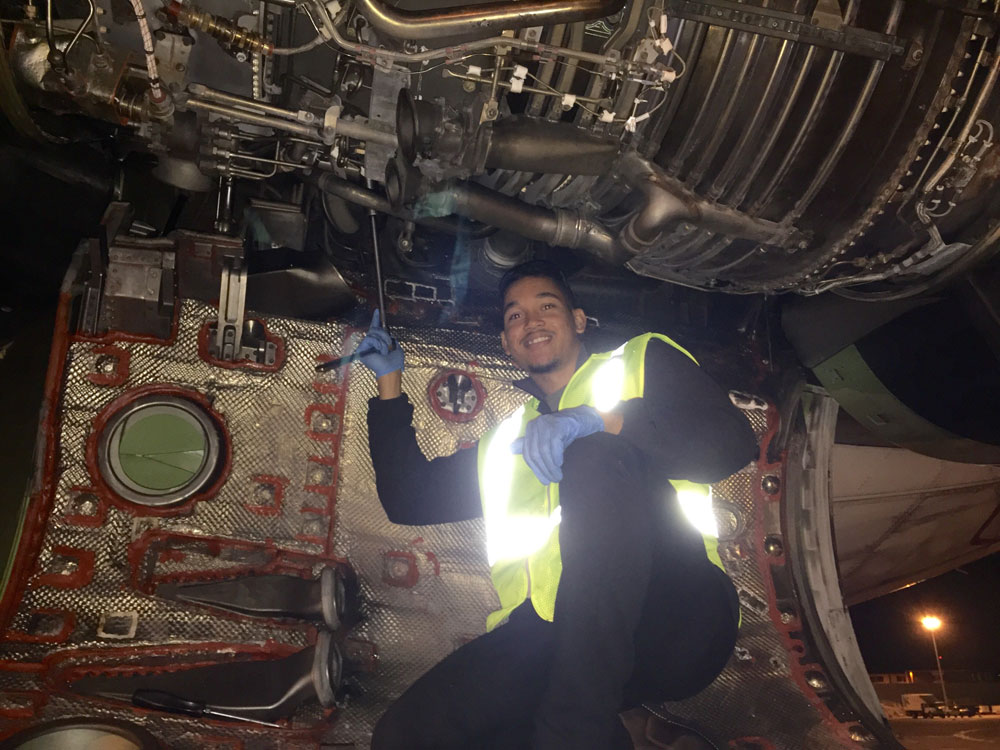 Aviation student secures Delta Airlines internship
December 18, 2015

|
San Diego Miramar College student Tevin Nixon has joined Delta Airlines on a paid internship. He is currently working nights at Lindbergh Field under the direct supervision of Delta mechanics. The 22 year-old began taking courses at Miramar College in Fall of 2011 and will graduate later this month. Nixon is studying aircraft maintenance.
Nixon recently completed a vigorous employment process to become Miramar's first intern selected from the aviation program to join the Delta Airlines Intern Program.
"This is a great achievement," said Lonny Bosselman, aviation program director at Miramar College. "There were several administrative hurdles to overcome, but through the tenacity displayed by Delta Station Manager Jim Fuller it has finally happened."
Leadership from the Miramar College Aviation department first met with Delta Airlines officials earlier this year to discuss the framework of an internship program that would align the skills of Miramar College students with the needs of one of the nation's largest carriers.
"Delta actually courted us," said Larry Pink, chair of the aviation program. "Delta has recognized that 75 percent of its workforce is eligible to retire in the next few years and they need to fill those gaps. The airline has approached 50 aviation programs nationwide and they chose to speak to 10. Miramar College was one of those 10. Delta is hoping to align with aviation programs, in areas where the cost of living is high, to train the local workforce. This strategy will help to cut down on their costs. Miramar College has offered a high quality aviation maintenance program to the community for several years. Our program will help assist Delta with its future labor needs and this in turn will benefit our students and the San Diego region with job creation."
The Aviation department hopes to rotate another intern into the Delta Airlines Intern Program by the first of the year.