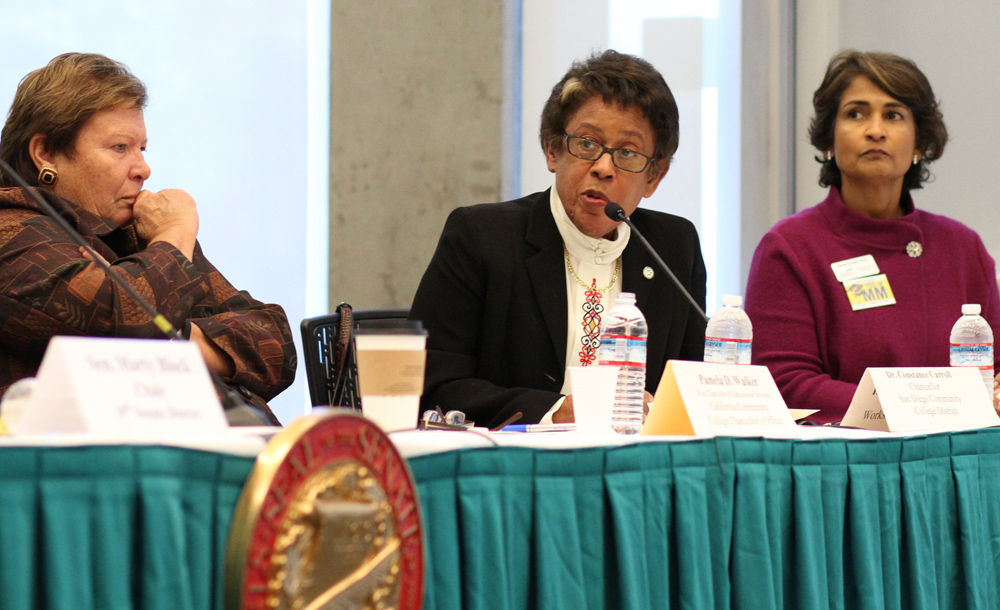 Leaders discuss expansion of 4-year degree pilot program
November 4, 2016

|
California will need 1.1 million more graduates with bachelor's degrees by 2030 in order to meet workforce demand. That stark fact was shared at a recent California Senate hearing by Patrick J. Murphy, Director of Research and Senior Fellow from the Public Policy Institute of California.
The hearing, held November 1 at San Diego City College's Corporate Education Center, focused on the current status of California's baccalaureate pilot program and the ability of the state's community colleges to meet future demand for four-year degrees. Hosted by California Senator Marty Block (D-39), the hearing included panel discussions, testimony from experts on local and state workforce needs, and public comments.
In September 2014, Governor Jerry Brown signed Senate Bill 850 which allows 15 community colleges statewide to offer one degree per campus. Locally, San Diego Mesa College and MiraCosta College are participating in the pilot program. Mesa College launched its health information management program in fall 2015, MiraCosta College plans to begin offering upper-division classes in biomanufacturing next fall.
San Diego Community College District Chancellor Constance Carroll, who chaired the statewide campaign in support of SB 850, told hearing attendees that there is strong demand for the new degree programs and that the next priority should be to extend the pilot program's timeline. Under current legislation, the pilot program will sunset in 2023, which might deter new students from joining the program.
Sen. Block, a former president of the SDCCD Board of Trustees, authored SB 850 and sees expanding four-year offerings at California's 113 community colleges as an efficient way to meet the state's workforce needs.
"If California community colleges do well with the first fifteen bachelor's programs," said Block. "I think we'll see it expand greatly over the course of the next several years."
Currently, 22 other states allow community colleges to offer four-year degrees. As is the case in many of those states, SB 850 limits the programs that can be offered by California community colleges to specific career-technical fields such as dental hygiene, automotive technology, and airframe manufacturing technology. None of these programs are offered at the California State University or University of California systems.
Affordability is also a key consideration for possible expansion of the program. Students participating in the baccalaureate pilot program pay approximately $10,560 in fees and tuition for their four-year degree, a fraction of the cost of private universities. On average, California State University in-state students will pay $27,036 for four years of study.
If new legislation is to be introduced to expand California's baccalaureate pilot program, it will need to be authored by someone other than Sen. Block, who did not run for re-election and whose term expires this year. Fortunately, it appears that several other influential members of the California Legislature are ready to champion the cause. Participating in the hearing along with Sen. Block was Sen. Benjamin Allen (D-26), Sen. Jerry Hill (D-13), and Rep. Jose Medina (D-61) who chairs the Assembly Committee on Higher Education.
Sen. Hill seemed to echo the sentiment of his colleagues when he referenced the likely political hurdles to expanding or extending the baccalaureate pilot program, "We'll fight the politics when the time comes," he said.