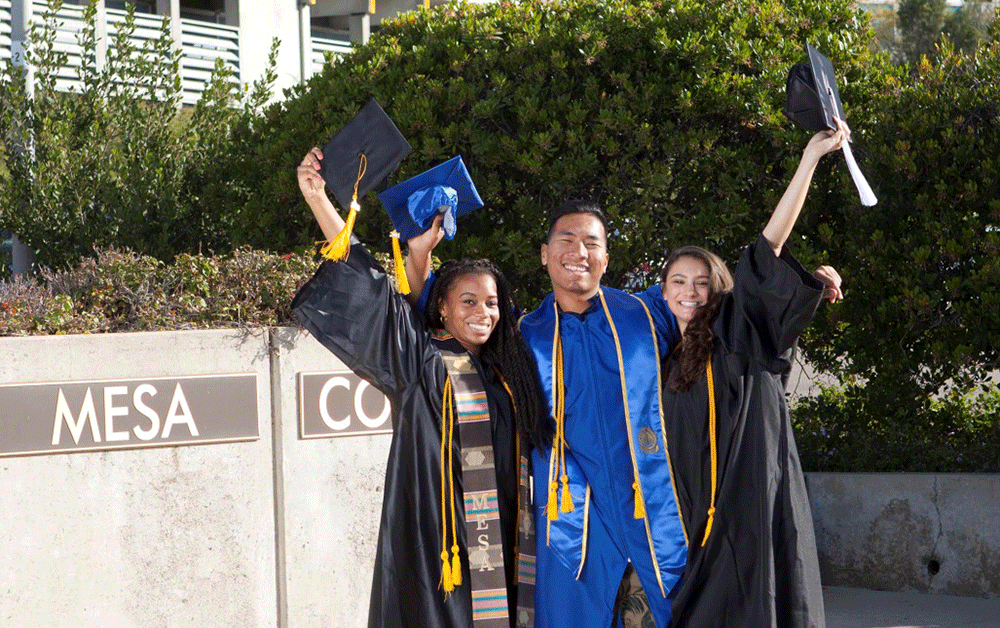 Report details progress of California's 4-year degree pilot program
December 19, 2017

|
California's historic baccalaureate pilot program, which for the first time allows a select number of community colleges to offer bachelor's degrees, is making progress in addressing the state's urgent workforce needs but more data is needed for a complete evaluation, according to a new report from the California Legislative Analyst's Office (LAO).
Each of the 15 programs in the pilot addresses a specific workforce need in their local communities without duplicating any programs at public universities. The report found that these programs, which were launched over the past two years, are viewed favorably by both employers and students.
At site visits conducted by the LAO, many students described themselves as place-bound and would not otherwise be able to pursue their bachelor's degree if one weren't available at their local community college. According to the report: "The availability of the degree at a familiar and local institution encouraged them to raise their educational aspirations."
San Diego Mesa College, for example, welcomed its first cohort of health information management enrollees in fall 2016. Those students, who are mostly female and made up of students of color, are on track to graduate with their bachelor's degrees in May 2018. They are expected to command starting salaries ranging from $80,000 to $120,000.
San Diego Community College District Chancellor Constance Carroll, who co-chairs California's statewide advocacy efforts pertaining to the baccalaureate initiative, believes that the LAO report paves the way for new legislation to extend the program's current sunset provision. Currently, the baccalaureate pilot program would end in 2023.
"Of special importance is the sunset provision, which was addressed in SB 769," said Chancellor Carroll. "While working on the other aspects of our baccalaureate programs and on the data suggestions in the LAO report, we also need to focus on the sunset provision in the hope that we can seek an extension. This would not only be good for the existing programs; it would provide the opportunity for more evaluative data."
Chancellor Carroll says the sunset provision has already begun to negatively impact recruitment efforts. If the sunset provision remains, colleges will not be able to recruit past the spring semester of 2018; students who begin programs in the fall of 2018 will graduate in the spring of 2022, and any interruption could push them past the sunset date.
"It is extremely important to California's economy and the economic welfare of local communities and students to have practical, educational programs that lead directly to jobs," said Chancellor Carroll. "This is especially important for these programs since no public universities offer them. The LAO report clearly recognizes this need. Now we need to take the next step legislatively."
Earlier this year, Senator Jerry Hill (D-San Mateo and Santa Clara Counties) introduced legislation to extend and expand the pilot program. Senate Bill 769 was approved by the Senate but near the end of the process failed to clear the Assembly Appropriations Committee. Many are hopeful Senator Hill will again introduce legislation to address issues of the sunset provision.
"I look forward to working with Chancellor Carroll on further legislation to strengthen the Community College Baccalaureate pilot program," said state Senator Hill. "The ability to continue to enroll students in this important program will enable a more robust evaluation of the pilot. As lawmakers we have an obligation to help low-income and minority students get an affordable degree from a local institution that will lead to a good paying job in their community."
The need is profound. California will fall about 1.1 million college graduates short of economic demand by 2030 if current trends continue, according to a Public Policy Institute of California report. Similar concerns motivated 23 other states to authorize their community colleges to address economic needs through applied baccalaureate programs.
Meanwhile, the first cohorts of students in California's pilot program are on track for graduation this May. And many, as pointed out in the LAO report, already have job offers.
After being selected to participate in the pilot, Mesa College was among the first to fully implement its program. The college's baccalaureate program in health information management was initiated after careful consultation with local healthcare providers. Other pilot colleges have also invested heavily in building relationships with businesses and industries that will benefit from access to a diverse pool of well-trained graduates.
"Students at San Diego Mesa College are ready to graduate this spring," said Mesa President Pamela Luster. "Health Care Providers are already recruiting these students as Registered Health Information Administrators. These positions are increasing across the country, and the San Diego region will have the advantage of hiring the best."
A copy of the Legislative Analyst's Office report can be found at: www.lao.ca.gov.