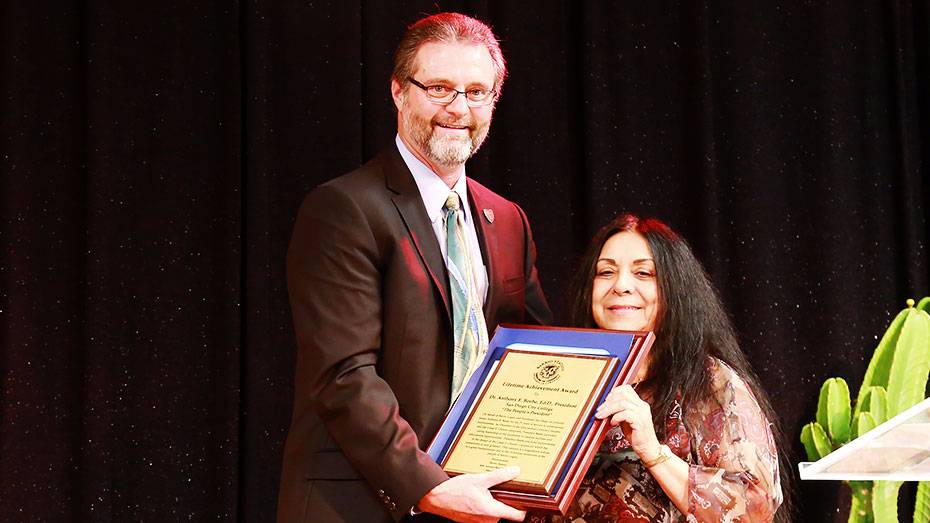 Barrio Logan group honors SDCCD leaders for expanding educational opportunities
March 7, 2016

|
A leading Barrio Logan community group has recognized San Diego City College President Anthony E. Beebe and San Diego Community College District Board of Trustees President Maria Nieto Senour for their contributions in expanding educational opportunities in underserved communities – contributions which include bringing the César E. Chávez Campus to Barrio Logan.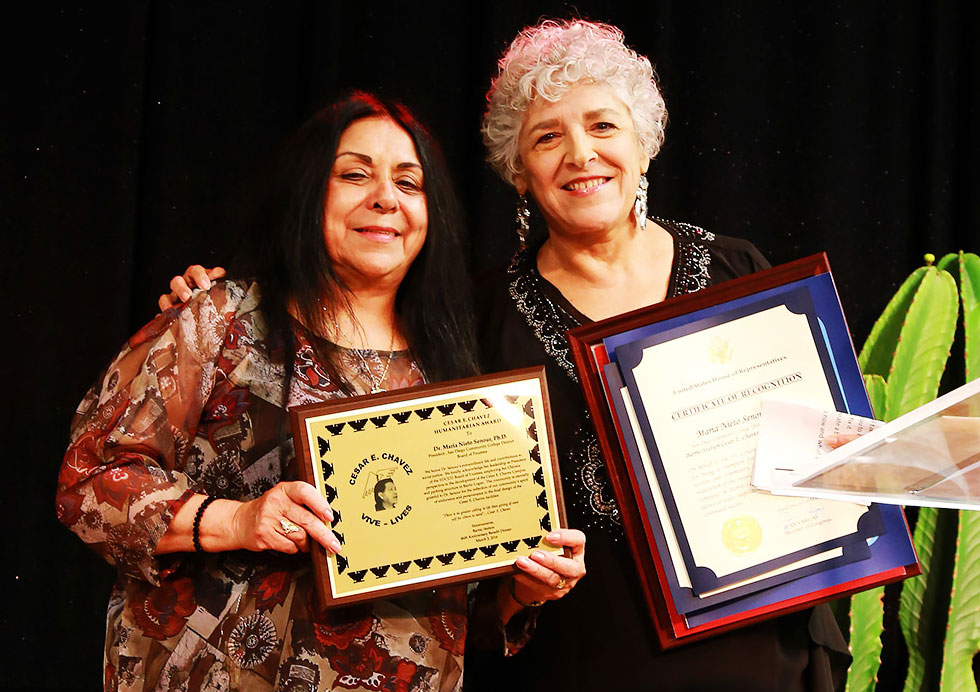 Barrio Station Founder and Executive Director Rachael Ortiz with SDCCD Board of Trustees President Maria Nieto Senour.
The Barrio Station 46th Anniversary Benefit Dinner was held Thursday, March 3, at the Barrio Station Theater on Newton Avenue. Barrio Station is a grassroots community organization created in 1970 to serve neighborhood youth, families, and seniors.
"We have a wonderful working relationship with the San Diego Community College District, which has done a fantastic job in bringing a new campus to Barrio Logan and opening up educational opportunities for our youth," said Rachael Ortiz, Barrio Station's founder and executive director. "Maria and President Beebe have really gone above and beyond, and we want to recognize them for their work."
President Beebe, who formerly served as President of San Diego Continuing Education, was honored with the group's Lifetime Achievement Award. Barrio Station lauded the longtime educator as "The People's President" and applauded him for "exemplary leadership in the conception and development of the César E. Chávez Campus and inclusion of community input into the design while serving Southeast San Diego and Barrio Logan campuses."
Said President Beebe: "You know, we're all busy and work hard every day, never thinking about being recognized for anything, particularly something that you are passionate about. Barrio Logan is one of the first communities in San Diego, so I accept this honor on its behalf and all those students who will come from here and go on and do great things."
Trustee Senour is being honored with the César E. Chávez Humanitarian Award. Barrio Station praised Senour for being an "advocate for the realization of the initial and permanent César E. Chávez campuses in Barrio Logan as a champion for inclusiveness and diversity among staff and students, and for her life's dedication to social justice."
President Senour said the award was more about the SDCCD than her. "The San Diego Community College District is committed to expanding educational and job training opportunities for all, and we're honored to be recognized by our Barrio Station partners for the work that we're doing."
The César E. Chávez Campus, which was dedicated last Oct. 28, is on track to obtain a Leadership in Energy and Environmental Design (LEED) Silver certification from the United States Green Building Council. The 68,000-square-foot campus, at 1901 Main St., houses 22 classrooms for vocational training, English as a Second Language, citizenship, and other adult education instruction. It also includes a multipurpose room, administrative offices, and space for the Entrepreneurship and Small Business Management Program.