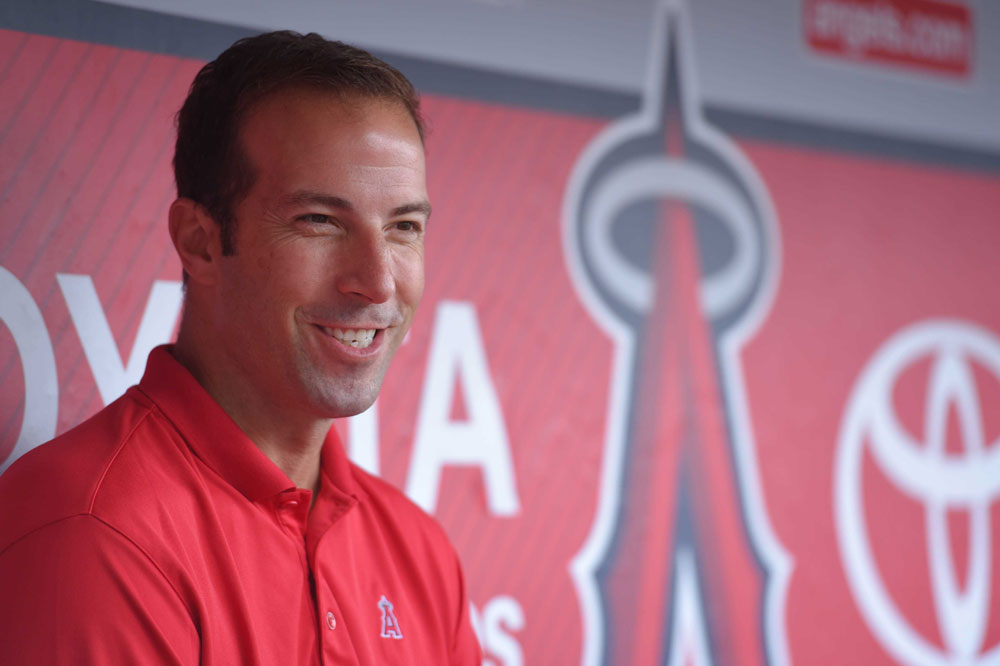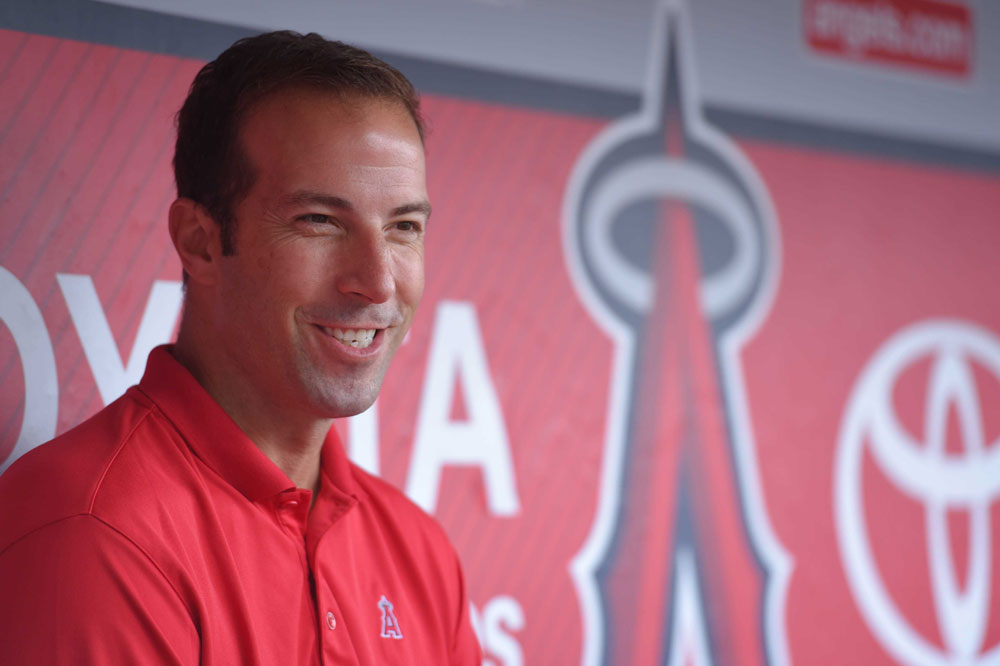 Mesa Alum Billy Eppler is living the dream
February 6, 2017

|
Billy Eppler has one of the coolest jobs in sports. As general manager of the Los Angeles Angels of Anaheim, Eppler has the keys to a club with the best player in baseball, a team that has drawn more than 3 million fans annually since 2003, and an organization with a core of promising and established stars. For Eppler, it all began at San Diego Mesa College.
Billy Eppler with infielder Albert Pujols.
Photo courtesy of Angels Baseball.
"Mesa had such a big impact on my life and on my career," said Eppler, who shined on the diamond and in the classroom while at the Clairemont Mesa campus some 20 years ago. "The growth I experienced there was pretty remarkable."
A San Diego native who grew up in Allied Gardens, Eppler attended St. Therese Academy in Del Cerro and graduated from what was then known as University of San Diego High School in Linda Vista. Looking to realize his dream of playing Division I baseball at a big-time university, but not quite ready to make the jump, Eppler opted to start his college career at Mesa College.
"I was a late bloomer and I was young, and that combination didn't allow me to perform at the level that Division I coaches wanted to see," Eppler said. "Mesa had a pretty successful program at the time, and a lot of their players had gone on to play at some major college programs across the country. Going to Mesa made sense."
In his two years with the Mesa Olympians, Eppler posted a 7-3 record, grew a few inches and filled out his frame. In 1997, he was pitching for the University of Connecticut.
"I wouldn't have had the confidence to go to Connecticut out of high school," Eppler said. "No chance, but I felt more prepared and confident after going to Mesa."
Eppler's baseball career at Connecticut didn't last; a shoulder injury limited him to just one season on the field. Nonetheless, Eppler — a talented athlete who remains an avid surfer — would go on to play rugby for the Huskies before graduating from the University of Connecticut in 1998 with a bachelor's degree in finance.
After a stint working as a financial analyst, Eppler, unsure of his future, decided to follow his passion.
"Sometimes you have to take risks to achieve your dream," he said.
That meant leveraging connections to help land a part-time gig scouting for the Colorado Rockies. Before long, he was hired full-time. That led to a similar position with the New York Yankees. Just one year later, Eppler was named the Yankees' director of professional scouting, and in 2012 was promoted to the rank of assistant general manager under Yankees front-office legend Brian Cashman. Over the years he has built a reputation as a good communicator who knows how to listen and someone who deftly melds old-school scouting with new-school analytics. In fall 2015, he was named general manager of the Angels.
His former Mesa College coach, Mike Sanchez, said Eppler embodies the mission of a community college.
"Mesa College and community colleges in general provide a great opportunity for a lot of people, whether you're there for a degree, a certificate, or for sports," Sanchez said. "Billy represents what Mesa has to offer — a bridge to help a young person reach their dream."
Despite a disappointing season in 2016 in which the Angels finished with a 74-88 record, Eppler, 41, is bullish on the franchise, and why shouldn't he be? Mike Trout just won his second Most Valuable Player Award and is widely regarded as the best player in the game. Andrelton Simmons is a Gold Glove-winning shortstop, and Albert Pujols is a future Hall of Fame infielder. Eppler's former Mesa College pitching coach, Kevin Hazlett, said he admires Eppler's drive and his ability to keep his priorities in order.
"He was one of those players who always found a way to be successful," said Hazlett, acting dean at the School of Exercise Science, Health Education, Dance, and Athletics. "When you sit back and think that there are only 30 teams in the major leagues, and there is only one general manager per team, that's quite an accomplishment to have that kind of position, but he's the same person today that he always has been. Extremely easy going, still easy to talk to. He really hasn't changed."
A resident of Newport Beach, Eppler remains committed to Mesa College.
"Mesa offers a lot, especially to kids who can't afford the four-year college experience," he said. "I found the instructors to be very passionate, and they were always accommodating. At the end of the day, it's not where you start, it's where you finish. For myself, it was the right decision and I'm glad I made it."