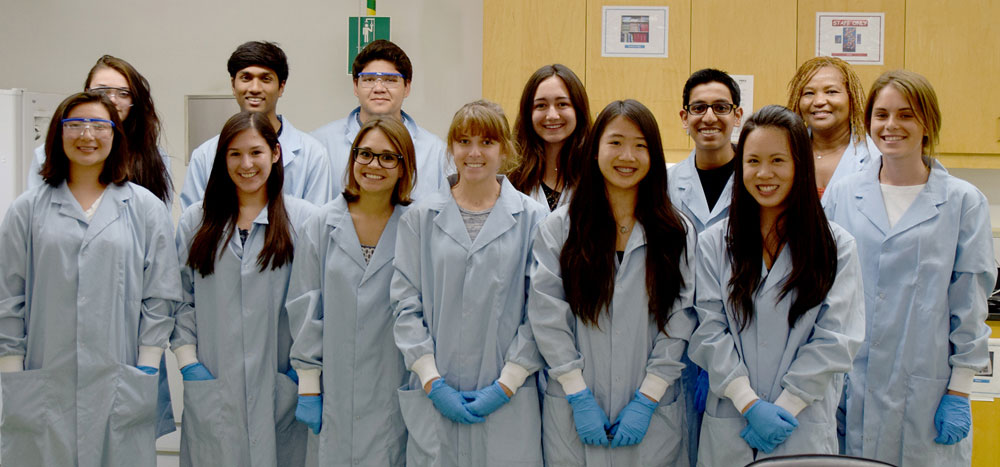 High school students train for biotech internships
June 22, 2015

|
Some three dozen high school students from throughout San Diego County have begun an intensive eight-week program that includes hands-on research at The Scripps Research Institute, The Salk Institute, and UC San Diego.
The annual Life Science Summer Institute (LSSI) began Monday with Bootcamp, a one-week, pre-internship laboratory training program at San Diego Miramar College and Grossmont College in El Cajon. A collaboration between the San Diego Workforce Partnership, the Southern California Biotechnology Center (SCBC) at Miramar College, and BIOCOM, LSSI began in 2005 to strengthen science and math education in San Diego County and inspire more high school students to pursue careers in the region's burgeoning life sciences industry.
This week's Bootcamp will give the students 40 hours of lab training so they can immediately contribute once they begin their internship. Among the lessons are learning the correct protocols in preparing solutions, becoming comfortable with laboratory techniques, and understanding the importance of teamwork.
Interns go through an extensive application process, and all must have a minimum grade point average of 3.0 to apply. Students also must craft an essay explaining their interest, solicit two letters of recommendation, and submit a cover letter, resume, and school transcripts. More than 300 students applied for three dozen available internships.
"It's a very competitive process," said Dr. Sandra Slivka, who has been the SCBC director since it opened at San Diego Miramar College in 2004. "They're doing high-level research."
Two instructors each from both Grossmont and Miramar colleges are teaching at the Bootcamp.
"Grossmont College's mission includes providing an exceptional learning environment that enables diverse individuals to pursue their dreams, so we are proud to host a week of workshops that will give these young students invaluable experience as they begin their journey into critical STEM fields," said Interim Grossmont College President Tim Flood.
It would be hard to overstate the biotechnology industry's impact on the regional economy. According to a San Diego Workforce Partnership report released last fall, the life sciences industry employs nearly 45,000 people and generates about $16 billion in annual sales revenue. The average life science sector employee earns an annual median salary of approximately $125,000.
"The Life Science Summer Institute plays a critical role in preparing future professionals for the skills they will need to flourish in the biotechnology sector," said Peter Callstrom, President and CEO of the San Diego Workforce Partnership. "The life sciences industry is a vital component in the regional economy, and so it is important that we do everything we can for the whole workforce continuum, from K-12 to college and beyond, all the way to the workforce, to make sure that biotechnology has a pipeline of trained workers."
The Southern California Biotechnology Center at Miramar College has been tabbed to play a key role in workforce development, and it has, for more than a decade, collaborated with the region's booming life sciences industry as a training ground for teachers, students, and those already working in the field.
Other SCBC efforts include a Summer Science Enrichment Program for students entering grades 5 through 8 for hands-on lessons. biology, chemistry, physics and physiology; a Biotech Employment Skills Training Program designed for job and internship seekers and those already employed in the sciences; and an Industry Innovation Internship Program that pairs a student with a faculty member and an industry worker to collaborate on a specific project. The program prepares the student for a job, provides the faculty member with industry perspective on skills and knowledge, and the industry worker gets help with his project – along with perspective of the educational system's efforts.
The SCBC has trained more than 120 teachers and more than 300 counselors through workshops, internships and other programs since 2007 while donating millions of dollars in supplies to local schools. The California Community Colleges' Chancellor's Office recently awarded the SCBC two grants totaling $572,500 through its Doing What Matters for Jobs and the Economy program.