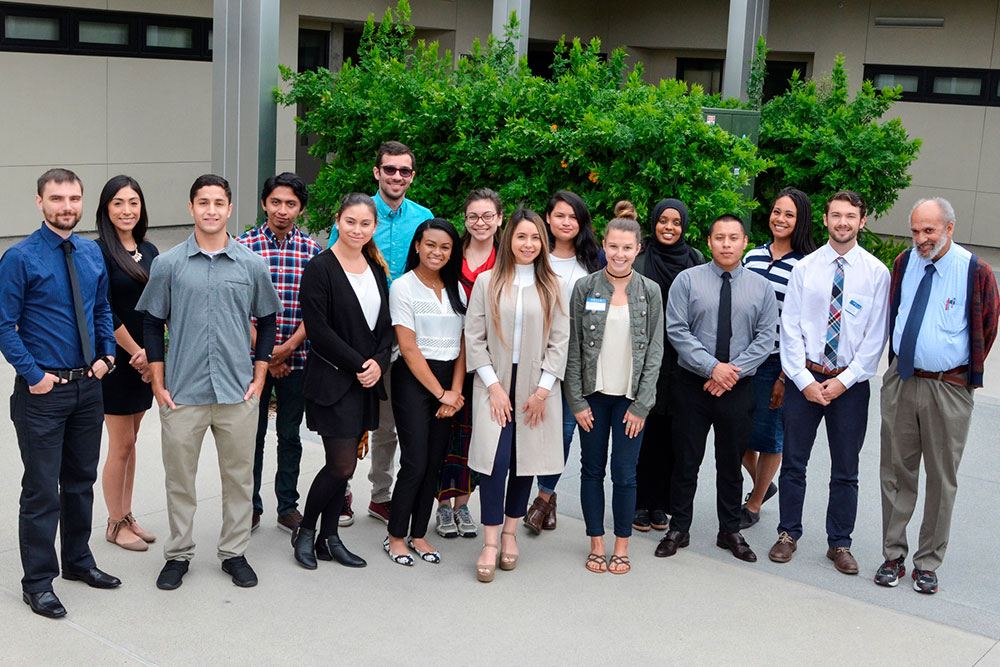 Building a bridge to excellence
November 21, 2017

|
San Diego Mesa College's Bridges to the Baccalaureate Program continues to transform lives.
Just ask Mireille Kamariza, a former Bridges scholar and a current doctoral candidate in biology at Stanford University. Or Emmanuel Gutierrez, a Bridges alumnus who in May earned his associate of science degree in chemistry and is now studying chemical engineering at UC Riverside. Or Sonjiala Hotchkiss, a Bridges alumna completing a master's program in chemistry at UC San Diego.
Kamariza, Gutierrez, and Hotchkiss embody the Bridges Program at Mesa, which boasts a remarkable 98 percent transfer rate since 2008. More than 100 students have completed the program since it was launched a dozen years ago.
Bridges to the Baccalaureate focuses on boosting the transfer rates of students from underrepresented populations who are studying biomedical or behavioral sciences and are interested in careers as researchers. It succeeds because the people involved – such as Program Director/Principal Director Dr. Edward Alexander and Coordinator/Research Assistant Brian Mackus – make sure students are provided with supportive faculty mentors, tutors, and counselors who encourage students to engage in undergraduate research and present their work at research conferences across the country. Participants flourish because of the intense hands-on training involved. Students work in research labs at UCSD and Mesa College for up to 25 hours per week during the school year and hear from leading scientists who discuss career options.
The result: Mesa College Bridges Program alumni are now in or are completing doctoral programs at the likes of Brown University, DePaul University, the University of Washington, and UC San Francisco. The pipeline to a doctorate remains strong. Gutierrez, for example, is one of seven Bridges scholars transferring to a four-year school this fall. They join the nine Bridges scholars who transferred last year to institutions such as Cornell University, UC San Diego, and UCLA.
San Diego Mesa College is at the head of the class when it comes to students who successfully transfer to a four-year college or university, and the Bridges to the Baccalaureate Program is one of the many reasons why. We owe a hearty "thank you" to all who are contributing to the success.