Mesa College Coach Brittany Reese wins her 4th world title
August 25, 2017

|
London – Brittney Reese, San Diego Mesa College track coach, took her fourth world title August 11, 2017 – at the IAAF World Championships in London.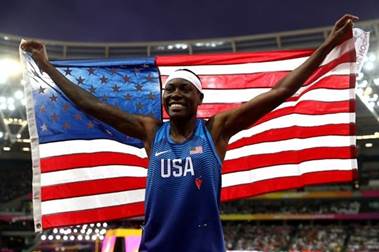 Previously, Reese was a six-time USA Track & Field Outdoor Women's Champion in the long jump, a three-time World Outdoor Champion, a three-time World Indoor Champion, the indoor American record holder, and the 2012 Olympic Games gold medalist, and 2016 Olympic Games silver medalist.
Reese serves as a part-time track coach at San Diego Mesa College. Born in Inglewood, California, and raised in Gulfport, Mississippi, Reese began competing in the high jump and 400-meter dash, had found a new sport in which to excel. She was named Mississippi's 2004 Gatorade Player of the Year for track and field and enrolled at Mississippi Gulf Coast Community College before accepting a track and field scholarship to the University of Mississippi.
Reese made the U.S. Olympic Team in 2008 and finished fifth at the Summer Games in Beijing. From 2009 to 2013, she was the No. 1 ranked long jumper in the world. In 2016, Reese re-established her place as the best women's long jumper in the world and made the U.S. Olympic team for the third time. Reese jumped into coaching at Mesa three years ago. Reese said as a coach, she makes one thing clear to anyone who walked onto the track at Mesa College.
"You've got to be a student first. You have to take care of business in the classroom before you can take care of business on the track. We take being a student very seriously at Mesa. My job is to push these athletes to be the best they can be and help them understand that if you work hard, anything can happen. I'm a living testament to that."
Related Video: Brittney Reese - Mesa College Coach and Olympic Gold Medalist