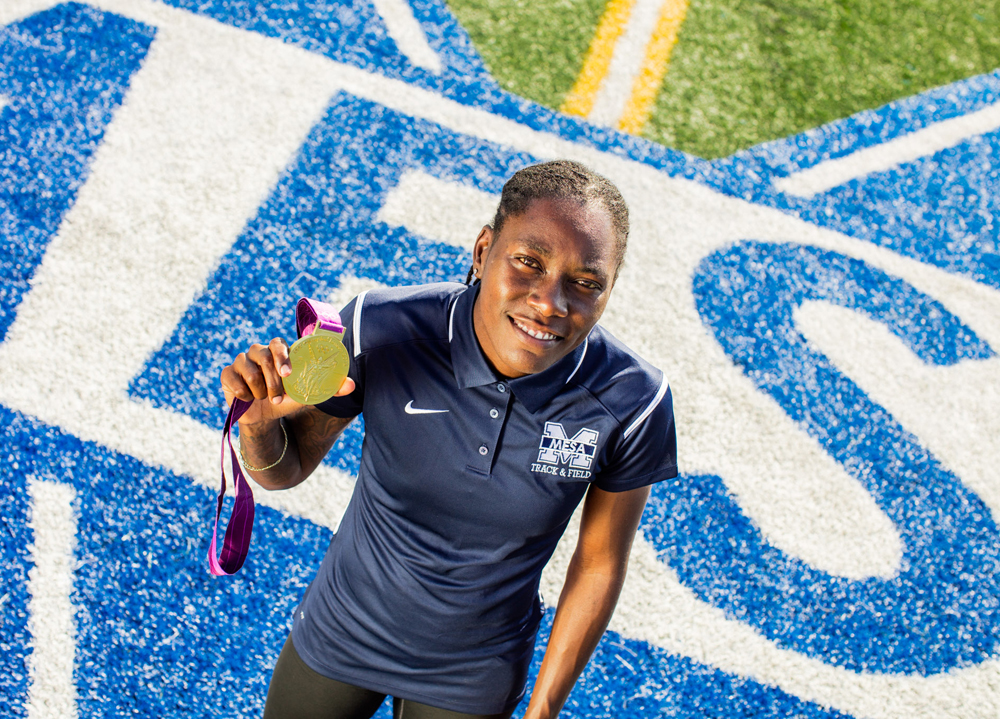 Mesa College coach takes Silver in 2016 Olympics
August 2, 2016

|
She is a six-time USA Track & Field Outdoor Women's Champion in the long jump, a three-time World Outdoor Champion, a three-time World Indoor Champion, the indoor American record holder, and the 2012 Olympic Games gold medalist, and 2016 Olympic Games silver medalist.
Oh, and Brittney Reese also happens to be a track coach at San Diego Mesa College.
"I love it here," said Reese, 29, who came three-quarters of an inch short of winning a second consecutive gold medal at the recently completed Summer Games in Rio de Janeiro. "Mesa is a great place to be. The campus is beautiful. We have one of the best community college programs anywhere. This has to be among the top community college coaching staffs in the world. I wouldn't want to work anywhere else."
"Reese underscores the commitment Mesa College has in setting a standard of excellence," said Renee Ross, Head Coach of Mesa's Men's and Women's Track and Field Program.
"We work very hard to get nothing but top notch coaches in our program," said Ross. "A lot of people think that just because someone has an incredible background as an athlete, they're automatically going to know how to coach, but that's just not true. In Brittney's case, not only is she a phenomenal athlete, an Olympian with so many U.S. and world records, but she's also a phenomenal coach."
Video: Watch Team USA compete in the
Women's Long Jump at the Rio Olympics
Brittney's journey to Mesa College was a circuitous one.
Born in Inglewood, California, and raised in Gulfport, Mississippi, Reese dreamed of becoming a professional basketball player before her future took a turn while she was a high school junior. The track coach, in search of a long jumper, marched the girls basketball team onto the field, pulled out an ice-cold Coca-Cola on a muggy Mississippi afternoon, and said whoever jumped the farthest would win the bottle of Coke.
"I was thirsty," Reese said. "I had never jumped before, but I wanted that Coke."
Mission accomplished. Reese jumped 16 feet. In basketball shoes. Reese, who had been competing in the high jump and 400-meter dash, had found a new sport in which to excel. She would be named Mississippi's 2004 Gatorade Player of the Year for track and field and enroll at Mississippi Gulf Coast Community College before accepting a track and field scholarship to the University of Mississippi.
Reese made the U.S. Olympic Team in 2008 and finished fifth at the Summer Games in Beijing. From 2009 to 2013, she was the No. 1 ranked long jumper in the world. A hip injury during a 2013 competition set her back and caused her to ponder retirement, but this year, Brittney re-established her place as the best women's long jumper in the world and made the U.S. Olympic team for the third time.
Reese jumped into coaching three years ago when she heard that Ross was looking for part-time help. Reese, who lives in Chula Vista, spent her first year as a high jump coach, her second year as a triple jump coach, and her third year as a sprints coach.
What are the ingredients of a good coach?
"You have to be able to listen," Reese said. "A lot of these kids are looking for a mentor. You need to be a true role model."
"Being able to connect with students is among Reese's strengths as a coach," Ross said. "She takes time with the athletes to not only train them but to also get to know them individually, to get to know them as people, to help develop them into well-rounded individuals."
Reese said she makes one thing clear to anyone who walks onto the track at Mesa College.
"You've got to be a student first. You have to take care of business in the classroom before you can take care of business on the track. We take being a student very seriously over here."
Reese speaks from experience. She says the reason she attended Mississippi Gulf Coast Community College before moving on to Ole Miss is because she didn't have the same commitment in class as she did in sports while in high school.
"My job is to push these athletes to be the best they can be and help them understand that if you work hard, anything can happen. I'm a living testament to that."