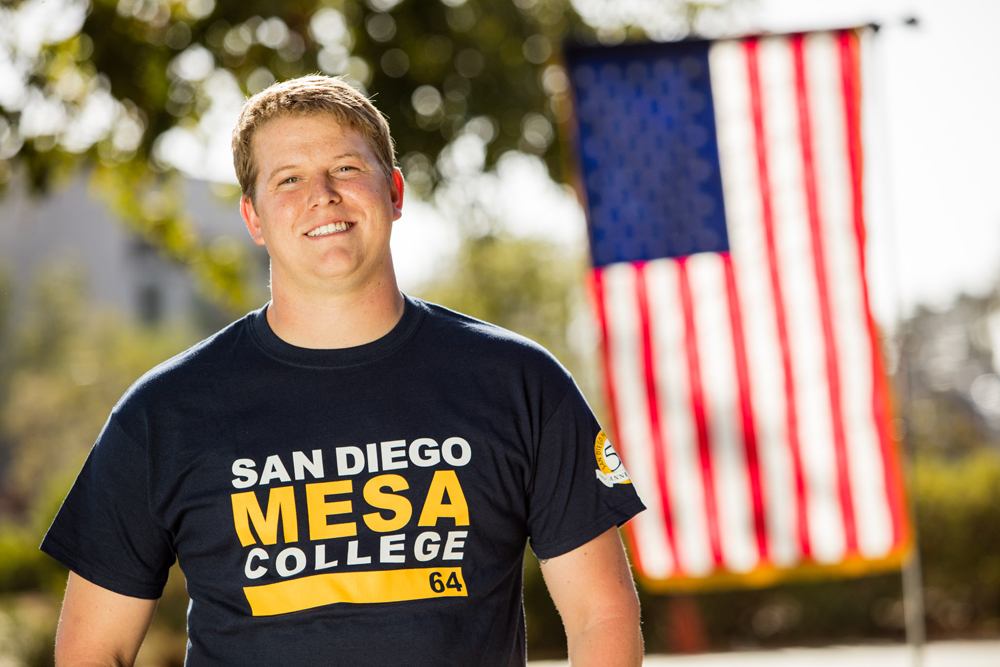 Mesa College was next step for Marine vet Calvin Dixon
August 16, 2016

|
Calvin Dixon left the U.S. Marine Corps in July 2014 and followed the path of approximately 10,000 other active and retired military members, he attended college in the San Diego Community College District. By August of that year, he was a full-time student at San Diego Mesa College. For good reason.
"I really enjoy the small class sizes, and every professor I've had has had open office hours so if you're struggling you could just drop in and get all the help and support you need," said Dixon, who is studying mechanical engineering and works part time as an aircraft mechanic at Naval Air Station North Island. "There are a lot of resources, and the large numbers of veterans help make you feel right at home."
From Coast to Coast
Dixon enlisted in the Marine Corps out of high school in part to help fund his college education. He was stationed in Okinawa, Japan, and Miramar as a C-130 aircraft mechanic during his more than five years with the Marine Corps and decided to remain in San Diego after he completed his service.
One of Mesa's biggest draws was the district's commitment to veterans and their success.
"I spend a lot of time at the Veterans Resource Center, and a lot of people I come across at the VRC transfer to some really good schools like Columbia, Stanford, Berkeley, some of the best schools in the country, and that shows me that Mesa is a wonderful college," he said.
Not only that, but Mesa – along with City and Miramar colleges and San Diego Continuing Education – was named a Military Friendly school.
Branching Out
Dixon is looking at transferring to San Diego State University, the most popular destination for students transferring from the San Diego Community College District. Four district students – three from San Diego City College and one from San Diego Miramar College – were awarded a prestigious Jack Kent Cooke Foundation Undergraduate Transfer Scholarships worth up to $40,000 annually to complete a bachelor's degree at a four-year college or university.
"I made a good decision coming here," said Dixon.