District's leaders making a mark on social media
April 18, 2016

|
Each year blogger Kent Brooks makes a list of the Community College CEOs to watch on Twitter and once again San Diego Community College District leaders have made the list. #Awesome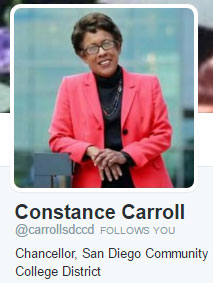 Many of our faculty and staff are using social media to connect with students, colleagues, and community. Last year our social savvy Chancellor Constance M. Carroll and San Diego Mesa College President Pam Luster made the list and have held on to their ranking this year. San Diego City College President Anthony Beebe is a newcomer to the list.
Kent Brooks works in the IT Department at Casper College in Wyoming. He compiles his list based on leaders who are using Twitter to network professionally, share information and keep their campus community up to date.
Currently, the chancellor has just over 600 followers while our two presidents each have 850 followers. They would all love to have more people join the conversation. If you can't believe you're not already following them, you can find them here:
@carrollsdccd
@SDMesaPrez
@DrAnthonyBeebe
Congratulations to all three on the recognition. #KeepTweeting.