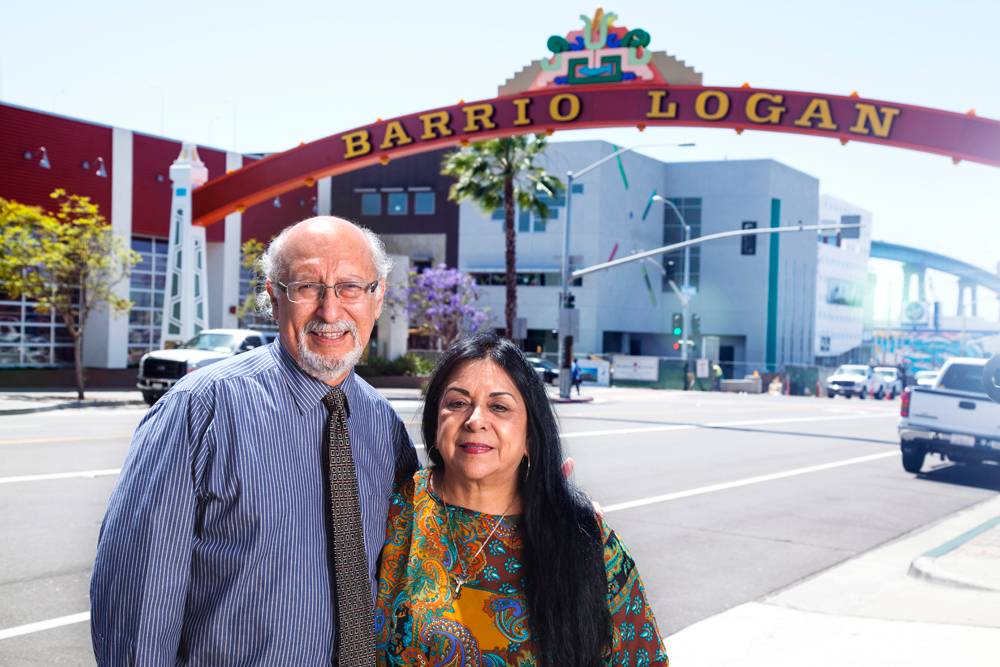 Cesar Chavez campus getting ready to open at Continuing Ed.
June 5, 2015

|
Barrio Logan is getting a new neighbor.
Construction of the César Chávez campus in the heart of the historic neighborhood is nearly complete, bringing a 67,924-square-foot building to house 22 classrooms for vocational training, English as a Second Language, Adult Basic Education, high school equivalency preparation courses, Business Information Technology, and Parent Education.
The $50 million facility also includes a multipurpose room, space for an Entrepreneurship and Small Business Management program, and 149 spaces of underground parking. A separate, $8 million parking garage two blocks east that is scheduled to open in the fall will have enough room for 320 vehicles and includes 4,000 square feet of rooftop solar panels.
Classes are expected to begin this fall and the San Diego Community College District's Board of Trustees and Chancellor Constance M. Carroll will officially open the new campus October 28.
"It brings a state-of-the-art educational facility to Barrio Logan while offering so many things our students don't currently have access to," said Robin Carvajal, dean of the César Chávez campus. "It is a beautiful place to learn and a beautiful place to congregate."
Longtime resident Rachael Ortiz, who serves as executive director of Barrio Station, said the campus is a key addition for the working-class community. The fact that the campus is named after the civil rights leader – with whom Ortiz once worked in fighting for farmworkers' rights – makes it even more special.
"The living legacy and spirit of César Chávez and the beautiful artwork and life images on the new campus and parking structure will forever reflect his impact on an almost broken community – inspiring people to fight back, become empowered, and determine their own destiny," Ortiz said.
The new school consolidates current programs at the outdated César E. Chávez campus a few blocks away — "A tiny little building that has 10 classrooms," Carvajal said— and the Centre City campus across from San Diego City College downtown.
The new facility includes a student lounge, eating area, and a study area. To help illustrate what the new building means to students, Carvajal said that 90 students typically enroll in the Certified Nursing Assistant Job Training/Certificate Program annually at the Centre City campus – a program that has but one classroom. The new campus has eight classrooms dedicated to Certified Nursing Assistant training.
"The new César Chávez campus is an example of persistence," said Rudy Kastelic, interim president of San Diego Continuing Education. "Plans for the new campus began more than 10 years ago, and by working together with the Barrio Logan community, and the shared determination to build a world-class facility for this historic neighborhood, we now have an educational campus that is more relevant and modern than anyone originally expected. The persistence is symbolic of César Chávez's work and reminds me of a slogan he was famous for, saying `Si, se puede,' which translates to 'Yes, it can be done.' "
Merchants in the area are thrilled. A barista at Ryan Bros. Coffee across the street said the campus will bring scores of new customers not only to the popular coffeehouse, but to neighboring businesses as well.
Funding for the new campus came from the $1.5 billion Propositions S and N construction bond program that provides new state-of-the-art teaching and learning facilities, major renovations, and campuswide infrastructure projects throughout the SDCCD. It is the last Continuing Education project in the bond programs.
"It is an amazing contribution to the community," Carvajal said.