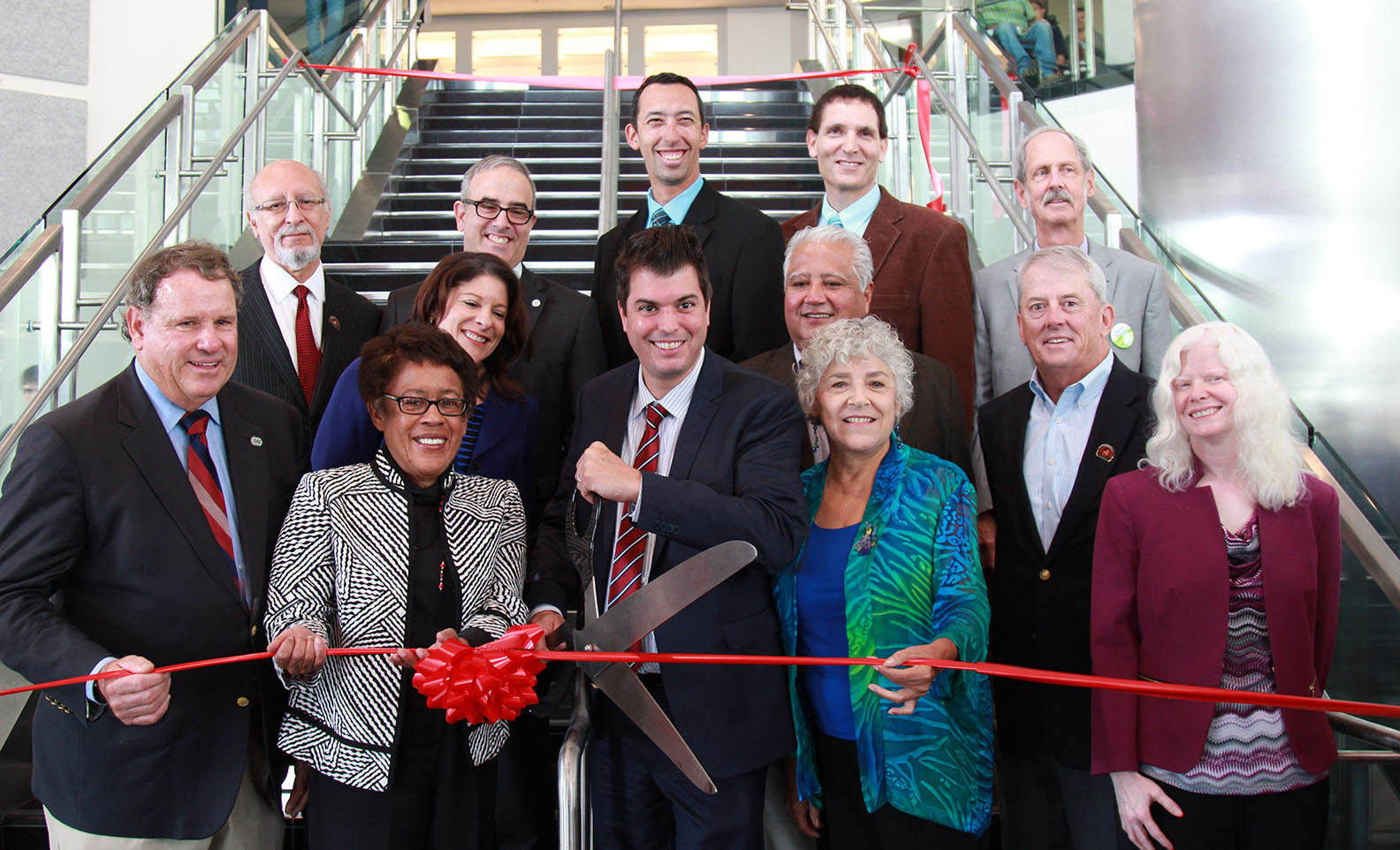 Continuing Ed celebrates grand opening of
César E. Chávez Campus
October 28, 2015

|
An enthusiastic crowd of over 150 community members, campus faculty, staff and administrators, students, and representatives from the San Diego Community College District turned out Wednesday to celebrate the grand opening of the District's new César E. Chávez Campus, serving San Diego Continuing Education.
The $58 million dual-building project comprises a 67,924-square-foot, three-story facility with a below-grade, 149-car parking structure, and a detached campus car park with 320 additional spaces and covered with murals featuring the life and work of César E. Chávez located two blocks east of the campus.
"The new campus is a result of San Diego voters approving bond measures to pay for the new construction of the campus," said Carlos O. Turner Cortez, President of San Diego Continuing Education. "The architecture is symbolic and far more impressive than anyone could have initially imagined 10 years ago when the planning began. It's a wonderful example of the positive influence and impact generated from community collaboration."
"The San Diego Community College District is proud to open its new César E. Chávez Campus in Barrio Logan. The campus is dedicated to the memory of the civil rights leader César E. Chávez, and also honors the memory of the iconic restaurant Chuey's, on whose property the campus was built. A wide range of educational programs will now be available to the community," said SDCCD Chancellor Constance M. Carroll.
The project consists of land acquisition and construction of a new building to consolidate current programs at the original César E. Chávez Campus, which was adjacent to Chicano Park, and the Centre City Campus, which was located downtown across from San Diego City College. The new facility is designated as the Campus of Excellence for Healthcare Careers and houses 22 classrooms, which will be used for vocational training, English as a Second Language (ESL), Citizenship, Adult Basic Education (ABE), high school equivalency preparation classes, Business, Computers and Information Technology, and Parent Education courses. Emeritus classes for ages 55+ will be held at nearby off-campus locations. The new building also includes a multipurpose room, administrative offices, and space for a future Entrepreneurship and Small Business Management Program. Located in the heart of Barrio Logan at 1901 Main Street, the César E. Chávez Campus is expected to serve upwards of 7,000 adult students this fall and as many as 10,000 students by the spring semester.
Maria Nieto Senour, President of the San Diego Community College District Board of Trustees stated, "These facilities are going to create state-of-the-art classrooms and educational experiences, in addition to iconic structures and symbols integrated into the design. We are grateful not only to our voters, but our chancellor, administrators, faculty, staff, students, and community friends who worked toward the passage of these bond measures. We're going to have programs that are needed by the people of this area, programs that are going to prepare them to get good paying jobs and to create futures for themselves that will not only transform their own lives but the lives of their families."
Architect Joe Martinez of Martinez + Cutri remarked, "The design is a culturally-based aesthetic taken from the indigenous peoples of the Americas and infused with the DNA of the Latino experience in order to inspire upward mobility via education, civic engagement, and a respect for ethnic diversity well into the next millennium."
Elements include:
- A small urban village style placita greets the community at the intersection of Main Street and Cesar Chavez Parkway. The façade above the placita features a creative glass abstraction of an Ojo de Dios that symbolically represents the power of seeing and understanding things from different perspectives.
- The profile of a three-story Aztec pyramid with its upper temple clad in
granite and the logo of the United Farms Workers can be seen on the east side of the campus.
- Columns and beams in the lobby and up to the rooftop area mimic the large-scale columns and beams of the Coronado Bay Bridge. On the third floor outdoor terrace, four stainless steel columns with white acrylic tops directly next to the metal red wall and the blue sky stand in reverence to the four colossal Toltec statues in Tula, Mexico.
- Reflective ceiling panels above the two-story lobby depict key words and ideas of indigenous peoples as well as important places such as Machu Picchu, Teotihuacan, and Chaco Canyon.
- The Big Book in the lobby is made from burled cherry wood and holds a biography of César E. Chávez, a Latino timeline since 1900, and important historical quotes from César E. Chávez and Dolores Huerta.
- Chuey's Student Lounge honors Luis Garcia, Senior, and in particular, Chuey's Numero Uno, which was a fixture in Barrio Logan since 1956.
The Barrio Logan Station trolley stop is directly next to the campus, and bicycle storage and changing rooms are located inside the facility, making the campus easily accessible via public and green modes of transportation.
Members of César E. Chávez's family participated in the program and ceremonial ribbon cutting to dedicate the building. Paul F. Chavez, President and CEO of the Chavez Foundation and son of César E. Chávez quoted his father and said, "…you cannot uneducate the person who has learned to read, you cannot humiliate the person who feels pride, you cannot oppress the person who is not afraid anymore – we've seen the future, and the future is ours."
Sustainable Features:
- The energy-efficient design exceeds state building efficient standards by at least 14%.
- Low-flow and waterless plumbing fixtures reduce water consumption by over 40% as compared to a typical building.
- A modular wetland structure captures and filters storm water. These structures look like slightly raised planters located near storm drains. Runoff is filtered by vegetation, improving quality before it enters the
storm drain system.
- Drought-tolerant landscaping and high-efficiency irrigation reduce landscape-related water use by at least 50%.
- The car park is a net-zero building, which means it will generate as much energy as it uses.
Campus Project Team:
- Architect: Martinez + Cutri
- Construction Manager: Rudolph & Sletten
- Civil/Structural Engineer: Flores Lund Consultants, Inc.
- Electrical Engineer: LSW Engineers, Inc.
- Mechanical Engineer: Merrick & Associates
- Landscape Architect: Parterre Landscape Architecture
- Propositions S & N Program Manager: Gafcon, Inc.
- Campus Project Manager: Scott Ellis, AECOM
- Furniture, Fixtures & Equipment (FF&E) Project Manager: Eloisa Raymundo, Gafcon, Inc.
The $1.555 billion Propositions S and N construction bond program is providing new state-of-the-art teaching and learning facilities, major renovations, and campuswide infrastructure projects at City, Mesa and Miramar colleges and six Continuing Education campuses throughout San Diego.