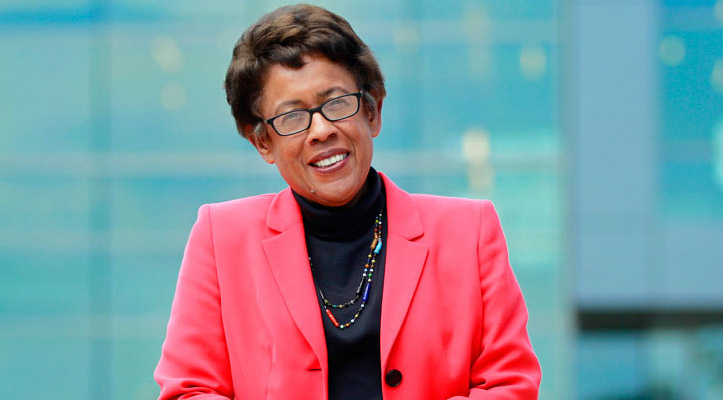 SDCCD Chancellor Constance Carroll Chairs San Diego Foundation Board
September 7, 2017

|
The San Diego Foundation has announced Dr. Constance Carroll, Chancellor of the San Diego Community College District, will serve as Chair, Board of Governors of The San Diego Foundation.
"Constance has served on the Board for 7 years, and brings significant community knowledge to The San Diego Foundation," shared Kathlyn Mead, President & CEO of The San Diego Foundation. "The Foundation is led by a Board of local leaders like Constance who are passionate about the region we serve. They believe in making a positive impact in all our communities. We are very fortunate to have someone with such extensive leadership experience to help guide our organization as we continue to advance a vibrant quality of life through effective philanthropy.
"Serving as Chair and supporting The San Diego Foundation as we work to maximize the impact of charitable giving in the region is a tremendous honor," noted Constance. "I look forward to working with other members of the Board to strengthen all of our communities through philanthropic leadership, strategic grantmaking and thoughtful stewardship of donor gifts."
The Foundation also added Cindy Bertrand, P. Kay Coleman, Leigh Kole Johnson and Ginny Merrifield to the Board of Governors this year.
The San Diego Foundation Board of Governors is composed of 20 volunteers with diverse professional backgrounds who are involved in many community and charitable activities. The Board oversees The Foundation by establishing policy and strategy, setting priorities, and approving grants.
Constance Carroll, Ph.D.
Board of Governors Chair Dr. Constance Carroll has served as Chancellor of the San Diego Community College District since 2004. Prior to the role, Constance served in presidential roles at Mesa College of the San Diego Community College District, Saddleback College of the South Orange County Community College District, and Indian Valley College.
Constance was nominated by President Barack Obama and confirmed by the United States Senate to serve a six-year term on the National Council on the Humanities. She also serves on the boards of the University of San Diego and League for Innovation and the Community College Humanities Association, and is co-chair of San Diego Mayor Kevin Faulconer's Workforce and Economic Advisory Committee. Among many honors, Constance was inducted into the San Diego Women's Hall of Fame as recipient of the Trailblazer Award; received the "Remarkable Leader in Education" award from the University of San Diego; was given the "Moving San Diego Forward" award by the San Diego Regional Chamber of Commerce; and received the National Association of Community College Trustees' CEO Award.
The San Diego Foundation maximizes the impact of your charitable giving. We mobilize philanthropic resources to advance quality of life, increase social impact and champion civic engagement. For more than 40 years, The Foundation and our donors have granted more than $1 billion to grow a vibrant San Diego region. Learn more on our website, and consider a donation to the Fund for the Future Endowment which supports San Diego community needs now and forever.