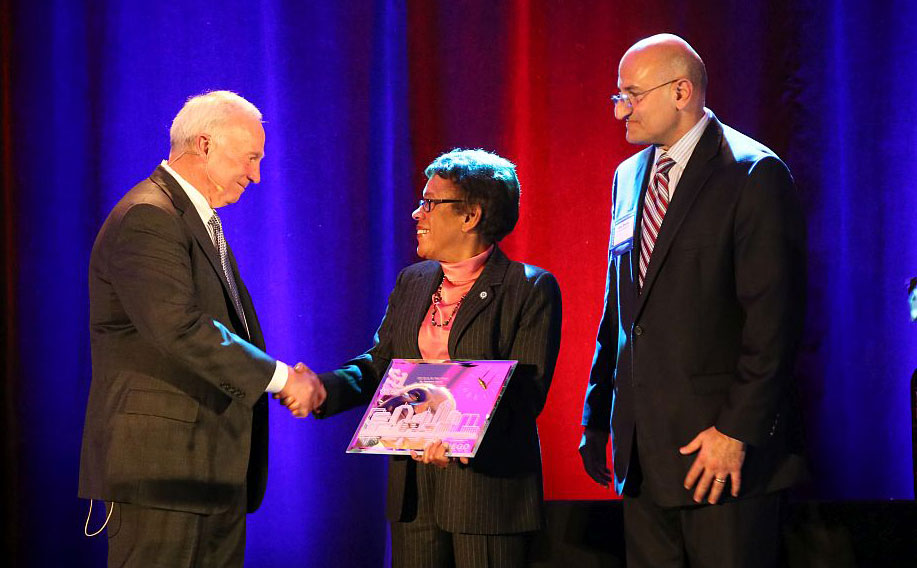 Chancellor honored by Chamber for Moving San Diego Forward
January 29, 2016

|
San Diego Community College District Chancellor Constance M. Carroll was honored by the San Diego Regional Chamber of Commerce with its Moving San Diego Forward Award at the chamber's 145th anniversary celebration Thursday night.
The chamber lauded Dr. Carroll for her leadership, collaboration, and commitment to academic excellence, workforce training programs, and unprecedented levels of student success. The district has conferred more than 67,000 degrees and certificates since Dr. Carroll was named chancellor in 2004, and the Chancellor played a pivotal role in securing support for Senate Bill 850, which set up a pilot program enabling community colleges to offer bachelor's degrees in fields where a high workforce need exists.
"Constance Carroll has long been one of this region's most effective leaders," said Jerry Sanders, the San Diego Regional Chamber of Commerce's president and CEO. "Her commitment to inclusiveness at California's second-largest community college district and her focus on expanding educational opportunities and workforce development in the region have contributed significantly to a solid and growing San Diego economy."
Dr. Carroll's efforts stretch far beyond the SDCCD. In 2011, President Barack Obama appointed the Chancellor to serve a six-year term on the National Council on the Humanities, and Dr. Carroll also currently serves on the boards of the University of San Diego, the San Diego Foundation, the San Diego Museum of Man, the League for Innovation, and the Community College Humanities Association.
"This is a great honor for me, since I admire and respect the role that the Chamber plays in the economic development of the San Diego region," said Chancellor Carroll. "The San Diego Community College District is committed to the same economic goals, and I am pleased to have had the opportunity to lead our efforts."
Some 1,000 business, government, and civic leaders attended the San Diego Regional Chamber of Commerce's 145th Anniversary Celebration, which was held at the Manchester Grand Hyatt San Diego. Previous Moving San Diego Forward Award recipients include California Assembly Speaker Toni Atkins, Mayor Kevin Faulconer, City Councilman Todd Gloria, and City Attorney Jan Goldsmith.