San Diego City College hosts chemistry consortium
March 11, 2016

|
San Diego City College is hosting the 213th Two-Year College Chemistry Consortium (2YC3) conference March 11 and 12. The theme of the event is "Teaching Chemistry Through its Social Impacts," complements City College's focus on social justice.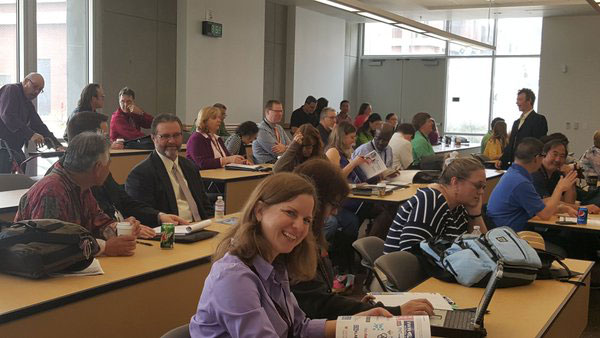 2YC3 is a national group of chemistry educators primarily from community colleges that meets quarterly to enhance student learning through professional development. From 60-110 community college professionals are expected to attend the conference at City College.
"We are excited to host this conference for many reasons, especially that it gives us the opportunity to engage in a national exchange of ideas about community college chemistry right here in San Diego," said Robert Kojima, Ph.D., assistant professor of chemistry and the local arrangements chair for the conference. "The fact that it provides us with an opportunity to showcase our new state -of-the-art science building with modern labs is nice as well."
Kojima noted that hosting the conference also provides City College chemistry professors with the chance to learn about the greater trends occurring in the chemistry world, and expose the national discourse to the local community. In addition, participants will have the unique opportunity to help shape the future of chemistry curricula at two-year colleges.
Following the 2YC3 Conference at City College, the American Chemical Society (ACS) will hold its annual conference at the San Diego Convention Center March 13-17, with an expected attendance of around 14,000. 2YC3 is affiliated with the ACS's Division of Chemistry Education, thus many attendees will be going to both conferences.
"We are looking forward to welcoming chemistry educators from across the country to our campus," said Anthony Beebe, president of City College. "Our chemistry group is pleased to have the opportunity to collaborate with colleagues on best practices in advancing the chemistry curriculum."