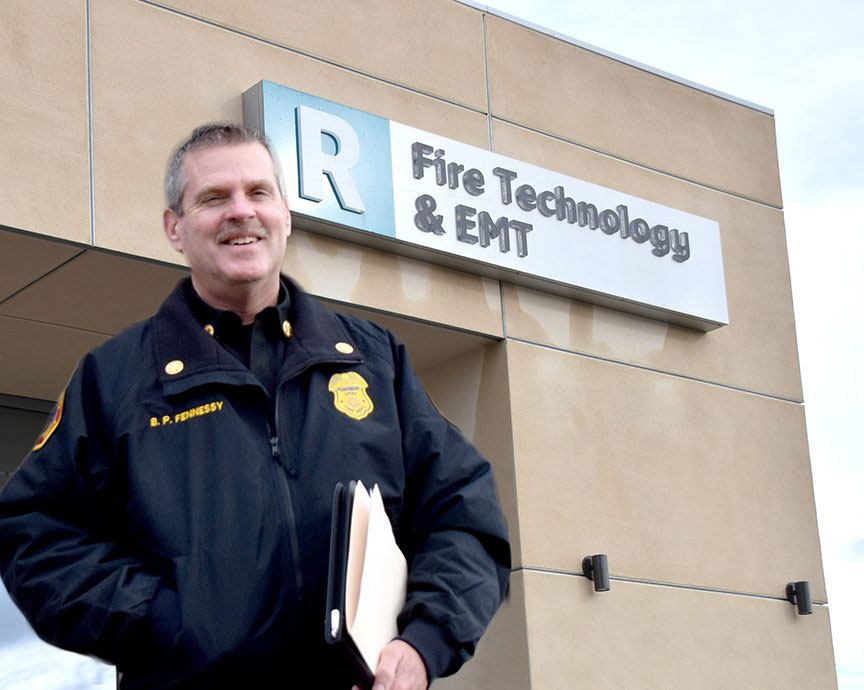 New fire chief learned trade at Miramar College
May 10, 2016

|
When new San Diego Fire Chief Brian Fennessy returned to San Diego Miramar College this past January, he said, "Wow, what a change, what a difference."
Twenty-six years earlier, Chief Fennessy was a cadet in the October 1990 fire academy, which held classes on the southeast portion of campus. "There was this long set of stairs right by where we trained, they are still there today over by the police academy, and every time someone made a mistake in our class we had to run those stairs in boots. I remember it well," Fennessy said.
A quarter-century later, the one-time cadet now succeeds Javier Mainar as San Diego's 17th fire chief. Fennessy was sworn in last November. He'll return to Miramar College on May 13 to speak at the college's commencement ceremony.
Fennessy has 38 years of firefighting experience. As an 18-year-old, fresh out of John Muir High School in Pasadena, he joined the U.S. Forest Service and traveled the West Coast on a "hot shot" crew. After 13 years working for the federal government, he was encouraged to apply for a job in San Diego.
He was hired in 1990 and graduated the fire academy in February 1991. A few years later, he earned his bachelor's degree in business administration through a distance-learning platform. "What I tell people is 'Don't wait to get your education.' I went back to school so late in my career and it was hard, but I had to do it in order to be promoted."
Chief Fennessy preaches the need for education to aspiring firefighters. He believes the current Fire Tech program at Miramar College can assist in helping one become employable and prepare individuals to navigate the rigors of a fire academy. "I couldn't compete with people who are getting jobs now; they are coming in the door with degrees from Miramar College, volunteer experience, and having worked part-time. What we've told people is be prepared for the entrance interview and make sure you stress to us why you want to serve."
Fennessy's top order of business as chief, outside of keeping the public safe, is to promote diversity recruitment.
"I think when you get people from different cultural ethnicities, and you get women in there, and you go to a firehouse with so many different perspectives, it is just very healthy."
Miramar College's commencement will be held from 1 to 3 p.m. Friday, May 13 in the Hourglass Field House Gymnasium.