Meet our district's Title IX coordinator Christopher May
April 12, 2016

|
Even after earning his bachelor's degree, Christopher May wasn't quite sure what career path to follow. But when he began teaching and tutoring high school students to help pay the bills, May found his answer.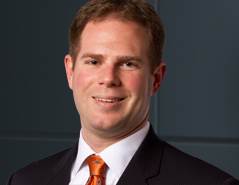 May was recently hired as the San Diego Community College District's Title IX Coordinator, a position responsible for managing compliance with Title IX, which protects people from discrimination based on sex in education programs or activities that receive Federal financial assistance.
"Title IX is an important issue for everybody in education, and awareness of the law is absolutely exploding," said May.
Title IX – which states, "No person in the United States shall, on the basis of sex, be excluded from participation in, be denied the benefits of, or be subjected to discrimination under any education program or activity receiving Federal financial assistance" – traditionally has been associated with equity in sports programs. More recently, however, the emphasis has been on sexual violence and harassment.
Examples of the types of conduct that could violate Title IX include, but are not limited to: pressure for sexual activity; sexual innuendo and comments; sexually explicit questions; requests for sexual favors; sexual ridicule; displaying or sending sexually suggestive emails, text messages, or other electronic messages; and attempted or actual sexual violence.
At the SDCCD, May's responsibilities include supporting the district, colleges and Continuing Education with Title IX complaints; monitoring and developing policies and procedures for compliance under Title IX, Violence against Women Act (VAWA) and the Clery Act; assisting with Title IX investigations; and developing and implementing a comprehensive training program for students and employees related to sexual assault, including bystander training.
"Chris is a wonderful addition to the district team," said Lynn Neault, Vice Chancellor, Student Services. "He brings legal expertise to this emerging area, and is passionate about the students we serve. We are so fortunate to have such a committed, knowledgeable, and talented individual to develop and provide leadership to this new, important function in the district."
May was born and raised in St. Louis (he's a die-hard Cardinals fan who attended the 2011 and 2013 World Series in St. Louis), and earned his bachelor's degree in history from Emory University in Atlanta. After teaching and tutoring students preparing for the SAT and other exams, he realized he had a passion for education, and May decided to secure a master's degree in the subject from Washington University in St. Louis. Two years of teaching in an alternative education program was followed by law school at the Georgetown University Law Center.
His current career track was fueled during a summer internship with the U.S. Department of Education after his first year at Georgetown. The following summer, May landed an internship doing regulatory work for a Washington, D.C., law firm that represented higher education institutions, and the firm, Powers Pyles Sutter & Verville, hired May after he earned his law degree. May, 33, has an abundance of experience with Title IX compliance analysis and he has provided counseled various private institutions on Title IX.
When May and his wife, Naomi, who is also a lawyer specializing in higher education, decided to move out West, the SDCCD became a prime destination.
"I heard nothing but good things about the district and it had a reputation for being under good leadership," May said. "Everybody here has been extraordinarily welcoming, and it's a wonderful place to work."