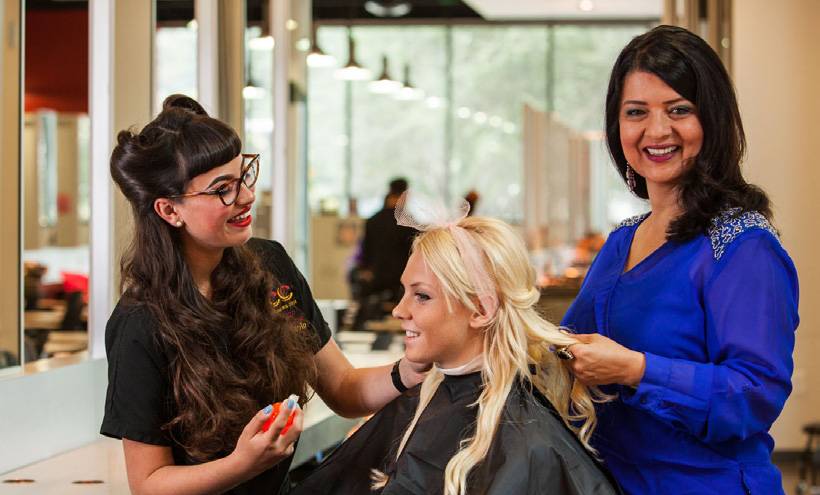 Cosmetology thriving at City College
September 17, 2015

|
Ask Cosmetology/Esthetician students why they chose the program at City College and they consistently say it's because of students' high pass rates on the State Board examination.
In fact, City's program is number one in the state, with students boasting a 100 percent pass rate on the practical section of the exam and a 94 percent pass rate on the written section.
Marc Lugo, a recent graduate, says he looked at several other cosmetology schools but ultimately chose City's program because of its low cost and track record for student success.
"I could have taken a student loan for $26,000 a year, but City has a better pass rate. Why spend the money?"
Lugo, 48, wants to start his own business. The former software engineer says cutting hair has always been his passion. Having graduated in August, he says he plans to go to barbering school and then open his own men's salon. He also hopes to return to City College to teach in the Cosmetology program one day a week.
The faculty will probably need the help. Similar to its students' careers, City's Cosmetology/Esthetician program is on an upward trajectory. Department Chair Sudie Phillips, says the program recently expanded and is now enrolling 50 new students every eight weeks, including half in Cosmetology and half in the Esthetics program, which trains students in professional skin care. Phillips says the department also plans to start an evening manicure program.
"When we saw potential students waiting up to four years to get in our program; we knew we had to create more opportunities for students to be enrolled," Phillips said.
According to the Bureau of Labor Statistics, employment for cosmetologists will grow by 12.7 percent, or 77,600 new cosmetologist positions, by 2022. Phillips says graduates can expect to earn between $20 and $40 per hour.
But for many student and graduates, the reward is beyond monetary. Veda Schmigel, 18, is a recent graduate who now works at a high-end salon in Little Italy. She says she enjoys seeing the happiness she can bring to her clients. "I like when people feel empowered, helping someone out."
Like Lugo, Schmigel also plans to return to City College – but as a student. Having completed the one-year Cosmetology program, she's only 12 units away from also earning an associate degree. Schmigel says she wants to eventually get a bachelor's degree in business and open her own salon.
"I want to do something I enjoy. I can envision doing this for the rest of my life."
Learn more information on the Cosmetology/Esthetician program or call 619-388-3574.
Clients Wanted
One of San Diego's best–kept secrets is San Diego City College's Cosmetology Salon. The salon is open to the public most weeks Tuesday through Friday and offers low-cost salon services. Special discounts are available to students, District staff, and seniors (Wednesday and Thursday only).