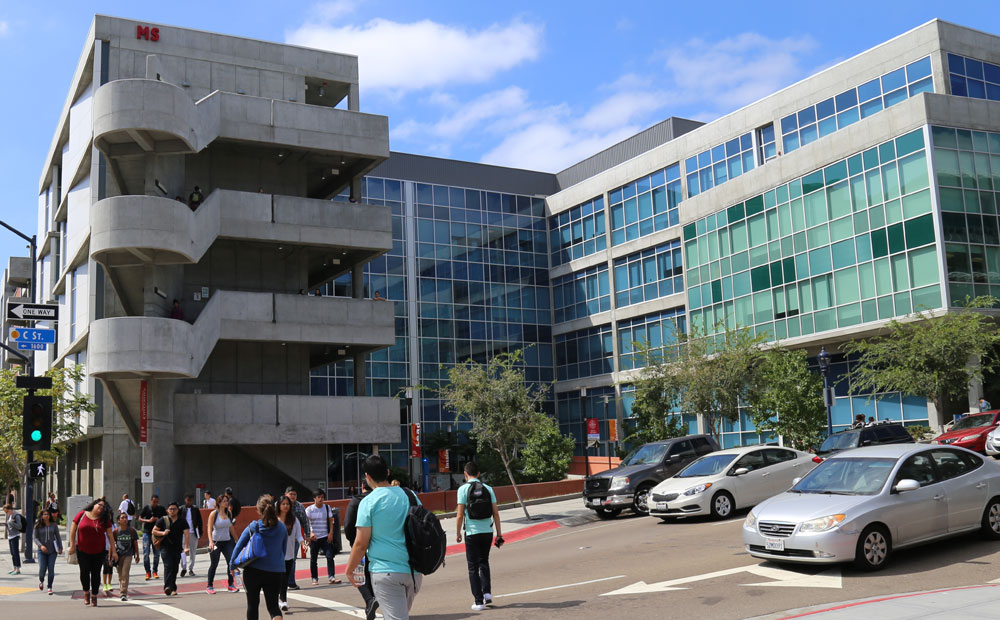 City College invites community to Open House Day
April 20, 2016

|
San Diego City College will host its third annual Community Open House Day on Thursday, April 21 from 9 a.m. to 2 p.m. In addition to classroom visits, displays, exhibits, and performances around the campus, visitors can attend the 11th annual Student Project and Research Symposium. Held in Curran Plaza, nearly 150 students representing 40 different majors will present their original projects and research through posters, oral presentations, spoken word, video, artistic displays and performances.
Throughout the morning, tours will provide visitors the opportunity do a sound check in the music recording studio, participate in a photography shoot, learn about the STEM (Science, Technology, Engineering, Math) Guitar Project in manufacturing, design buttons in graphic design, watch science experiments, shop at the Fantastique Boutique, or enjoy hair and esthetician services in Cosmetology.
Department demonstrations will include underwater robotics in engineering; makeup and costuming in drama; play with clay in fine art; and "Semi Mole Day" in chemistry. The dance depart will showcase its salsa, tango and modern dance classes, while Health, Exercise Science will demonstrate kickboxing and martial arts.
In the Fine Art Gallery, visitors will enjoy the final day of the digital arts guild exhibition, Intersections 2016. This national art exhibit showcases dozens of beautiful works of art demonstrating the multiple directions art has taken in the contemporary art world. The Luxe Gallery will showcase student and faculty photography.
Visitors can also get their blood pressure, cholesterol and blood sugar levels checked in the college nursing education department and also visit the simulation lab.
From 12:50 to 2:10 p.m., the World Cultures program presents a presentation by Tom Hom, author of "Rabbit on a Bumpy Road: A Story of Courage and Endurance (Finding the American Dream). Hom was the first minority elected to the San Diego City Council, and he went on to serve in the California State Assembly.
At 2 p.m., the Knights baseball team takes on Mt. San Jacinto College at Morley Field in Balboa Park.
In addition to community visitors, nearly 500 San Diego Continuing Education students and area high school students will be on campus to learn about the college's 200 majors and degrees and 500 certificate programs.
"We welcome the community to tour our campus, meet with students and faculty, and discover the new City College. Visitors are always amazed at the variety and depth of college offerings and the services available to students," said City College President Anthony Beebe.
With $475 million dollars in Proposition S and N funds, the college is moving into the final stage of the largest renovation in its 102-year history. The campus has grown to 60 acres and has added five new classroom buildings, including Arts and Humanities, Business Technology, Science, Math and Social Sciences, and the Career Technology Center. The full-service Corporate Education Center has a 120-seat lecture hall and 100-seat multipurpose room that provides community and campus space for meetings and conferences.
The most recent new building to open is the Center for Media and Performing Arts. Opened in spring 2016, the 31,000 square foot building is home to dramatic arts, dance, music, digital journalism, digital media, and radio, TV and film. It includes editing suites, a newly-designed television studio and newsroom, make-up studio, film screening lab, new dance studios, new music technology lab, electronic piano lab, new scene and set design shop, costume design workshop, and other classroom and lab spaces.
Campus maps and the complete list of activities will be available at the Welcome Tent at the corner of 16h & C Street near the Arts and Humanities building. Parking is free on campus all day with parking structures near 16th and C Streets.